Believe it or not, we're only a week into what has already been an extremely fun college basketball season. A plethora of games between top teams have already been played, resulting in many close and exciting finishes. However, those games have also given us a lot of insight as to what we can expect for the rest of the season. Here are five things we've learned so far:
1) Duke has established themselves as the clear national championship favorite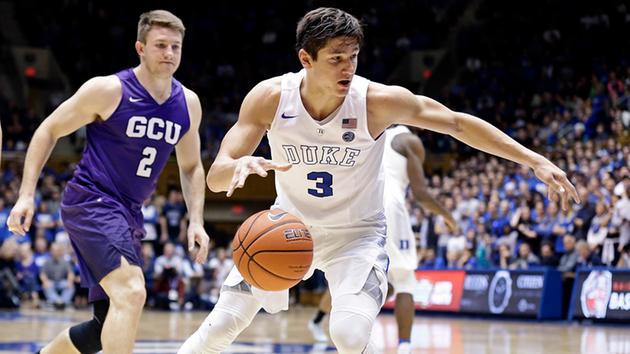 The preseason No. 1 team in the country did lose to Kansas as part of the Champions Classic, but they have been as impressive as any team in the country. Their three star freshmen (Harry Giles, Jayson Tatum and Marques Bolden, all projected lottery picks) have yet to play in a single game due to injuries, limiting the Blue Devils to what has essentially been a six-man rotation - and Kansas needed a last-second shot to beat them.
If that wasn't impressive enough, the Blue Devils managed a double-digit win over a ranked Rhode Island squad to win the Hall of Fame Tip-Off Tournament with National Player of the Year favorite Grayson Allen and starting forward Chase Jeter playing through ankle and foot injuries, respectively. All of that leads to one conclusion - Duke is going to be virtually unstoppable when they finally get healthy (which could happen very soon).
2) Malik Monk might be Kentucky's best freshman
Kentucky reloaded with another top recruiting class in the offseason, and most of the hype (rightfully so, I might add) centered around point guard De'Aaron Fox and center Edrice "Bam" Adebayo. However, Malik Monk has shown that he might be the best of the group this year. He's the team's second-leading scorer (15.8 points per game) behind sophomore Isaiah Briscoe, and had his best game in Kentucky's biggest game of the year so far, putting up team-highs in points (23) and rebounds (six) in a win over Michigan State.
His role as a shooter is also proving to be vital to Kentucky's offense. Monk is the only player averaging over 10 minutes per game that is shooting over 25 percent from three-point range (38.7 percent), stretching the defense and opening driving lanes for UK's athletes. Look for him to have a Jamal Murray-like impact for this team.
3) Indiana is the Big Ten favorite
Wisconsin entered the year as the favorites to win the conference, while Michigan State also got plenty of attention due to their stellar freshman class. Indiana was largely overlooked, but the Hoosiers have since grabbed everyone's attention. It started with their thrilling 103-99 OT win over Kansas at the Armed Forces Classic, which they followed with two dominant wins over lesser opponents. James Blackmon Jr. has taken over Yogi Ferrell's role as the offensive leader, averaging 23 points per game while shooting 56.1 percent from the field and 51.9 percent from three-point range.
Strengthening their case is how everyone else has fallen on their face early in the year. Wisconsin lost to Creighton, and Michigan State already has two losses - and nearly suffered a third against Florida Gulf Coast. It has become clear that the Big Ten runs through Bloomington.
4) UCLA will be the most fun team to watch this year
UCLA got a lot of hype coming into the season thanks to a star-studded freshman class, and they have backed up the hype so far this year. Led by star freshman point guard Lonzo Ball, the Bruins are playing a wide-open, fast-paced offense that is FUN. Given, they haven't played anyone of consequence yet this year, but they are averaging an eye-popping 105.8 points per game this season, rank second in the country in assists, and are the unquestioned leader in alley-oops.
All of that has led to a team that is quickly becoming must-see TV. I present this video as proof without further comment:
WATCH: Plenty of razzle-dazzle with these #LBSUvsUCLA highlights. #GoBruins pic.twitter.com/cykwDC6VQQ

— UCLA Basketball (@UCLAMBB) November 21, 2016
5) Josh Hart is the early National Player of the Year frontrunner
Allen and Villanova's Josh Hart entered the year as the two National Player of the Year frontrunners, but Hart has clearly separated himself as the favorite early in the year. While Allen has been largely slowed by injuries, the 6-foot-6 Hart has been dominant in Villanova's 5-0 start, averaging 19.2 points with 4.8 rebounds per game. His case is boosted by his 24-point performance against then-No. 15 Purdue, making the Wildcats one of the very few major conference teams that have a true road win (let alone one over a ranked team). Villanova looks like a very real threat to repeat as national champions, and Hart is the biggest reason why.
Back to the NCAA Newsfeed
Related Topics: Josh Hart, Big East Basketball, Kentucky Wildcats Basketball, SEC Basketball, ACC Basketball, UCLA Bruins Basketball, NCAA Basketball, Malik Monk, Lonzo Ball, Duke Blue Devils Basketball, Big Ten Basketball, Indiana Hoosiers Basketball, Pac-12 Basketball, Villanova Wildcats Basketball