The 2016 NFL Draft is still a couple months away, but we've already got our eyes trained on the 2016 college football season and the five junior (redshirt and otherwise) stars who will be dominating draft talk this time next year. With that in mind, here's our list of the 5 Star Players Likely To Declare Early For The 2017 NFL Draft.
QB Deshaun Watson -- Clemson Tigers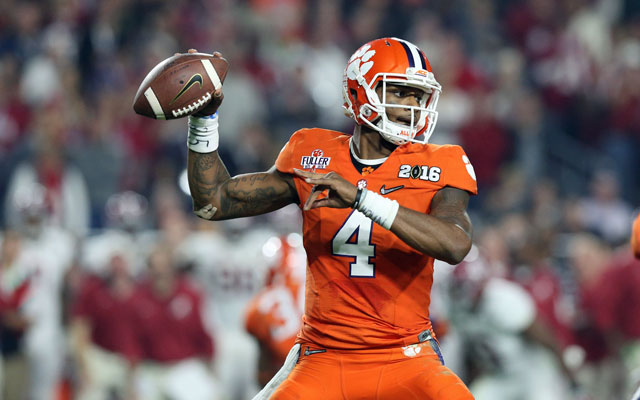 One more year, one more shot at a national title and a Heisman Trophy. We're banking on Watson following up his star-making sophomore year with an even more well-rounded 2016 season, especially with continuity and confidence from the team's historic 2015 run on his side.
If and when Watson kills it, he could easily be the first quarterback and/or #1 overall pick off the board in the 2017 NFL Draft. That's simply too much to pass up.
RB Leonard Fournette -- LSU Tigers
Fournette is already built for Sundays. He's already a high-speed bowling ball at 6'1", 230 pounds. He wouldn't need much weight room time to slot in as a 20-25 NFL carry pick THIS DRAFT, so what's going to change after his junior year?
Running backs are supposedly a "dime a dozen" in this era of pro football, but Leonard Fournette is the exception -- a ready-made Top 3 pick with the body type to lead an NFL backfield for the decade.
RB Dalvin Cook -- Florida State Seminoles
Cook is the consensus #2 junior running back heading into the 2016 season, and there's an outside chance he could challenge for the #1 slot with all 11 starters returning on offense in Tallahassee.
Right now he's a fringe Top Ten pick. If he pushes 2,000 yards for an explosive Seminoles offense, he'll be a no-brainer Top Ten and a near lock to declare.
S Jabrill Peppers -- Michigan Wolverines Peppers is neck-and-neck with Stanford's Christian McCaffrey for the crown of most versatile overall player in the nation heading into 2016, and we're leaning Peppers because of his potential as a three-way threat.
Another projected fringe Top Ten pick, he'll vault up even higher with a big junior year -- especially as scouts salivate over his ability to shift fluidly between all four traditional defensive back slots. He'll likely be a pure DB in the NFL, but what a DB he'll be.
ILB Raekwon McMillan -- Ohio State Buckeyes
We've got McMillan as an end-of-the-first projection right now, but he's got the biggest boom/bust range of anybody on this list. If he emerges as the central "defensive quarterback" on Ohio State's defense in 2016 (a D that returns only 3 starters), he could be ticketed for a middle-first slot.
If he struggles, he could come back for his senior season and try to rebuild his stock.  We're leaning towards an early declare, especially with the Buckeyes set to lean on him while bringing younger starters along.
Back to the NCAA Newsfeed
Related Topics: Leonard Fournette, Jabrill Peppers, Deshaun Watson, Dalvin Cook, 2017 NFL Draft, Raekwon McMillan, NFL Draft, 2016 NFL Draft