The SEC is home to some of the best and most accomplished football players in the country, but there are still a number of players that have a lot to prove in 2015. Here are the top five:
5) QB Joshua Dobbs, Tennessee Volunteers
Dobbs led Tennessee to a 4-2 record after taking over during the last six games of the season, passing for 1,206 yards and nine touchdowns while rushing for 469 yards and eight more touchdowns. He needs to improve his decision making, but having a whole offseason as the starter should help in that regard. His athleticism and arm talent make him a dangerous weapon, and that promise has made Tennessee one of the favorites to win the SEC East. However, it remains to be seen if Dobbs can produce for a whole season against top competition.
4) QB Connor Mitch, South Carolina Gamecocks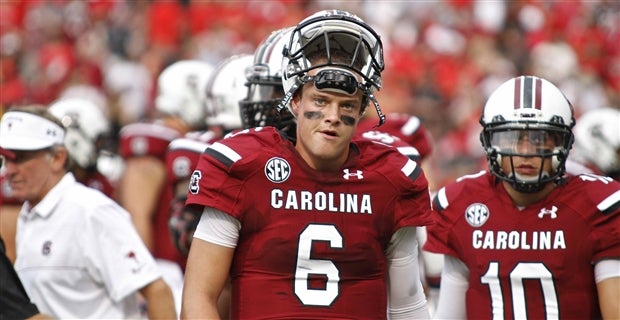 Mitch was a four-star recruit that was brought in to be the heir-apparent to Steve Spurrier's offense, but he has yet to firmly claim the job. He played sparingly as a backup last season after redshirting, but the Gamecocks need him to produce at a high level if they have any hope of rebounding from last year's disappointing season.
3) QB Chad Kelly, Ole Miss Rebels
Ole Miss' famed recruiting class that has put them in the national spotlight are now juniors, meaning this is the year for them to really dominate before losing some guys to the NFL. However, they have a big question mark at the QB position, which is expected to be filled by transfer Chad Kelly. 
Kelly, nephew of Hall of Famer Jim Kelly, was kicked off the Clemson Tigers for breaking multiple team rules, and got in trouble this offseason again in an altercation outside a nightclub. He's a dual-threat quarterback that's extremely talented, but he has yet to see any significant minutes on the field.
2) QB Jeremy Johnson, Auburn Tigers
"Like Nick Marshall, but bigger and better" is how one scout described Johnson, who completed 28 of 37 passes in 2014 with three touchdowns and no interceptions in mop-up duty this year. The Tigers will be a better team in 2015, and very few of their offensive weapons are graduating or leaving for the NFL.
Gus Malzahn's offensive scheme will ensure Johnson has the opportunity to put up Heisman-caliber numbers, but he's the biggest reason why Auburn was picked to win the SEC and are ranked No. 7 in the country in the preseason despite his extremely limited playtime. He needs to play up to his lofty expectations for Auburn to do well this year.
1) QB Jacob Coker, Alabama Crimson Tide
Coker has the size and arm strength to be successful in Lane Kiffin's offense, and will finally get a chance to see the field in extended action. Alabama relied on a lot of quick screens and their dominant running game last year, and that won't change much in 2015. However, Coker has the ability to make their passing attack even more dangerous.
Back to the NCAA Newsfeed
Related Topics: SEC, SEC Football