The Pac-12 is home to some of the best and most accomplished football players in the country, but there are still a number of players that have a lot to prove in 2015. Here are the top five:
5) WR Trent Irwin, Stanford Cardinal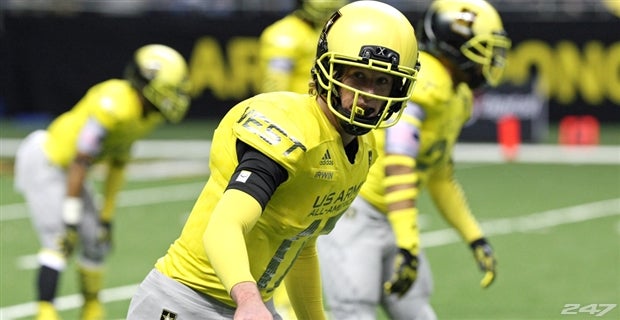 Stanford's passing attack really needs a boost from someone, and Irwin might just be the guy to supply it. He has the size (6'2″) and soft hands to be a great possession receiver and a top red zone target, but his speed is his biggest asset. However, that's a LOT to expect from a true freshman.
4) QB Jared Goff, Cal Golden Bears Goff might not be suiting up for a team that's seen much recent success (at least not since that Aaron Rodgers guy left for the NFL), but he somehow managed to fly under the radar in 2014 despite absolutely jaw-dropping numbers. Goff threw for just under 4,000 yards, with 35 TDs, 7 interceptions and a 62% completion rate…and the Bears are losing just three of their 22 starters to graduation. His three primary WRs will all be entering their senior year – are you starting to see where this might be going?
Now, the pressure is on him to turn those stats into wins.
3) QB Anu Solomon, Arizona Wildcats Solomon led the Wildcats to a berth in the Pac-12 Championship Game and a top-10 ranking as a true freshman, but they faltered down the stretch, losing big to Oregon and Boise State to close the season. Solomon needs to prove that those games don't represent who is truly is as a player for Arizona to meet their lofty expectations.
2) QB Vernon Adams, Oregon Ducks
Adams was an absolute monster during his three years at Eastern Washington, throwing for 10,438 yards and 110 scores while adding 1,282 rushing yards and 11 touchdowns. With one year of eligibility left as a graduate student, Adams transferred to Oregon for his final season to fill in for Marcus Mariota. He will need some time to adjust to the speed of the game at the FBS level, but the Ducks aren't expected to miss a beat. He has to prove he's worth the hype.
1) QB Josh Rosen, UCLA Bruins
Rosen is being counted on to take over as UCLA's starting quarterback, and the 6'4″, 205-pounder seems ready for it. He is the top-ranked pro-style quarterback because of his strong arm and good accuracy, though he'll have to adjust to the pace of Pac-12 defenses. The Bruins have a lot of returning starters and young, exciting prospects on offense, which should make the transition easier for one of the most talented QBs in the country - the only question mark is how much his lack of experience will hurt him. UCLA views him as they guy that will make them legitimite championship contenders, which are very lofty expectations for an 18-year-old.
Back to the NCAA Newsfeed
Related Topics: Pac-12, Pac-12 Football