Every week of the college football season has its share of heroes and goats, big winners and hard-luck losers. These next five teams fall in the former category for both of those, providing the most impressive overall team performances in Week 4 of the 2015 college football slate.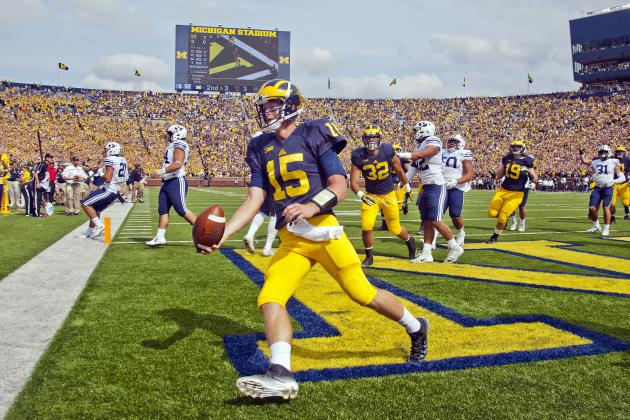 Are all the haters done making jokes about Michigan yet? The Wolverines looked flat in a 24-17 opening week loss to the Utah Utes, but have since outscored their opponents 94-14 over the past three games -- including Saturday's sterling 31-0 thrashing of the #22 BYU Cougars.
Buoyed by a blistering 24-point second quarter by the offense (the biggest blow courtesy of a 60-yard lightning bolt TD scamper by RB De'Veon Smith), Michigan's defense clamped down in a MAJOR way. UM allowed just 55 yards through the air and 50 yards on the ground in this one, suffocating BYU at every turn to capture just the team's 4th win over an AP-ranked opponent in 23 tries since midway through the 2009 season.
Don't count out the Trojans in the College Football Playoff chase, especially after they kicked Arizona State in the tender parts in a 42-14 thrashing in Tempe. QB Cody Kessler continues to put together a Heisman-worthy campaign, tossing five touchdown passes while cutting the ASU defense to shreds in surgical fashion. On the other side of the ball, the defense showed major signs of life one week after being thoroughly embarassed in Stanford's 41-31 upset win.
USC has a season-defining five-game stretch ahead which includes huge showdowns with Notre Dame and sudden Pac-12 power Utah (more on them later). Win out through early November and the Trojans will have both feet planted in the College Football Playoff muck.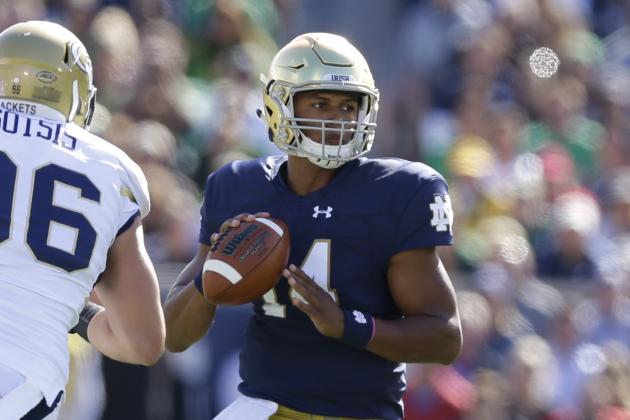 It didn't look like Notre Dame would make our list early in their game against UMass. The Minutemen closed to within one of the Irish in the 2nd quarter, 21-20, and seemed primed to give an undermanned Irish squad a run for their money.
That didn't exactly happen.
What's left of this Irish squad hunkered down and threw punch after punch following the UMass score, rattling off 41 unanswered points before giving up a late Minutemen score to run away with an impressive 62-27 victory. CJ Prosise rushed for 149 yards and two scores, returned CJ Sanders used a pretty cutback to spark the Irish with a 50-yard punt return TD, and sophomore QB DeShone Kizer once again looked ready for the big stage. This may not be the roster Notre Dame thought they'd have at this point. But, it's the one who's getting the job done right now.
Josh Rosen, take a bow. The freshman sensation absolutely perplexed the Arizona Wildcats all night long, going 19-for-28 for 284 yards and two touchdowns in #9 UCLA's 56-23 road blowout of the #16 Arizona Wildcats. RB Paul Perkins wasn't far behind on the impressive meter (if at all), rushing for three touchdowns while constantly and consistently demoralizing the Arizona D in short yardage situations.
If you didn't count UCLA among the elite College Football Playoff contenders before this, tonight's absolute destruction of a very good (and undefeated) Zona team in the desert is your wake-up call. There are very few teams out there, save maybe the Ohio State Buckeyes and a couple others, who are as complete of a threat as UCLA is in all facets of the game.
What exactly just happened? #18 Utah just did to #13 Oregon what the Ducks usually do to other teams -- steamrolling Oregon on the road in a 62-20 rout. Senior Utes QB Travis Wilson lit up the Ducks for four touchdowns through the air and ran for 100 yards and yet another score. The Utah defensive line bullied Oregon's offensive line from start to finish. The Utes skill position players cut through all three levels of the Ducks' defense at will. If Utah doesn't make an AP Poll jump like Ole Miss (#15 to #3) did last week after their road win over Alabama, it'll be a travesty of rankings.
This Utah team is beyond for real. They announced themselves as national title threats with extremely well game-planned shellacking of the Ducks in Eugene.
Back to the NCAA Newsfeed
Related Topics: CJ Prosise, Michigan Football, De'Veon Smith, Florida Football, Notre Dame Football