We're all guilty of being homers for our favorite teams, but these fan bases are the cream of the proverbial crop when it comes to putting blinders on and swimming around in an ocean of delusion. Having faith is one thing, but blind faith can turn sports fandom into an unhealthy obsession of monster-sized proportions. With that in mind, here's The 5 Most Delusional Fan Bases In College Football.
5) Florida State Seminoles
#FSUTwitter made their mark last year while defending Jameis Winston, but USA Today recently called the Seminoles the most overrated fan base in the sport:
"I'm not going to even touch on your former quarterback whose name rhymed with "shame us." Instead we'll focus on the appalling, annoying and out-of-date Tomahawk Chop, which is probably the worst thing in all of sports. Why do people care about the Washington Redskins' name but not the Tomahawk Chop? Probably because they know FSU will be back to being mediocre in a few years and it's not worth the trouble."
The fans get a bad rap for defending their players that have gotten in trouble and some in-game antics - such as throwing things at the Notre Dame team and their fans in 2014 - but they're far from the worst on this list.
4) Alabama Crimson Tide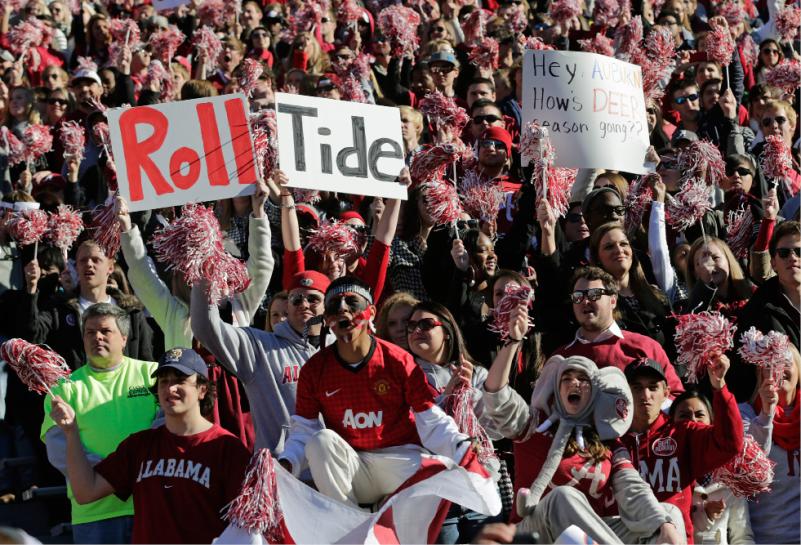 Crimson Tide fans take the whole "championship or bust" motif and run with it like a four-year-old on a candy high. When Alabama's at the top of the college football world as it has been lately, Tide fans are more content than they are impressed. However, if/when they start losing, heaven hath no fury like an Alabama fan bases scorned.
3) Georgia Bulldogs
Georgia fans have a reputation for having some...high expectations about their football team, though it's hard to necessary blame them after the maintained success they've had throughout the program's history. However, this has more to do with multiple reports of the way their fans mistreat opposing fans/
One fan wrote an open letter detailing his awful experience on Reddit:
"The experience we (my group of friends) had in Athens this weekend was – in a word – awful. Not because of the game, but because of the way we were treated. I am asking UGA fans to remedy this as best they can in future games."
The comments on the Reddit thread were just as damning:
"I wrote an open letter to our fanbase in in 2008 after the Bama blackout. I was completely appalled at our fans reactions. They were throwing glass liquor bottles from the upper student section INTO the lower student section. A girl got hit in the head and had to be taken to the hospital. Don't get me wrong, I love Athens and I love Gamedays, but some fans need to go back to their trailers and natty light and just watch the game at home. Even other UGA fans get annoyed by them."
2) Ohio State Buckeyes
Even though they're the defending national champions, Ohio State fans still have a bit of a little brother mentality, particularly when it comes to the SEC.
Heading to an Ohio State party to hear the fans whine about the SEC. Send screencaps & I'll RT.

— Busted Coverage (@bustedcoverage) October 18, 2014
9 of top 10 LSU-Bama markets were in South. Top non-Southern market? Columbus was 7th with 22.6. Jealous Ohio State fans.

— Clay Travis (@ClayTravisBGID) November 7, 2011
Their fans are also notorious for verbally berating opposing fans, as well as throwing things at them and occasional acts of vandalism. 
1) West Virginia Mountaineers
WVU fans riot and burn couches when they win big games - or lose, which is fine - but they have also gained a poor reputation for other reasons. In 2011, two LSU fans, including a woman who was 22 weeks pregnant, were assaulted while sitting in traffic trying to leave the game after LSU won.
West Virginia fans have also been know to throw things at opposing players during football games, and it got so bad in 2011 that Louisville decided against sending its cheerleaders and dance team to Morgantown due to safety concerns.
Follow our NCAA team page for all the latest NCAA news and rumors!
Back to the NCAA Newsfeed
Related Topics: Most Annoying Fan Bases, College Football, NCAA Football