We're dizzy after one of the greatest college football regular seasons of all time, but that may simply be from all the fantastic food and amazing people we've met along the way during gamedays across the nation. With that in mind, we've come up with a consensus list of The 5 College Football Fan Bases Who Throw The Best Tailgate Parties.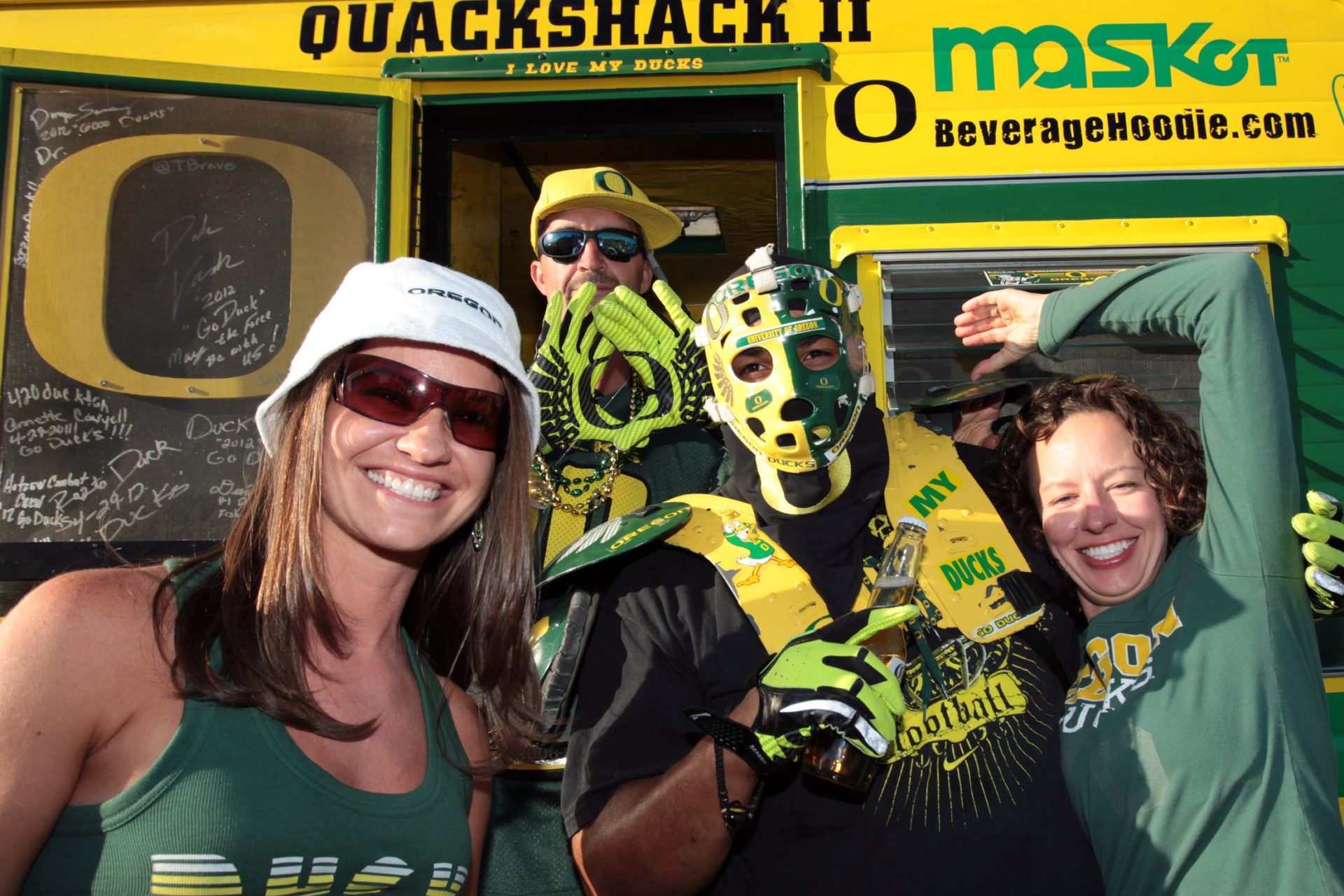 The scenery around Eugene is simply pristine. It's central proximity to the Oregon coast (45 minutes), great hiking spots (a hop, skip and a jump away) and the burgeoning metro of Portland (90 minutes) makes it a hotbed for all kinds of different people to have all kinds of fun before getting their tailgate action going on Saturday.
When you do make the pregame scene, you'll be hanging out with loyalists who almost invariably treat outsiders as welcomed house guests. You'll also be privy to some of the greatest microbrews known to man, before making your way into Autzen -- a stadium marvel where it feels like the fans are sitting right on top of the field. Tucked away in a beautiful pocket of West Coast bliss, Eugene has become THE destination for true college football fans west of the Rockies.
Oh my goodness, the food. It's hard to type this without causing some stomach rumbling, but the heavy influence of Cajun and Creole cultures creates the most diverse selection of tailgate food in the nation. Gumbo, jambalaya, shrimp everything, etc, etc, etc. Once your belly is full, you'll be hard pressed not to crack open a beer and party with some of the craziest, funniest fans around. After immersing yourself in the festive pregame scene, you're nearly guaranteed to be extremely happy (and maybe a little dazed) by the time you walk into Death Valley (Tiger Stadium) -- perhaps the loudest stadium in college football.
Tradition is everywhere before a game at The Horseshoe. The Best Damn Band in the Land's version of "Hang on, Sloopy" creates on of the greatest communal experiences in any football town across America, as the streets and tents boom with people spelling O-H-I-O during the chorus. Skull Sessions whip students and alumni alike into a fervor. So does the traditional pre-game address by a member of the team. It's coordinated chaos and it's so much fun. It's also a once-in-a-lifetime experience that'll stick with you long after you leave.
"Auburn tailgating is fun because you can walk up to any tent and feel like you've known these strangers your whole life. Tailgating isn't several little parties, it's one big party, and everyone is invited," Class of 2018 student Davis Baird notes. "War Eagle" echoes up an down the parking lots of Jordan-Hare Stadium, both as a greeting and an expression of Tigers pride. There's food to be shared/sampled everywhere, and the gathering for the Tiger Walk is one of the most exhilarating college football traditions out there. Get there early and soak it all in. The lack of a professional sports team in the area is key here. Nebraska LOVES the Huskers with every part of their Big Red hearts, and they aren't afraid of showing it seven days a week, 52 weeks a year. If you want a little bit of down-home flavor in your tailgate party, get to Lincoln early on a Friday morning and camp along with some of the nicest fans on this side of the Atlantic Ocean. You'll have a grin plastered on your face and some good barbeque in your belly. You'll also be seeing red. LOTS of red.
Back to the NCAA Newsfeed
Related Topics: Autzen Stadium, The Horseshoe, Jordan-Hare Stadium, Nebraska Cornhuskers Football