With five weeks of the college football season complete, we have a better idea of which coaches are on the hot seat. Several of the coaches will be fired at the end of the season, or even before. That's simply the reality of college football. In no particular order, here are the five college football coaches most likely to be fired 
Randy Edsall, Maryland 
The report is that Maryland is already planning on firing Edsall at some point this season. Barring an unexpected turnaround, don't expect to see Edsall roaming the sidelines for Maryland next year. 
Darrell Hazell, Purdue 
Purdue doesn't get much national attention, but there might not be a hotter seat in the nation than Hazell's. He's won only five games at Purdue and he's in the middle of his third season. The Boilermakers' lone win this year came over Indiana State and they've lost to Marshall and Bowling Green. Barring a near-miraculous turnaround against a Big Ten schedule that has no clear wins, Hazell could be out of a job. 
Kyle Flood, Rutgers 
I don't know what it takes for this man to get fired. He completely violated NCAA rules regarding academics and then tried to hide it in the worst possible way. Oh, his team has also been plagued by arrests. Flood might be fired at the end of the season and he certainly deserves to be. 
Mike London, Virginia 
If it seems like London has been on the hot seat the past three seasons, it's because he has. He's lost at least seven games in four of his five season at the helm of Virginia. At 1-3, he's trending toward another seasons with no bowl game. Unless London's squad picks up their play in ACC competition, London will be out of a job. 
Al Golden, Miami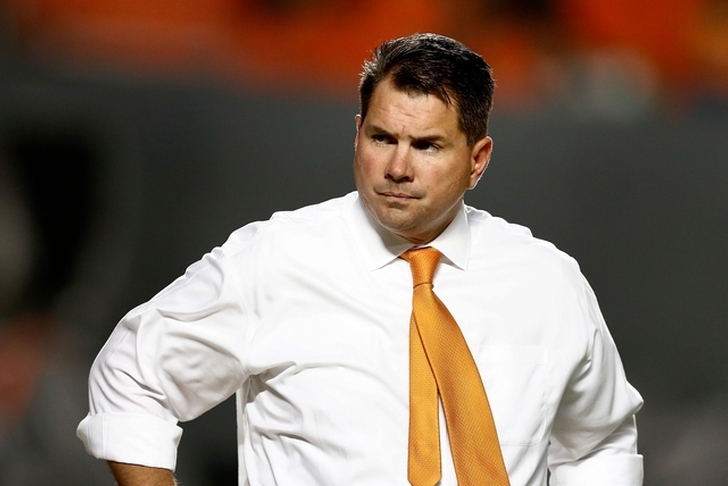 A hefty buyout in his contract likely saved Golden's from being canned last year. That might not be the case this season if the Hurricanes continue their mediocre play. If Miami can't find a way to match the nine wins Golden posted two seasons ago, he might lose his job. Seven wins aren't enough for Miami, something Randy Shannon and Larry Coker can attest to. 
Back to the NCAA Newsfeed
Related Topics: College Football, Kyle Flood, Al Golden, Mike London, Randy Edsall, Darrell Hazell