Five weeks of the College Football season are complete, and the seats of several coaches are starting to feel their seats heat up. While a loss this week doesn't guarantee a coach will lose his job, it will help their job security. Here are five coaches who need a win this Saturday to keep their jobs. 
Charlie Strong, Texas A 1-5 start is not okay at Texas, no matter how bad of shape the program was in when Strong took it over. The offense has been awful, the defense has issues and the special teams have been plagued by miscues. A win this weekend at Oklahoma is needed and another blow out loss will get the rumor mill spinning even faster. 
Al Golden, Miami (FL)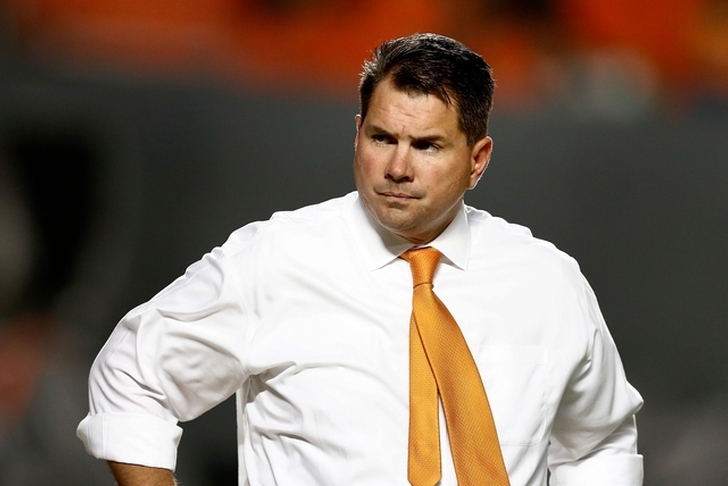 Golden's hefty contract likely saved his job last season, but a win over rival Florida State would likely do the trick this season. That's not a simple task, but it could be made easier if FSU RB Dalvin Cook can't go or is limited. A win over FSU would restore much of the good will Golden has lost by failing to beat FSU in his time at Miami.  
Bret Bielema, Arkansas 
A win over Tennessee helped cool Bielema's hot seat, but fans are still searching for more success in SEC play. A win over No. 8 Alabama on the road would be a huge boost to Bielema's job security. Of course, that's much easier said than done. 
Steve Spurrier, South Carolina 
It's been a tough season for South Carolina. The Gamecocks have a 2-3 record and there is a real chance they won't go bowling this season. That could cost Spurrier his job, but a win over LSU could be enough to give Spurrier another season at the helm. That won't be easy, especially since the game is now on the road. 
Randy Edsall, Maryland
There is already a report that Maryland will fire Edsall after the Ohio State game. Maryland issued a statement, but it wasn't exactly a ringing endorsment. The easiest, and possibly only, way for Edsall to save his job would be to upset the Buckeyes this weekend. Still, that's unlikely to occur. Ohio State is a 33-point favorite. 
Back to the NCAA Newsfeed
Related Topics: Charlie Strong, College Football, Al Golden, Steve Spurrier, Bret Bielema