The Big 12 is home to some of the best and most accomplished football players in the country, but there are still a number of players that have a lot to prove in 2015. Here are the top five:
5) LB Malik Jefferson, Texas Longhorns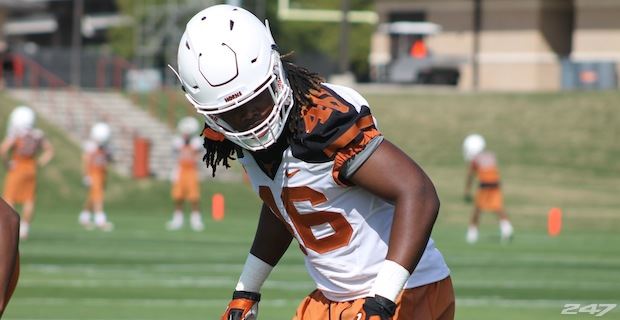 One of the most celebrated and hyped recruits to hit Austin in the past decade or so, the former #1 player in the state of Texas will have a massive spotlight over him when he takes the field at fall camp. Jefferson has bulked up to 240 pounds and projects to be the type of impact true freshman that college football rarely sees in the era of redshirts. The Longhorns are counting on him to be their defensive anchor right away, meaning he doesn't have a lot of time to get up to speed with the college game.
4) QB Mason Rudolph, Oklahoma State Cowboys
Rudolph filled in as a true freshman for the Cowboys last season, and his play is one of the biggest reasons why many are picking Oklahoma State to finish third, behind Baylor and TCU, in the conference next season. He threw for 853 yards and six touchdowns over the last three game, and has all of his top five receivers back. Now, it's on him to prove he can sustain those numbers for a whole season.
3) QB Seth Russell, Baylor Bears
Russell didn't get much playing time in 2014, but he definitely made the most of it – he completed 48 of 85 passes for 804 yards, 8 TDs and 1 interception. It wasn't against the kind of defenses he'll face as a starter, but it definitely bodes well for the next man up in Baylor's offense factory. Art Briles' team isn't losing very many impact players, and Russell is coming into what might be the most QB-friendly job in NCAA football. Baylor insiders have raved about Russell's potential since he hit campus – and he needs to prove them right for Baylor to meet their expectations.
2) QB Tyrone Swoopes, Texas Longhorns
Swoopes has far from a firm hold on the Longhorns staring QB job with redshirt freshman Jerrod Heard right on his heels, but many expect Swoopes to win the job. 
"A lot is made about the quarterback position, and it should be," head coach Charlie Strong said recently. "When it plays well, it gets a lot of praise. When it plays bad, it gets a lot of criticism."
He was inconsistent - at best - last season, throwing for 2,409 yards with 13 touchdowns and 11 interceptions, and needs to become a much better passer for Texas to improve this season.
1) QB Trevor Knight, Oklahoma Sooners Knight fell way short of expectations in 2014 as he couldn't back up his amazing Sugar Bowl performance against Alabama. An injury limited him last year, and he should see a lot more opportunities to pass the ball under new offensive coordinator Lincoln Riley. He still has to beat out transfer Texas Tech transfer Baker Mayfield for the starting job, but 2015 is a make-or-break season for Knight's career.
Back to the NCAA Newsfeed
Related Topics: Big 12, Big 12 Football