There's a major influx of young freshman talent hitting the Big Ten in 2015, and these next five guys qualify as the biggest impact players of the bunch. Here's our list of 5 Freshmen Who Will Make An Instant Impact In Big Ten Football In 2015.
OLB Justin Hilliard -- Ohio State
Hilliard has the frame and the work ethic to slot right into the Buckeyes' regular rotation at linebacker. Whereever Urban Meyer needs him to play, be it on the inside or the outside, Hilliard has the skill set to make it work. Add in a deceptive doze of speed and great finishing instincts, and you've got a freshman ready to be a household name straightaway.
ATH Brian Cole -- Michigan
While Cole is unlikely to crack the running back rotation in 2015, he's going to be an absolute BEAST on kick and punt returns. Once Cole puts a little more muscle on his 6-foot-2 frame (he's at 190 pounds right now), he's going to be a unstoppable mixture of quality size and breakneck speed no matter where's he utilized.
RB Larry Scott -- Michigan State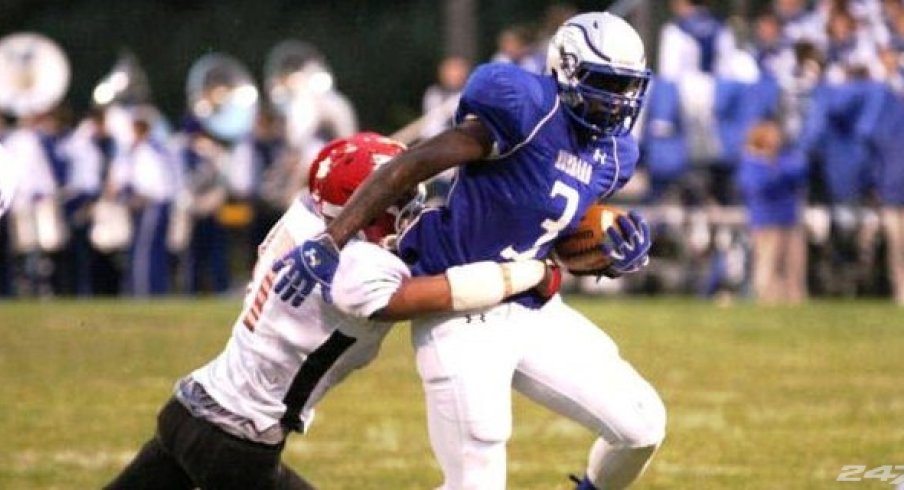 Scott isn't the fastest from a straight-line speed standpoint, but he absolutely kills tacklers when he gets momentum going downhill. Coming in at 6-foot-2, 230 pounds, Scott naturally sheds tacklers with deceptive footwork and brute force. He'll likely start in a short-yardage role, but he's got enough oomph in his game to extend that role as the season wears on.
OT Paris Palmer -- Penn State
Penn State desperately needs talent on what has been a paper-thin offensive line, and Palmer's one heck of a step in the right direction. A junior college transfer, Palmer needs reps and lots of them to make an instant impact as his fundamentals remains a bit raw. However, he's so naturally strong that he's destined to be an anchor of PSU's line once he gets acclimated to his surrounds.
CB Eric Lee - Nebraska
With both Josh Mitchell and Corey Cooper gone from the Huskers' secondary, there is plenty of room for Lee to step up and land a regular rotation spot at cornerback. The four-star prospect will likely have to wait his turn off the bat, but his innate on-the-ball skills and amazing lockdown arsenal means his number will be called and called a lot in 2015.
Back to the NCAA Newsfeed