The Orange Bowl is the first game of the College Football Playoff. A game that features the No. 4 Oklahoma Sooners and the No. 1 Clemson Tigers. Even though they are the lower seed a lot of people are picking the Sooners to knock off the Tigers, including myself.
As far as the outlook for prospects in the 2016 NFL Draft, the teams are pretty even. Each team has at least two day 1 or day 2 prospects, although the Tigers hold the advantage in how early in those days they will get drafted.
Clemson Tigers
DE # 90 Shaq Lawson 6' 3" 270 lbs (2015 Stats: 55 TKL, 22.5 TFL, 9.5 Sacks)
Shaq Lawson is an absolute force as a corner rusher. A combination of power and speed that not many have allows Lawson to be dominant and constanly beat offensive lineman to play in the backfield. Lines up on both ends of the line and can also start in an upright position when asked to. Only downfall is he may stay too high when coming around the edge.
Draft Projection: Rounds 1-2
Team Projection: Arizona Cardinals (Lawson may be their top rated pass rusher on the board at end of round 1)
CB # 2 Mackensie Alexander 5' 10" 195 lbs (2015 Stats: 21 TKL, 2 TFL, 4 Pass Break Ups)
The height and stats are in no way daunting but the NFL Scouts boast about this kid. Only a redshirt sophomore, Alexander is going to make the leap into the NFL. Comes with great coverage skills which has led to not many balls going his way in 2015. Fluid hips and very solid, shifty footwork present problems for opposing receivers to get open after Alexander locks in on them.
Draft Projection: Rounds 1-2
Team Projection: Baltimore Ravens (depending on what they do in round 1, Alexander could end up being their round 2 pick)
SS # 1 Jayron Kearse 6' 4" 220 lbs (2015 Stats: 52 TKL, 6.5 TFL, 1 INT)
Kearse is very tall for his position and is only a junior, he should continue to grow into his body. He broke into the starting lineup his freshman year before becoming a full time starter the last two seasons. His size and speed make him highly desirable to NFL Scouts. He is also the cousin of former NFL player Phillip Bucannon and nephew of former NFL player Jevon Kearse.
Draft Projection: Rounds 1-2
Team Projection: Oakland Raiders (With Woodson retiring, why not take arguably the best strong safety in the class)
Oklahoma Sooners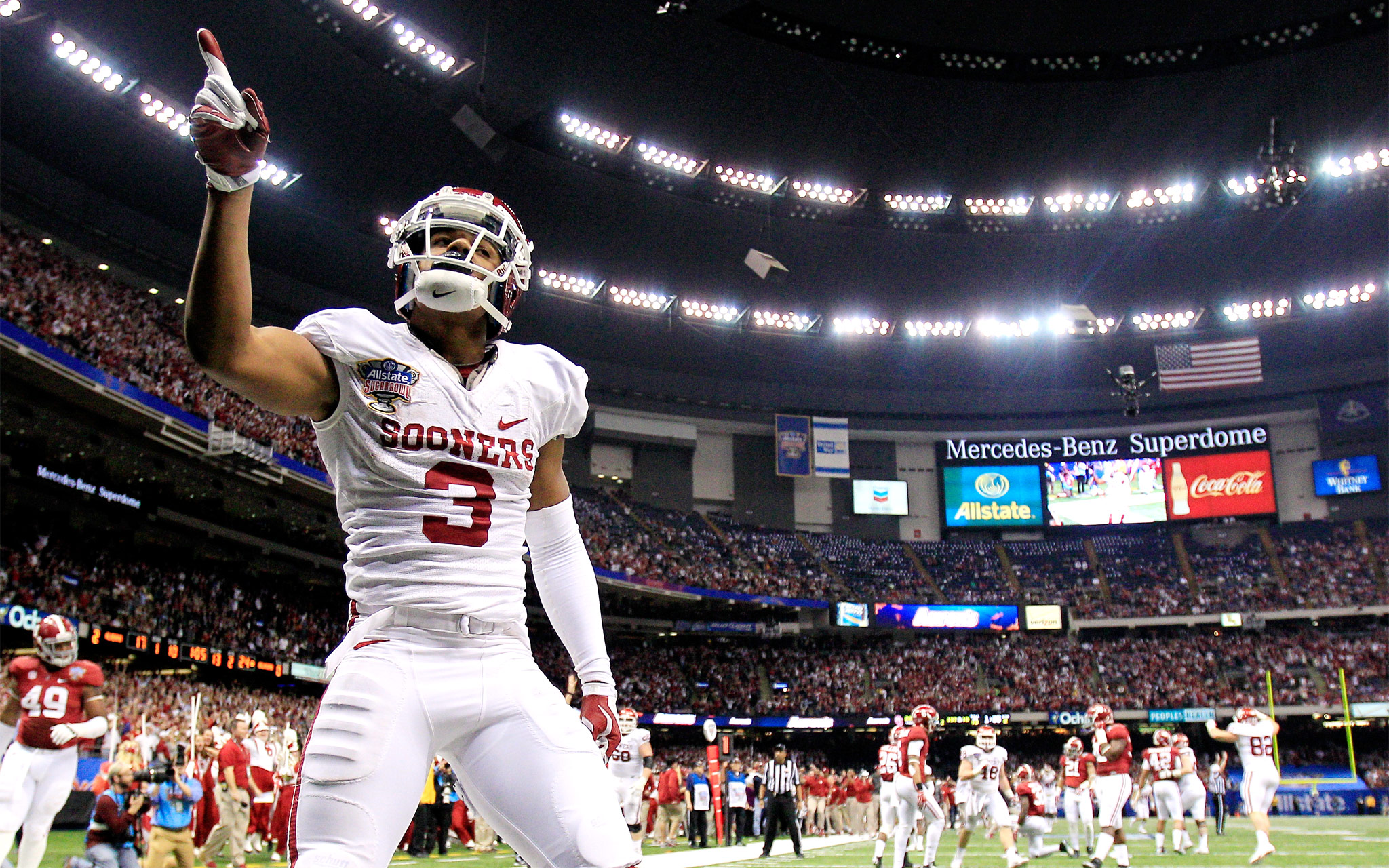 WR # 3 Sterling Shephard 5' 10" 193 lbs (2015 Stats: 79 REC, 1201 YDS, 11 TD)
The height leaves something to be desired but he makes up for it with his quickness. Has the ability to be a productive slot receiver at the next level. Very quick and decisive when making cuts in his routes, this allows him to beat defenders deep when they begin to try and anticipate short pass routes. Has good hands that allow him to catch outside of his frame.
Draft Projection: Round 2-3
Team Projection: Baltimore Ravens (another one? If he is there in round 3 for them, I don't see how they pass on him)
LB # 1 Dominique Alexander 6" 0" 224 lbs (2015 Stats: 91 TKL, 7 TFL, 0.5 Sacks, 1 INT)
Alexander is an inside linebacker who doesn't posses much as far as pass rushing or backfield penetration is concerned. Where he does thrive though is following the flow of the play and then capitalizing on his instincts to get to the ball carrier and take him down early. Likes to meet runners in the gap and has shown the ability to be a sure tackler.
Draft Projection: Round 2-4
Team Projection: San Francisco 49ers (need help at every spot on defense)
Back to the NCAA Newsfeed
Related Topics: Orange Bowl, Oklahoma Sooners Football News, Clemson Tigers football news, 2016 NFL Draft, NFL Draft, NFL Draft Prospects