Take a minute to breathe. Week 1 of the college football season was straitjacket-level crazy, giving us everything we want from our September/December Saturdays -- massive upsets, statement top-five wins, and finishes that both baffled and amazed. With that in mind, here's 4 Things We Learned From Week 1 Of The College Football Season.
4. Alabama's Run Defense Is Scary Good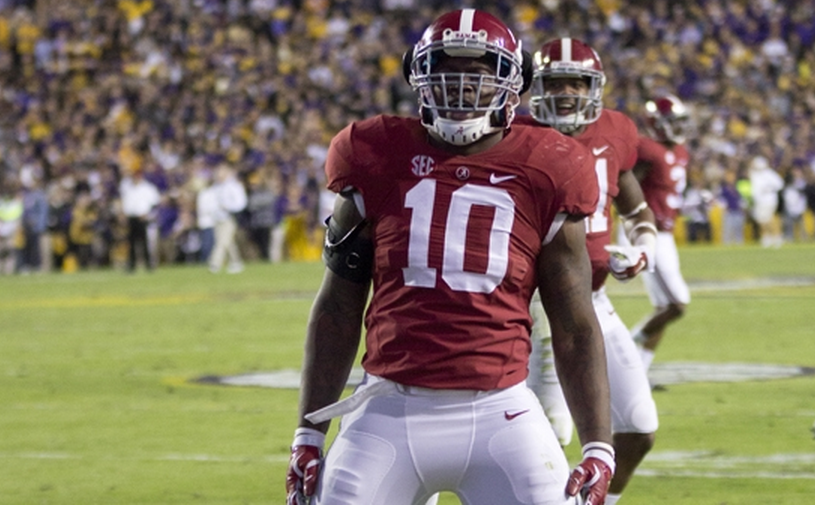 Wisconsin QB Joel Stave had an impressive night in Arlington on Saturday night, throwing two TDs with no picks against the Alabama secondary and looking generally comfortable when he planted his feet in the pocket. That's all well and good, but Wisconsin's vaunted rushing attack did absolutely NOTHING behind him and left Stave and the entire team hanging in Alabama's 35-17 rout.
The Crimson Tide rush defense suffocated celebrated junior RB Corey Clement (before he left with a groin pull) and the entire Badgers running game all night long, holding them to a daffy 40 yards rushing on 21 carries. Those penciling in the likes of Auburn and Georgia ahead of Alabama in the SEC title race this year need to watch the tape of this game and realize just how potent Bama's front seven is. Be scared, SEC. Be very scared.
3. We Hardly Knew Ye, Big Ten
Remember all those Big Ten darlings (other than Michigan State) most of considered as "dark horse" College Football Playoff candidates heading into Week 1? Well, Saturday happened.
Nebraska was beat by BYU on a Hail Mary by a freshman backup QB. The aforementioned Wisconsin got punched in the face by Bama. Michigan sputtered something fierce against Utah in Jim Harbaugh's debut with the Wolverines and will someone wake up Penn State and tell them they lost to Temple for the first time since 1941? And it was IN HAPPY VALLEY! Oh yeah, and Indiana almost lost to an FCS squad (more on that later). If Mich. State gets through Oregon next week, it's feasible they could run the table in what looks like a depleted conference.
2. The FCS Is Better Than We Think...
...or the bottom of the FBS is just terrible. Kansas lost to South Dakota State on a horrendous game-ending fumble off a muffed spike. Washington State's offense was an abstract art project in a beyond-frustrating 24-17 loss to Portland State. Indiana barely outslugged the Southern Illinois Salukis 48-47 in a shootout where no one bothered to play defense for more than 15 seconds at a time. Heck, even the mighty Oregon Ducks let Eastern Washington hang around at Autzen before putting them away late. Maybe it's like college basketball where the low- to mid-majors are engaged in a competition renaissance. Or maybe it was just one of the weirdest Week Ones in college football history.
1. The Chaos Is Here
The top of the AP rankings held serve this weekend, but this season's chaotic start foretells absolute insanity in the weeks to come. Some experts feared the College Football Playoff would dilute the regular season, taking away urgency from regular season games by giving Power Five programs mulligans for early losses. Tell Arizona State that after they got slapped by Texas A&M. Ask Stanford if getting stifled at Northwestern hurts any worse and cuts into their resume any less than it would two years ago. One could argue that the regular season matters MORE now as a greater number of teams are playing elimination games as the weeks go on. We believe that's the case, and that's why we're convinced this will be the best season ever. Well, until next year.
Back to the NCAA Newsfeed
Related Topics: NCAA Football, Wisconsin Badgers, NCAA, Nebraska Cornhuskers, Corey Clement, Washington State Cougars, NCAA College Football, Alabama Crimson Tide, Portland State Football