Alabama running back Derrick Henry won the Heisman Trophy this season, but he wasn't the top-rated recruit from his class. Henry was actually the fifth-rated running back in the Class of 2013, behind four five-star recruits according to Rivals.com. Henry's clearly been the best RB among the bunch, but it's startling just how much better he's been. Seriously, the players ahead of Henry have not panned out. Henry's 339 carries for 1,986 yards and 23 TDs are more than any of these players have had in their entire careers. With that in mind, here are The 4 RBs Rated Higher Than Heisman Winner Derrick Henry In High School And Where They Are Now:
4. Ty Isaac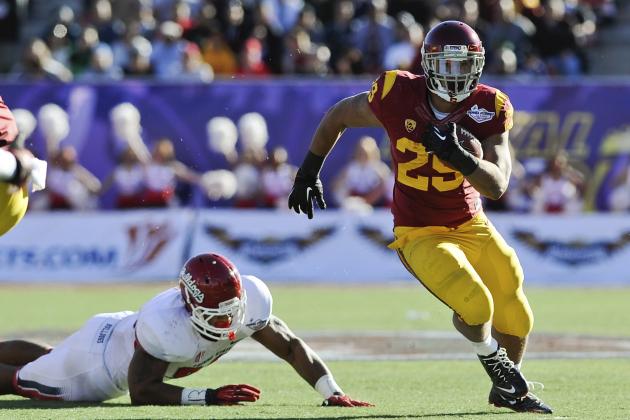 Isaas hails from Illinois, but went to USC. As a true freshman, Isaac carried the ball 40 times for 236 yards and two scores. After his freshman year, Isaac decided to transfer and play closer to home to be closer to his sick mother. Isaac joined the Michigan Wolverines, but played in just seven games this year. He had 30 carries for 205 yards and a score. He was stuck behind several talented players on the depth chart and missed several games with what head coach Jim Harbaugh only called an "internal matter." 
3. Greg Bryant
It looked like Bryant was on track for a big sophomore year with Notre Dame after showing promise his redshirt freshman campaign. He carried the ball 54 times for 289 yards and three scores. He was primed to split carries with Tarean Folston, but was going to serve a four-game suspension and then being ruled academically ineligible. Notre Dame planned to keep Bryant on scholarship, but he elected to leave. Bryant is now at UAB, which is bringing back it's football program. It's been a crazy path for Bryant. 
2. Thomas Tyner
Tyner put up stupid stats in high school (he had 10 TDs in one game), which may have contributed to his high ranking. He stayed in-state and attended Oregon, where he's been okay in his two seasons. He was stuck behind freshman Royce Freeman in 2014, and Tyner missed all of this season with an injury. In two years, Tyner has racked up 228 carries for 1,284 yards and 14 TDs. He's been a contributor, but hasn't had a massive impact like Henry. 
1. Derrick Green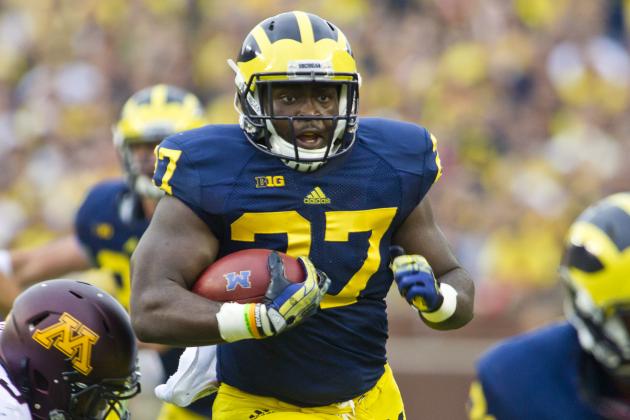 Henry wasn't even the highest rated Derrick from 2013. Green was a Top 10 recruit in 2013 and has failed to reach expectations with Michigan. He showed up overweight as a freshman and has battled injuries throughout his time. Green just finished his junior year and has 212 career carries for 898 yards and seven TDs. Green hasn't become anything more than a plodder for Michigan, which is why he was fourth on the team in rushing yards last season.  
Back to the NCAA Newsfeed
Related Topics: Derrick Henry, Ty Isaac, Thomas Tyner, Derrick Green, Greg Bryant