Man...that was the craziest college football Saturday we've seen in a LONG time. We're still digesting the massive upsets and close calls (and have no clue what we just saw, to be honest), but what we do know is that these next four teams were the most impressive of all on this bonkers day around the nation.
We'd be idiots to have any other team than #25 Florida leading off this list. The Gators defense put on a clinic in the team's 38-10 suffocation of #3 Ole Miss on Saturday night, gutting the Rebels' running game and keeping QB Chad Kelly in check for most of the night. Florida QB Will Grier sparkled for his part, missing on just five of his 29 passing attempts and throwing for four touchdowns -- all in the 1st half. UF went from nice story to legit College Football Playoff threat in one week. That's some good old-fashioned Swamp magic right there.
Just a few days ago, people were talking about the "end of the Nick Saban dynasty" like it was a foregone conclusion in advance of #13 Alabama's road date against #8 Georgia. So much for media chatter. QB Jacob Coker ran the offense to perfection, the defense schooled UGA's offense in spellbinding fashion, and Bama basically turned in a perfect game in a 38-10 victory in front of a hostile crowd in Athens. After three top-ten teams (Ole Miss, Notre Dame, UCLA) fell on Saturday, Bama is now back in the College Football Playoff race at 4-1.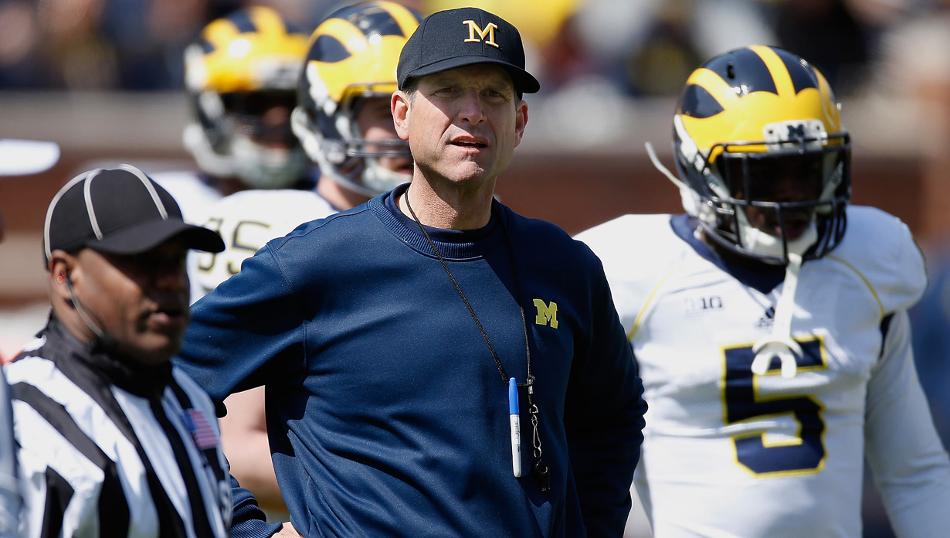 Back-to-back shutouts, folks. The Wolverines gutted Maryland's offense in Saturday's 28-0 Big Ten opener, posting consecutive blankings for the first time since 2000. The Jim Harbaugh era is bringing plenty of cheer to Michigan's fan base over the past four weeks as the Wolverines have put a combined 119-14 beating on Oregon State, UNLV, BYU and Maryland. We asked ourselves early this week whether or not Michigan's defense is good enough to carry its dominance into Big Ten play. We got our answer on Saturday.
Beating the Longhorns 50-7 doesn't mean what it used to, but still -- when you can put a 30-point whooping on any team IN THE FIRST QUARTER, you belong on a list like this. TCU has won 13 straight games over the past two years, despite a myriad of injuries on the defensive side of the ball in 2015. QB Trevone Boykin added another five touchdown passes to his staggering total of 19 over five games. There is no offense quite like TCU's. And heck, even the defense looked fantastic in this Charlie Strong-could-get-fired-sized rout.
Back to the NCAA Newsfeed
Related Topics: College Football, NCAA Football, Chad Kelly, Nick Saban, Jim Harbaugh, Will Grier, Trevone Boykin, Jacob Coker