Most national sports news shows love to celebrate individual efforts when it comes to the day in college football, but we're here to focus on the TEAM. Here's the 4 Most Impressive Team Performances In Week 12 Of College Football (So Far).
What do you do when your lose your Heisman-hopeful starting QB in the biggest game for your program in quite some time? Well, if you're Mark Dantonio's Spartans, you buckle down and play to your strengths. #9 Michigan State did just that, riding a smothering defense and an out-of-nowhere options/quarterback run attack to a 17-14 win over the formerly undefeated #3 Ohio State Buckeyes. Ohio State gained less than 130 yards of total offense against Michigan State, consistently running into the teeth of MSU's front seven. MSU QBs Tyler O'Connor and Damion Terry played within themselves, ushering the running attack to 200+ yards while throwing just 16 times combined.
It was a masterful coaching job by Mark Dantonio and a win for the ages for the undermanned Spartans. Now a win away from a division title, one-loss Michigan State is back and better than ever in the College Football Playoff race.
These are the Ducks we thought we'd get all season long. Oregon won its fifth straight game on Saturday, streaking past #24 USC in a 48-28 home win. QB Vernon Adams threw for 407 yards and six touchdowns -- the most by any quarterback against USC in the Trojans' program history -- pacing the offense in an electrifying performance at Autzen. The Ducks have not lost a game since Adams returned from a finger injury sustained against Eastern Washington. It may be too little, too late for the team's national title hopes, but Saturday's win was a statement of intent by the Ducks as they close in on bowl season.
Other than a very short stretch in the third quarter, Ole Miss dominated #15 LSU in an emphatic 38-17 home win. QB Chad Kelly passed for 280 yards and two touchdowns, rushed for 81 yards and two touchdowns and generally perplexed an LSU defense that has folded in a big way over the course of a three-game losing streak. Ole Miss jumped out to a 24-0 lead before surrendering 17 unanswered to LSU. However, Kelly and the Rebels stiffened up to run away from the Tigers late and push Ole Miss' record to 8-3.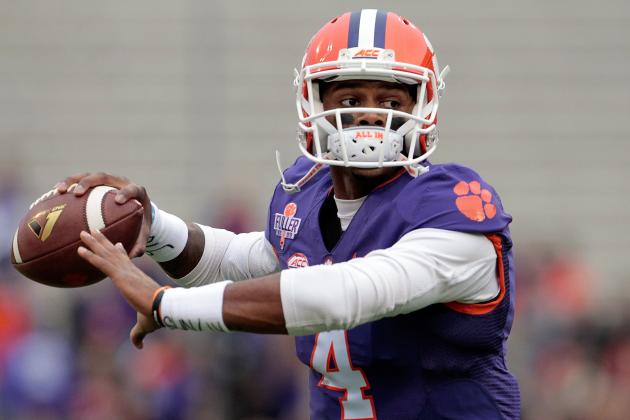 Clemson just keeps winning. And winning. And winning. The #1 Tigers rode four total touchdowns by QB Deshaun Watson to an easy 33-13 win over Wake Forest, moving to the brink of their first undefeated regular season since their national title run in 1981. Clemson gained 318 yards of offense in the first half -- more than the Demon Deacons gave up all game long against #4 Notre Dame last week. The Tigers did that with RB Wayne Gallman sidelined by injury, showcasing just how deep and talented this team really is. The Tigers are prohibitive favorites to stay at #1 in the CFP rankings on Tuesday. That's what a complete win like this one will do for a team.
Back to the NCAA Newsfeed
Related Topics: Chad Kelly, Vernon Adams, Deshaun Watson, Connor Cook