Most national sports news shows love to celebrate individual efforts when it comes to the day in college football, but we're here to focus on the TEAM. Here's the 4 Most Impressive Team Performances In Week 11 Of College Football (So Far).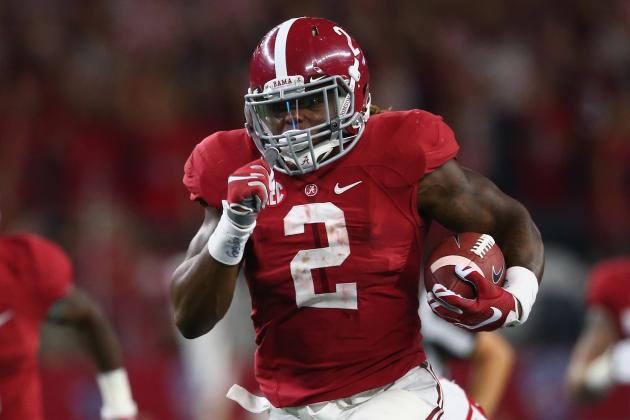 If you're one of those who have griped about Alabama's rise up the College Football Playoff ladder, we're guessing you're reconsidering right about now. The Crimson Tide thoroughly dismantled a really good #17 Mississippi State team in a 31-6 road win that will be serve as one of those sneaky resume boosters for the program going forward.
Alabama's pass rush recorded nine sacks, RB Derrick Henry kept his Heisman roll going with his second straight 200-yard rushing game, and the Tide used three long scoring drives in the second quarter to quiet down a raucous crowd in Starkville. Bama is the best one-loss team in the nation, and they may be the best college football team around period.
If you're looking to get your final College Football Playoff rankings on schedule, you might be disappointed. #20 Navy cemented itself as the best Group of Six team going, crushing American Athletic Conference East division rival SMU 55-14 on Saturday. QB Keenan Reynolds shattered Montee Ball's NCAA career rushing TDs record, scoring four times to up his mark to 81.
This was Navy's first game as a ranked team since 2004, and they made it count in every facet -- strengthening their case as a potential automatic bid in the New Year's Six. If they end up winning the AAC, though, the CFP committee may have to delay their final rankings by a week until Navy finishes its annual season-ending showdown with Army a week after conference championships wind down.
North Carolina may be the most anonymous one-loss team in the nation, but they sure turned some heads in a 59-21 hammering of the Miami Hurricanes. The Tar Heels have scored a franchise-record 125 points in their past two games and haven't committed a turnover in three contests. They've tallied seven takeaways in that span, including three against the Canes on Saturday.
Sitting at 9-1 and 6-0 in the conference, the Tar Heels are just one win away from securing the ACC Coastal Division. If they win out and somehow take down #1 Clemson in the ACC title game, are we talking about a dark horse CFP contender? We might be.
We're here to give a round of applause to a Nebraska team that we left for dead just a shade over a week ago. Following up after their magical 39-38 upset of Michigan State last week, the Cornhuskers kept their bowl hopes alive with a convincing 31-14 win at Rutgers. Beating a 3-7 Scarlet Knights team isn't something to write home about normally, but this group of kids had every opportunity to quit on the season after an embarrassing 55-45 loss to Purdue a couple weeks ago which put their bowl hopes in grave jeopardy at 3-6.
Instead, the Huskers have won two straight and have a chance to turn a nightmarish season completely around if they can pull off an upset of Iowa on Black Friday. For a team that lost its first five by a combined 13 points and four games on their opponent's last play, this late-season run of success is something to celebrate.
Back to the NCAA Newsfeed
Related Topics: Mike Riley, Larry Fedora, Derrick Henry, Keenan Reynolds