Unless you're an Alabama Crimson Tide fan, the College Football Playoff semifinal game between Alabama and Michigan State wasn't much fun. It was a boring blowout, lacking the excitement fans were hoping for. MSU earned their spot in the playoff, but other teams would have provided more excitement and at least found a way to score on Alabama. This isn't an argument that these teams should have made the playoff over Michigan State, but that they would have made the game better and more watchable. With that in mind, here are 4 College Football Teams That Would Have Provided A Better Game Against Alabama:
We start with the only team that beat Alabama this season. A 9-3 regular season record meant Ole Miss didn't deserve a playoff berth, but they did crush Oklahoma State in the Sugar Bowl. Ole Miss' spread offense is the type of scheme that Alabama struggles with. Ole Miss probably wouldn't have beaten the Crimson Tide twice and the committee might have avoided pitting two SEC teams against each other, but the Rebels would have put up a fight. 
Florida State has a very good defense, which makes Houston's 38-24 win even more impressive. Had star QB Greg Ward Jr. not gone down in an upset at UConn, the Cougars would have had a real argument for making the playoff. The win over FSU proves the Cougars are legit. Their spread offense, led by head coach Tom Herman, could have caused real problems for Alabama. It would have provided us with a classic David vs. Goliath matchup. 
Stanford did to Iowa what Bama did to Michigan State. The Cardinal and their pro-style scheme aren't a perfect matchup against Alabama, but they would put up a better effort than the Spartans. Plus, who doesn't want to see Christian McCaffrey going up against the vaunted Bama defense? That matchup alone would have provided more entertainment than Michigan State did.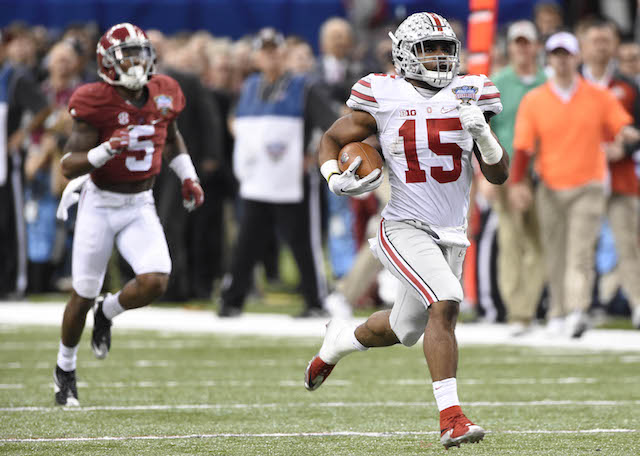 The Buckeyes beat Alabama last season and a rematch of those two teams is what we all wanted in this year's playoff. Ohio State had one awful game against the Spartans, and it's a shame it cost them a shot at a championship. Ohio State playing would have prevented a blowout, would have been more fun and Ohio State would have had a real chance to win the championship. Only true Michigan State fans really believed Sparty could win it all. The College Football Playoff would have been WAY better with Ohio State. 
Back to the NCAA Newsfeed
Related Topics: Ole Miss Rebels Football News, Ohio State Buckeyes Football News, Alabama Crimson Tide Football News, 2016 College Football Playoff, College Football 2015, Houston Cougars Football News