With eight weeks of the college football season complete, we have a better idea of which coaches are on the hot seat. Several of the coaches will be fired at the end of the season, or even before. That's simply the reality of college football. Heck, Steve Sarkisian has already been canned by USC and Randy Edsall was shown the door at Maryland - plus Steve Spurrier has resigned at South Carolina. Here are the next four college football coaches most likely to be fired this season:
4) Mike Riley - Nebraska Cornhuskers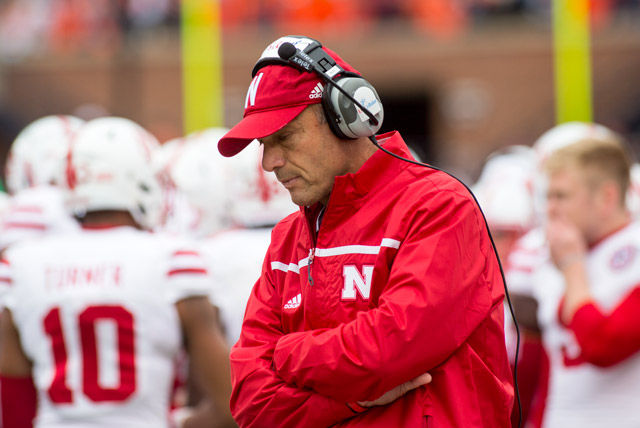 Riley is 96-84 as a college head coach, while Bo Pelini was 67-27 over his seven seasons (plus one game) at Nebraska. Pelini got plenty of guff from Nebraska fans and national football analysts for being "Mr. Nine Wins" - but that's much better than the six wins per season Riley has averaged throughout his career. T
hat's also an alarming trend. Nebraska's struggles this year aren't an anamoly - they're par for the course for Riley. Mediocrity isn't tolerated at Nebraska, and Riley has been mediocre his entire career. They hadn't lost to Illinois since the Roaring 20s, but that happened. BYU, Wisconsin, and Northwestern aren't good enough to beat this Nebraska team on talent alone, but they did just that.
Now, with a need for the Huskers to go at least 3-1 to make a bowl game, they have two ranked teams left to play in Michigan State and Iowa. Nebraska will be heavy underdogs in both those games, showing that they're actually expected to miss a bowl game now. Riley is turning Nebraska into what Michigan was under Brady Hoke - that's something that has to stop NOW, and fans know it.
3) Kyle Flood - Rutgers Scarlet Knights
We don't know what it takes for this man to get fired. He completely violated NCAA rules regarding academics and then tried to hide it in the worst possible way. Oh, his team has also been plagued by arrests. Flood is almost guaranteed to be fired after this season, BUT - a home win over Ohio State this weekend would essentially erase all of that.
2) Mike London - Virginia Cavaliers
If it seems like London has been on the hot seat the past three seasons, it's because he has. He's lost at least seven games in four of his five season at the helm of Virginia. At 2-5, he's trending toward another season with no bowl game, which is something that is widely believed to determine whether he keeps his job or not. Another loss would put that goal in serious jeopardy.
1) Al Golden - Miami Hurricanes
The Miami Hurricanes are 4-3, but after suffering the worst loss in program history at the hands of Clemson (58-0), it's clear that the 'Canes aren't where this storied program should be. At this rate, we wouldn't be surprised if Canes head coach Al Golden was out of a job come Monday.
He's been on the hot seat for the past two years now, and it's simply time to move on. In short, the Al Golden experiment at The U looks to be over, regardless of just how this young Miami team fares over the rest of the 2015 regular season. His stock is pretty much irreparable in the eyes of the majority of Canes fans, bowl game or not.
Back to the NCAA Newsfeed
Related Topics: College Football, NCAA Football, Purdue Boilermakers, Kyle Flood, Al Golden, Nebraska Cornhuskers Football, Mike Riley, Miami Hurricanes Football, Rutgers Scarlet Knights, Darrell Hazell