As we enter the final month of the college basketball season, everyone is starting to look ahead to the NCAA Tournament, deciding who is capable of making the Final Four and winning the national championship. This year's tournament will be much more wide open than we've seen in the past, as there is no great or dominant team in the sport. Several teams ranked at the top would beg to differ, but there are a few that are destined to come up short in the big dance. Here are three teams that are ranked in the top ten but won't make the Final Four this year:
The back-to-back Big East champs are looking to rebound from back-to-back Round of 32 losses in the NCAA Tournament, but I don't see them making a long tournament run this year - despite them being ranked No. 1 in the AP Poll for the first time in school history. They still lack size (only one contributor over 6'7") and effectiveness on the glass, which really hurts them when the opposition can slow the game down. 
Villanova's strength is in their backourt, led by guards Ryan Arcidiacono and Josh Hart, but they've also run into trouble when another team can match their guard play. All three of their losses (Oklahoma, Virginia, Providence) are to other talented guard-oriented teams. They've also struggled to beat lesser guard-oriented teams - such as Creighton, Seton Hall, and Georgetown - because of their inability to defend athletic perimeter players.
That Achilles heel will rear its ugly head again in the tournament, sending the Wildcats to another early round exit.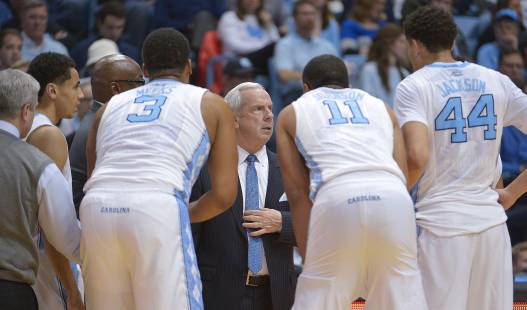 This might be the biggest shocker on the list, but stay with me on this. UNC has been one of the best and most consistent teams in the country this year, yet they still have one major flaw - their perimeter shooting. The Tar Heels always have a very talented roster, but they've failed to advance past the Sweet 16 for the past three years because of their inability to stretch the opposing defense.
They've been able to skate by without it for most of the year, yet there's no denying their struggles. Carolina is shooting just 30.8 percent from three-point range as a team, which ranks 320th in the country (out of 351 teams). As has been the case lately, UNC will run into opposing teams that will pack the paint to take away North Carolina's size advantage, forcing them to shoot from the outside - and the Heels won't be able to take advantage.
UNC has also displayed some troubling defensive inconsistencies over the last two weeks, but that's something head coach Roy Williams will fix. As for their perimeter shooting, well, there's not much he can do about that. It will lead to another early upset of the Tar Heels this postseason.
Before Iowa fans start screaming and getting all mad that I put them on this list, let me explain myself. The Hawkeyes are a very solid, reliable, veteran team, and that had bode very well for them with so few teams in the country playing well consistently. That has kept them in the top five for most of the past month and a half, but Iowa fans should not be expecting a Final Four finish, as their ranking might suggest.
They'll get to the Sweet 16 with their experience, but that's where their tournament run will likely end. Iowa's offense runs through Jarrod Uthoff, a versatile 6'9" forward who averages 18.4 points and 6.4 rebounds per game, but he has stuggled when guarded by a player of similar length and versatility. He has shot a combined 26.1 percent from the field in the Hawkeyes' three games against Michigan State and Maryland, the two best teams they've faced all year.
The rest of Iowa's roster is full of capable players, but they largely lack athleticism and the ability to create shots for themselves. When you have to separate good teams late in March, that's something that will hold Iowa back.
Back to the NCAA Newsfeed
Related Topics: NCAA Basketball, Big East Basketball, Villanova Wildcats, ACC Basketball, College Basketball, Final Four, NCAA Tournament, North Carolina Tar Heels, Big Ten Basketball, Iowa Hawkeyes