The college football preseason coaches poll was released earlier today, giving us the first look at an official top 25 rankings. While those polls are supposed to proclaim the biggest contenders for the College Football Playoff, not every preseason top 25 team experiences success. Last year, two head coaches (Les Miles, Mark Helfrich) were fired after being ranked in the preseason and another (Hugh Freeze) resigned this offseason amidst scandal.
Which coaches could meet the same fate this year? West Virginia's Dana Holgorsen and LSU's Ed Orgeron could have found themselves on this list, but with both getting new deals (with hefty buyouts) this offseason, both are practically guaranteed to be safe - for this year, anyways. Without further ado, here are the three coaches most likely to be fired despite being ranked in the preseason:
Auburn Tigers - Gus Malzahn
Auburn finds themselves at No. 13 in the preseason, and if Baylor transfer quarterback Jarrett Stidham plays like he can (and we think he will), Malzahn won't have to worry too much about his job. But right now, his seat is a little warm. He has failed to top eight wins in the last three years and his offensive coordinator took less money for the same job at UConn - which tells you that some trouble may be brewing. If Auburn has another down year and doesn't compete for the SEC West title, Malzahn will more than likely be canned. 
Georgia Bulldogs - Kirby Smart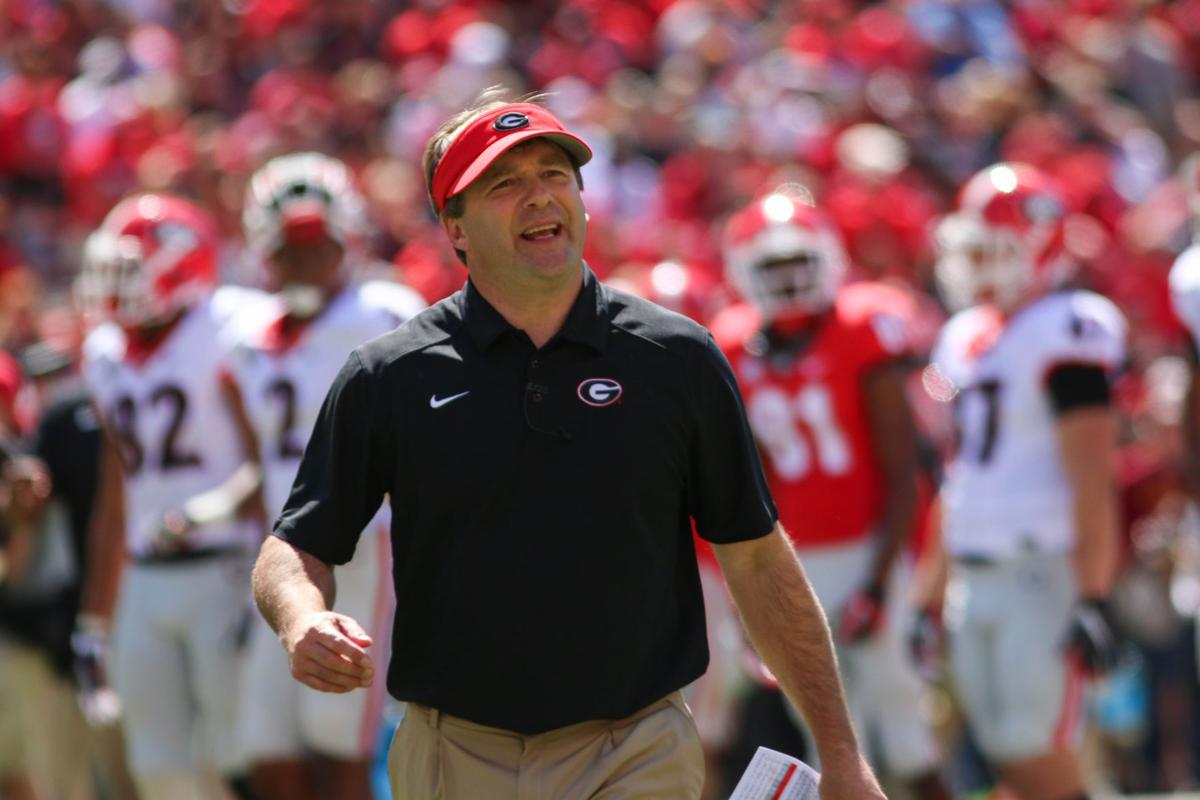 Smart is only entering his second season at Georgia - his first head coaching job - but he's among the coaches with the most to prove in the entire country. On paper, the Bulldogs are most talented team in the SEC East, which puts them in the College Football Playoff conversation as the No. 15 team in the country. However, all of that talent went just 8-5 last year, including 4-4 in conference play. That's no where near good enough, especially when Mark Richt was fired for not making SEC Championship Game appearances (even though he'd win 10 games every year).
UGA leads the SEC with 17 returning starters from last year's team. Expectations are clear - win the SEC East and make it to Atlanta. Anything less than that, and the rumblings about Smart's job security will turn into a loud roar.
Tennessee Volunteers - Butch Jones
The Tennessee faithful are getting tired of "next year." Butch Jones improved his record each of his first three years before sticking at nine wins last year. The Vols were the odds on favorites to win the SEC East, but faltered down the stretch after an undefeated start after Jones reportedly lost control of the program. Another year of "close, but not quiet" could cause new Tennessee AD John Currie to make a change. With less talent than last year's team, it's time for Jones to prove he's more than just a great recruiter. 
Check out our NCAA page for all the latest college football news or download the Chat Sports App!
Back to the NCAA Newsfeed
Related Topics: Georgia Bulldogs Football, SEC Football, NCAA Football, Butch Jones, Kirby Smart, Tennessee Volunteers Football, Auburn Tigers Football, Gus Malzahn