It's always admirable to watch teams go down swinging in defeat, battling their foes with every last bit of their collective energy. These three teams were the direct opposite of that on Saturday. Here's our list of the 3 College Football Teams That Were Total Disasters In Week 13.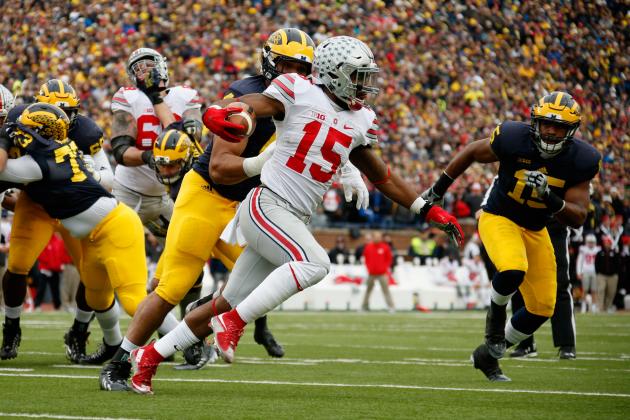 What a horrible way to end what looked to be a dream regular season. #10 Michigan got absolutely trampled by #8 Ohio State's ground game, watching one of their major strengths get flipped on its head in a shocking 42-13 home loss. OSU was reeling coming into this game, shadowed by controversial comments by both Ezekiel Elliott and Cardale Jones after last week's three-point loss to Michigan State. Rather than taking advantage of the Buckeyes' vulnerability, Michigan allowed Ezekiel Elliott to gash them for 214 yards while watching its own running game muster just 57 yards.
Jim Harbaugh has already taken this program a long way in his first year in Ann Arbor, but they're still not on Ohio State's level. Saturday showed that.
Penn State had a fantastic chance to make a resounding statement against #5 Michigan State, proving its 7-4 start to be indicative of a soon-to-be ascent to elite Big Ten status. Nope.  PSU suffered its worst loss to MSU in over 100 years (1914), setting itself back with countless missed defensive assignments and offense hiccups. Michigan State moves on to the Big Ten title game, and Penn State languishes as a mediocre bowl team still searching for that special something under head coach James Franklin.
Auburn's run defense has been its fatal flaw all season long. So it's fitting that the team lost the Iron Bowl by giving up an eye-popping 271 yards and a touchdown on 46 carries to Heisman favorite Derrick Henry. Auburn kept things close for the majority of its 29-13 loss to Bama, but once again they folded down the stretch under defensive coordinator Will Muschamp and head coach Gus Malzahn. The Tigers fell to 6-6 with a whimper, barely mustering anything on offense in front of a home crowd yearning for some sort of electricity from AU. They didn't get it. The Tigers were all sound and no fury, symbolized by Muschamp's sideline tirade against the refs which cost the team a crucial 30 yards in the fourth quarter.
Back to the NCAA Newsfeed
Related Topics: Ezekiel Elliott, Gus Malzahn, Will Muschamp, James Franklin