We've all heard of Leonard Fournette. You'd have to be living under a rock not to know the names Derrick Henry or Deshaun Watson. But, this article isn't about the known stars of college football. It's about the individuals who opened eyes with career-defining performances in the biggest week on the CFB slate to date. Here's our list of the 3 Players Who Made A Name For Themselves In Week 13 Of College Football.
Chris Warren III, RB, Texas Longhorns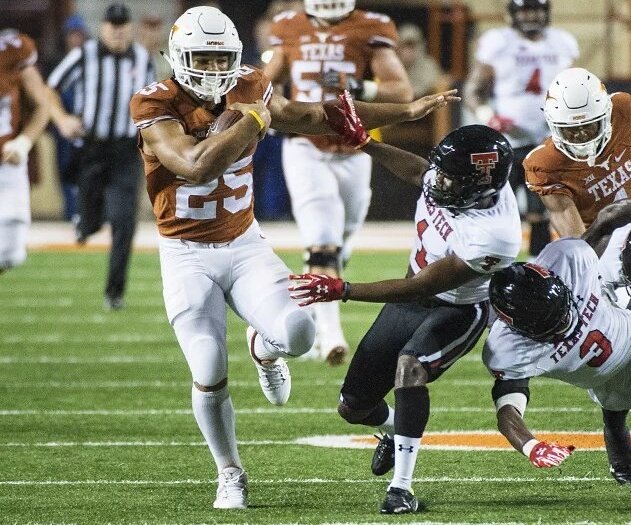 Warren, only a freshman, was the star of Texas' Thanksgiving night loss to Texas Tech, rushing for an eye-popping 276 yards and FOUR touchdowns - on just 25 carries. This was the first game in which Warren got more than five carries this season, and he delievered in a huge way. Look for Warren to be the focal point of Texas' offense going forward.
Elijah Hood, RB, North Carolina Tar Heels
If you don't know about Elijah Hood, you should after UNC takes on Clemson in the ACC Championship Game. He gashed NC State for 220 yards and two touchdowns on Saturday, averaging well over 10 yards per carry. It was his seventh game this year with over 100 rushing yards (plus another in which he had 98) and has eight touchdowns over the last four games. 
Patrick Mahomes, QB, Texas Tech Red Raiders
Mahomes turned heads in primetime on Thanksgiving against Texas, throwing for 372 yards and a touchdown while running for 70 yards and another score. He is only a sophomore, but he has some of the best stats of any quarterback in the country, passing for 4,283 yards and 32 touchdowns (to just 14 interceptions) along with 484 rushing yards and 10 more scores. Expect to hear a lot more from this guy next year.
Back to the NCAA Newsfeed
Related Topics: College Football, NCAA Football, Texas Tech Red Raiders Football, Chris Warren III, Patrick Mahomes, Elijah Hood, Texas Longhorns Football, North Carolina Tar Heels Football