The NCAA Tournament isn't even a day old yet, but it has already provided us with a couple of upsets, several memorable moments, and an abundance of entertainment on a Thursday afternoon. Here are the three best games we've had in the tournament so far:
3) Duke survives, outlast UNC-Wilmington for 93-85 win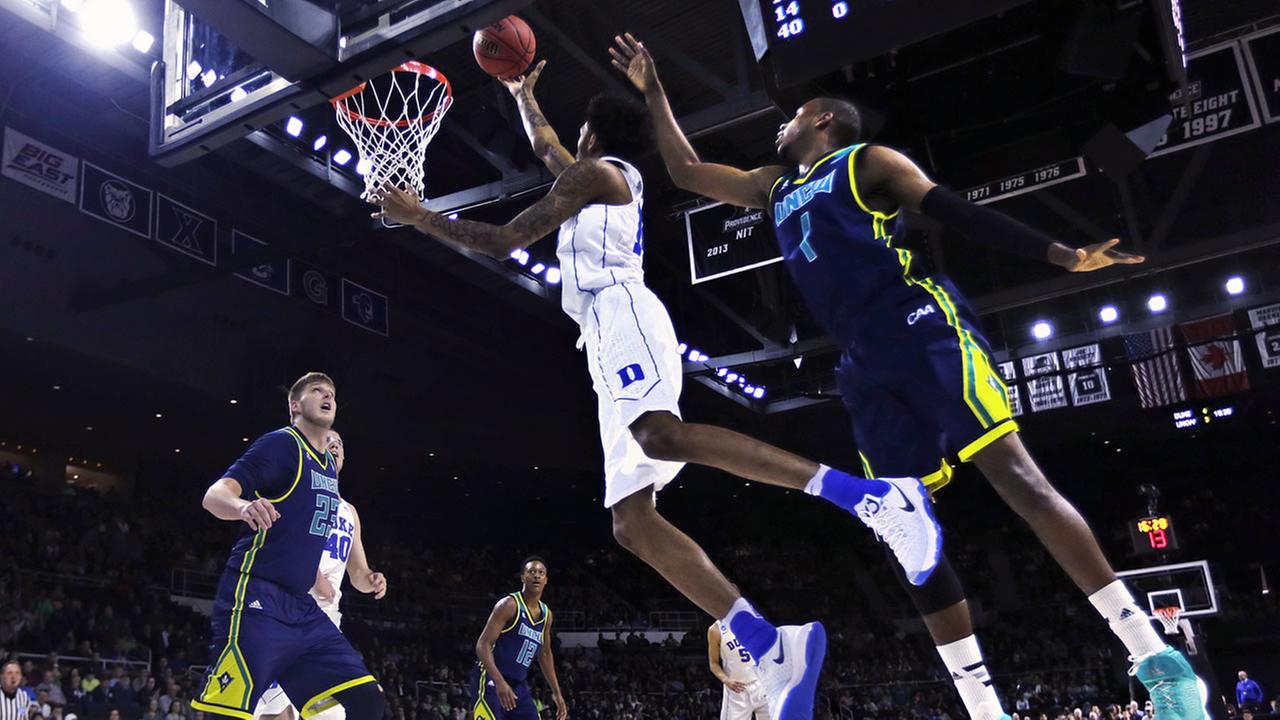 UNC-Wilmington, a No. 13 seed, did not come into this game scared to play their in-state opponent. 
The Seahawks went on a major run to close a back-and-forth first half, reeling off a 15-8 run to take a 43-40 lead into the break. Duke then turned the tables on Wilmington in the second half, regaining control with a 14-0 run. Wilmington continued to hang around and cut the lead to as little as five down the stretch, but the Blue Devils ultimately held on thanks to their ability to break UNCW's press with regularity.
Ultimately, Wilmington put forth a strong effort (led by Craig Ponder's 22 points), but Duke's talent overpowered them in the second half after Coach K made some adjustments for UNCW's press defense. Garyson Allen led Duke with 21 points, nine rebounds, and five assists.
2) Yale gets first tournament win in school history with 79-75 win over Baylor
Yale hadn't made the Big Dance since 1962, but they pulled off the first upset of the tournament after surviving a late run from Baylor.  
The Bears actually got off to a fast start and held the lead for the first 12 minutes of the game, but Yale closed the half on an impressive 28-17 run to take a 39-34 lead into halftime. Baylor regained a 40-39 lead early in the second half, yet Yale responded again a 10-1 run. The Bulldogs were able to build a double-digit lead and hold it for the reaminder of the half - until the Bears made a run.
Baylor was able to cut the lead to one with less than 20 seconds to play when Taurean Smith drained a three-pointer to keep their hopes of a comeback alive, but Yale hit two more free throws with just seconds remaining to secure the win.
Yale was led by point guard Makai Mason, who has put on the best performance of anyone to this point. He dropped 31 points on Baylor, on top of dishing out four assists while grabbing six rebounds. He also called out Yale's next opponent, Duke, who the Bulldogs lost to 80-61 early in November. He said that Yale was going to show they were a much better team than what they showed last time, and that the Blue Devils better be ready for them.
1) Arkansas-Little Rock pulls off dramatic comeback, beats Purdue in 2OT
This game had all the drama you could want in a NCAA Tournament game. Purdue was up 13 points with three minutes left and seemed to have the game in hand - then, the madness happens.
After a 12-0 run Little Rock run, forward Vince Edwards gave Purdue a three-point advantage with 20 seconds to play after two free throws, but Josh Hagins would not let UALR go quietly into the night:
THIS IS MARCH! #MARCHMADNESS https://t.co/0P2NOYpVj6

— NCAA March Madness (@marchmadness) March 17, 2016
Arkansas-Little Rock held a one-point lead for most of the extra session, but an Edwards layup with less than a minute left gave Purdue the lead back. Freshman Ryan Cline hit just one of two free throws on Purdue's ensuing possession, which kept the door open for the Trojans. Hagins took advantage, making a driving layup to tie the game with 18 seconds remaining, forcing a second overtime with the score 75-75.
UALR opened the second overtime on a 5-0 run, but after some missed free throws on both sides, Purdue was able to cut the deficit to one with 11 seconds remaining on a floater from Edwards. However, Hagins hit a free throw to seal the victory.
The Boilermakers cost themselves in the game because of their inability to take of the ball, turning it over 18 times. 
Back to the NCAA Newsfeed
Related Topics: NCAA Basketball, Baylor Bears Basketball, Yale Bulldogs Basketball, UNC Wilmington Basketball, Makai Mason, College Basketball, 2016 NCAA Tournament, Josh Hagins, Grayson Allen, Duke Blue Devils Basketball, Arkansas-Little Rock Trojans Basketball, Purdue Boilermakers Basketball