The NCAA Tournament's second weekend tips off tonight with four Sweet 16 matchups, two from the Midwest Region and two from the West Region. Both remaining one seeds are in action, as well as the tournament's lowest remaining seed (Xavier) and biggest Cinderella story (Michigan). What will tonight's games have in store, and who will advance one step further to the Elite 8? Here is a preview and prediction for all four games:
No. 3 Oregon vs. No. 7 Michigan - 7:09 p.m. ET, CBS
Midwest Region | Sprint Center, Kansas City, MO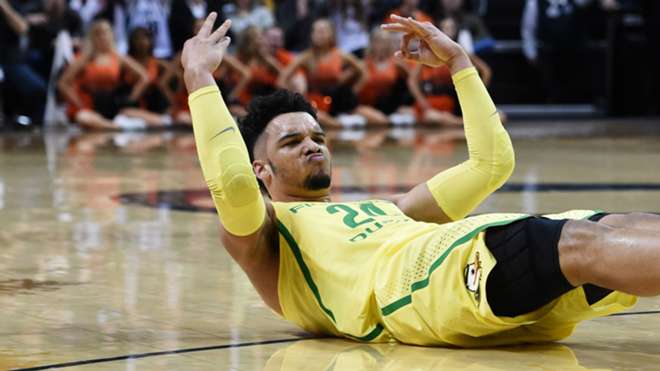 Michigan's run through the Big Ten Tournament and to the Sweet 16 deserves all of the praise they have received. Derrick Walton Jr., Mo Wagner and D.J. Wilson have all emerged as probable first-round prospects and are playing just as good as any trio in the country right now. However, throughout this entire run, they haven't run into a team that can match them offensively. Oregon can.
Dillon Brooks is one of the country's elite scorers, and point guard Tyler Dorsey's hot streak (23.6 ppg in last five games) has the Ducks clicking on all cylinders. This is going to be a fun, up-and-down game without a lot of defense, but the Ducks are slightly better at that end of the court. I'm going with Oregon, but I can't imagine that either team wins by more than three or four points. It'll be that close.
Prediction: Oregon
No. 1 Gonzaga vs. No. 4 West Virginia - 7:39 p.m. ET, TBS
West Region | SAP Center, San Jose, CA
West Virginia's press surprisingly rattled Notre Dame's impressive backcourt and has carried them to the Sweet 16, while Gonzaga has basically used just two good halves of basketball to get them here. However, the Zags haven't had any problems when facing pressure this year, and while they haven't faced a team as good at it as West Virginia, they will do a reasonably good job breaking it and taking care of the ball.
One thing Gonzaga also does that Notre Dame didn't in the second round is attack the basket once they break the press. The Mountaineers are obviously vulnerable when their press gets broken, but Notre Dame's Matt Farrell routinely pulled the ball back out to reset the offense instead of attacking. Gonzaga's Nigel Williams-Goss doesn't do that - he exploits that advantage, which leads to layups or open three-pointers. I expect the Bulldogs to hold a steady lead throughout the entirety of the game.
Prediction: Gonzaga
No. 1 Kansas vs. No. 4 Purdue - 9:39 p.m.* ET, CBS
Midwest Region | Sprint Center, Kansas City, MO
Kansas looked as good as any team during the opening weekend, winning their two games over UC Davis and Michigan State by a combined 58 points. While it looks like they are playing at the highest level of any team remaining, Purdue's size can exploit KU's one weakness in the frontcourt. Caleb Swanigan showed his full array of skills (20 points, 12 rebounds, seven assists) against Iowa State in the second round, and they Jayhawks simply don't have the personnel to guard him and seven-footer Isaac Haas at the same time.
That being said, Kansas has a huge advantage in the backcourt, and Purdue simply has no one who can handle Josh Jackson. Purdue's key in this game will be to get Landen Lucas in foul trouble, and that is their only chance to win. But even then, Kansas can offset that with Jackson, Frank Mason III and Devonte' Graham.
Prediction: Kansas
No. 2 Arizona vs. No. 11 Xavier, 10:09 p.m.* ET
West Region | SAP Center, San Jose, CA
Xavier is the lowest-seeded team left in the NCAA Tournament, upsetting Maryland and Florida State to make the Sweet 16. Their hot shooting and lockdown defense have carried them to this point, but I don't think they have the personnel to keep this going. Trevon Bluiett (25 ppg in the tournament) is really their only consistent star - and Arizona has an elite defender (Kadeem Allen) that will limit Blueitt's effectiveness.
On the flip side, Arizona has the offensive weapons to take advantage of the holes in Xavier's extended zone. This is another game where I expect Arizona to maintain a solid lead for 40 minutes.
Prediction: Arizona
Back to the NCAA Newsfeed
Related Topics: NCAA Basketball, NCAA Tournament, March Madness, 2017 NCAA Tournament