While there are 68 teams in the NCAA Tournament, we know there are only a handful that have a legitimate chance to win the national championship. In fact, no one other than one, two or three seed have won the title in the last 20 years. Looking at those teams in this year's tournament, there are a few that aren't really considered title contenders. Baylor is fading at the wrong time, going 5-6 over their last 11 games, and Florida State has lost four of their last eight games and doesn't play consistent defense. 
As such, we are counting those two teams out as non-contenders. Here are four other teams that are viewed as contenders that I don't think can realistically win a championship.
Duke's ACC Tournament run was awesome, Jayson Tatum is incredible and Luke Kennard may be the best scorer in the country. But we need to take a step back and settle down about the Blue Devils. That tournament run had many calling for them to be a No. 1 seed and Duke opened as the betting favorites to win the national championship. While I do expect Duke to make a run, I don't envision a way in which they win the title.
First off, their defense is still extremely inconsistent. They struggle to defend drives and don't have any real rim protectors. Once they go up against a slashing team, their defense looks like Swiss cheese.
Secondly, they don't have depth in the post. Harry Giles is going to be a phenomenal player, but he is still not himself after missing 14 months of basketball due to his second and third knee surgeries. He often looks like he is still trying to adapt to the speed of the college game. Giles and Amile Jefferson are the only two bigs that see consistent playing time, and if Jefferson gets into foul trouble, the Blue Devils can be exploited by big, physical teams.
Third and finally, they don't have a true point guard. Kennard, Grayson Allen and Frank Jackson are all spectacular players, but the Blue Devils had trouble with turnovers and handling the ball against UNC Wilmington's pressure in last year's tournament without a real point guard on their roster. This year's team has also struggled against pressure. 
In the end, there are just too many pitfalls for this talented Duke team that dealt with so much adversity this season. Unfortunately, they won't be able to reach their full potential.
I really like this UCLA team. In fact, I have them beating Kentucky and North Carolina to advance to the Final Four because of just how lethal their offense is (No. 1 in the country in both points per game and offensive efficiency). I also am a big fan of Lonzo Ball (14.6 ppg, 7.7 apg, 6.1 rpg), who can do everything on the court and should be the No. 1 overall pick in the upcoming NBA Draft.
However, their defense is, to put it mildly, very very bad. They rank 256th in the country in points allowed per game (75.3) and are only 78th in defensive efficiency. Their recent switch to a 3-2 zone has masked some of those struggles, and the Bruins will have the benefit of playing two wide open, up-tempo games against Kentucky and UNC that are perfect for their offense. But their defense will eventually let them down.
Much like UCLA's defense will keep them from winning a title, Louisville's half-court offense will do the same for them. The Cardinals are at their best when they can get into their press, force turnovers and get out in transition. However, if you are able to slow the tempo and play a half-court game, Louisville really struggles. They are just 3-5 in games in which they score 70 points or less, and all of those games were played at a slower tempo. The Cardinals simply don't have the offensive firepower to win six games against tournament competition.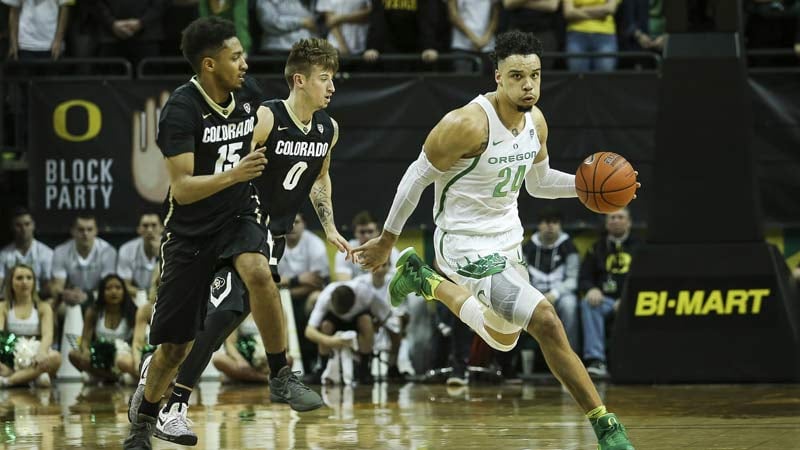 Oregon came into the Pac-12 Tournament as one of the favorites to win the national championship, but those hopes have likely been dashed after starting center and elite shot-blocker Chris Boucher suffered a torn ACL in their Pac-12 tourney opener against Cal. Oregon has enough depth to get by against lesser competition, but they are not a championship-caliber team without a rim protector. They'll be at a major size disadvantage against virtually everyone they play and will be trying to adjust to a new style of play on the fly. That's not something that breeds longstanding success.
Back to the NCAA Newsfeed
Related Topics: Oregon Ducks Basketball, Louisville Cardinals Basketball, ACC Basketball, UCLA Bruins Basketball, NCAA Basketball, NCAA Tournament, Duke Blue Devils Basketball, 2017 NCAA Tournament, Pac-12 Basketball