UPDATED 8:17 pm EST on National Signing Day
National Signing Day is winding to a close, with craziness emerging as the rule of the day -- including some pretty expert Reddit trolling before #1 overall prospect Rashan Gary's commitment to Michigan over Clemson. We're here to keep you updated on the latest from around the nation with our 2016 Recruiting: Everything You Need To Know On Signing Day -- Full Rankings.
Current Class Rankings (Via ESPN)
1. Florida State Seminoles
2. Alabama Crimson Tide
3. LSU Tigers
4. Ole Miss Rebels
5. Ohio State Buckeyes
6. Michigan Wolverines
7. Georgia Bulldogs
8. Clemson Tigers
9. Auburn Tigers
10. Texas Longhorns
11. USC Trojans
12. Florida Gators
13. Stanford Cardinal
14. Tennessee Volunteers
15. UCLA Bruins
Biggest Movers On Signing Day
Florida State (RISING) -- They moved two spots, but it's was two HUGE spots from #3 to #1. Their early-morning blue-chip haul (including OT Landon Dickerson) will be a major part of the foundation of this program going forward, and could end up being the push to get them back to the top of the college football mountain.
Texas (RISING) -- A huge signing day full of top-tier pickups, including four-star LB Jeffery McCulloch, pushed Texas up 22 spots in ESPN's class rankings from #32 to #10.
Alabama (RISING) -- Bama made an expected rise up the rankings, springboarding from #9 to #2 by landing 5-star defensive standout Ben Davis and continuing the momentum with signings of five-star LB Lyndell Wilson and four-star DE Terrell Hall.
Florida (FALLING) -- As everyone landed four- and five-stars around them, UF's near-full class suffered from early-signing fatigue as other programs fill out their classes with marquee talents today. They dropped eight spots to #12, with the other major disappointment being the flip of elite defensive tackle Shavar Manuel to FSU.
Ohio State (FALLING) -- Ohio State's had a fantastic recruiting cycle, but big days for LSU, Florida State and Alabama knocked them three spots down the overall rankings from #2 to #5.
Biggest Misses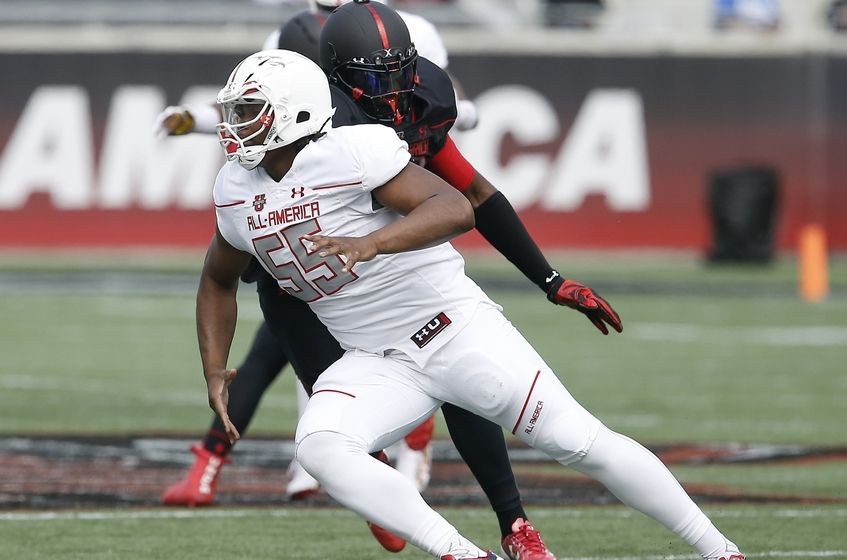 5-Star DT Rashan Gary (Michigan Over Clemson) -- Despite Reddit rumors and photoshops to the contrary, the #1 overall recruit in the Class of 2016 chose Michigan in an announcement on ESPNU over fellow finalist Clemson. Whoever missed on Gary was going to head out of National Signing Day with a bad taste in their mouth because Gary is THAT DANG DOMINANT. Clemson will be fine, but this one stings.
5-Star DE Jeffery Simmons (Miss. State Over Ole Miss) -- Ole Miss appeared to be the favorite for the #1 overall prospect out of the state of Mississippi, but Simmons swerved and brought his elite pass-rushing talent to Starkville. It's a rare miss in what's been a top-level recruting season for Rebels HC Hugh Freeze, but it still hurts.
Biggest Surprises
4-Star DT Shavar Manuel (Flips To FSU From Florida) -- Manuel was a cornerstone of Jim McElwain's defensive haul in Gainesville, and his flip leaves the Gators scrambling.
4-Star LB Dontavious Jackson (Florida State Over Texas) -- It seemed academic that Jackson would stay in state at UT, but Florida State swooped in and picked up one of the biggest surprise gets of the day. He transforms FSU's front seven plans instantly.
4-Star CB Trayvon Mullen (Clemson Over Florida State, LSU) -- This won't paper over the Rashan Gary disappointment, but this is a huge secondary pledge for Clemson after it appeared Florida State and LSU had pulled way ahead. He's a four-star talent with five-star shutdown ability.
Back to the NCAA Newsfeed
Related Topics: Jeffery Simmons, Ben Davis, Rashan Gary, Jeffrey McCulloch, National Signing Day, 2016 National Signing Day, Shavar Manuel