The Alabama Crimson Tide just put the finishing touches on the college football season with a 45-40 win over the Clemson Tigers in the national championship game, and we're already looking towards next year and the superstars set to dominate the college football landscape. Here's our official early rankings of the top Heisman Trophy contenders for 2016:
10) QB DeShone Kizer -- Notre Dame Fighting Irish
Kizer may have to compete with Malik Zaire for the starting job, but the redshirt freshman had a great season in relief after Zaire broke his leg in the second game of the season. A legitimate dual threat, Kizer repeatedly showed the poise, arm strength, accuracy, and decision-making ability that had him among the best quarterbacks in the country. Give him another offseason to develop and learn the offense, along with a relatively easy schedule for the Irish next year, and Kizer could find himself in the thick of the Heisman race.
9) QB Greg Ward Jr. -- Houston Cougars
The leader of the best Group of Five team in the country, Greg Ward Jr. is a quarterback-turned-wide-receiver-turned-quarterback that is one of the best dual threats in the country. He passed for 2,828 yards and 17 touchdowns in 2015, but was even more impressive on the ground, racking up 1,108 rushing yards and 21 touchdowns on the ground. Houston's offense is designed around his running ability, and he'll post even more eye-popping numbers next year.
8) RB Royce Freeman -- Oregon Ducks
Freeman was never mentioned when people were discussing the best running backs in the country, but he should have been at the forefront of the conversation. At. 5'11" and 230 lbs, Freeman used his elite combination of speed and strength to rack up 1,836 yards and 17 touchdowns as a sophomore last year.
7) RB Dalvin Cook -- Florida State Seminoles
Cook carries Florida State's offense all season, but largely flew under the radar for some unknown reason. He finished with 1,691 yards and 19 touchdowns on 7.4 yards per carry last year, and now that FSU is using him more in the passing game, Cook should have an even better year in 2016.
6) RB Nick Chubb -- Georgia Bulldogs
Remember Chubb? He was right in the mix with Leonard Fournette and Derrick Henry as the best back in the SEC last season before a knee injury cut his year short, but he'll be back better than ever in 2016. Chubb has racked up 2,294 yards and 21 on just 311 carries (7.4 YPC) in this collegiate career, and tied Herschel Walker's record for most consecutive games with 100 or more rushing yards in school history. Expect him to be just as dominant next season.
5) QB J.T. Barrett -- Ohio State Buckeyes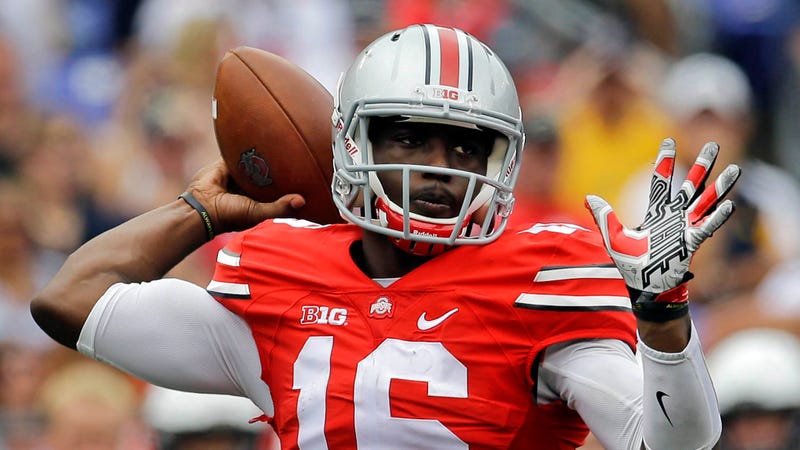 This year's QB controversy in Columbus has done Barrett's casual fan stock no favors, but don't be fooled -- this kid's got the guts, the talent and the on-field awareness to bounce back in Heisman fashion next year. Cardale Jones' likely departure will leave Barrett in unquestioned starter mode in 2016, and he'll have the weapons to push OSU back into the College Football Playoff and push himself into the Heisman conversation.
4) QB Baker Mayfield -- Oklahoma Sooners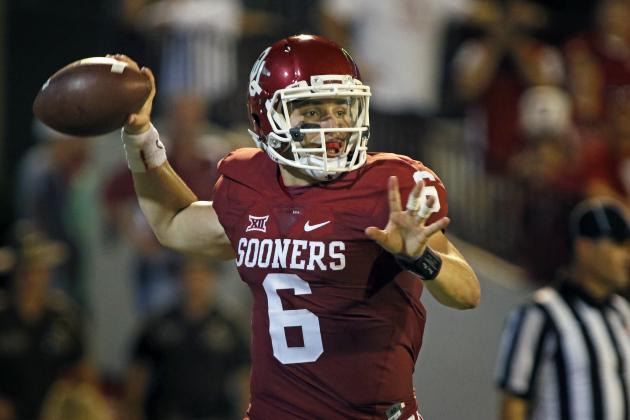 Mayfield didn't get an invite to New York this year, but it's not for a lack of production. He led Oklahoma out of the wilderness after an upset loss to rival Texas, navigating the Sooners through the toughest closing schedule in the nation and into the College Football Playoff. Doing damage with both his arms and legs, Mayfield's got a chance to follow his dream season in 2015 with some Heisman hardware in 2016.
3) RB Leonard Fournette -- LSU Tigers
With 2015 Heisman winner Derrick Henry likely to be playing on Sundays next year, Leonard Fournette will once again assume the mantle as the SEC's premier back. He rushed for 150 yards or more in eight of LSU's 11 games this year, breaking LSU's single-season rushing mark in the process. Don't count LSU's three-game losing streak against him. He's Heisman level through and through.
2) QB Deshaun Watson -- Clemson Tigers
Watson led Clemson to their first undefeated regular season since the program's 1981 title run, making opposing defense look silly both on the run and through the air. The Tigers wouldn't have challenged for an ACC title without him, let alone earning a berth in the national championship game. He's the most dynamic QB nation right now, and he'll hold that same designation in 2016.
1) RB Christian McCaffrey -- Stanford Cardinal
McCaffrey obliterated Barry Sanders' all-purpose yardage record in 2015, racking up 3,903 so far. No player in the nation does more in all three facets of the game (offense, defense and special teams) than McCaffrey. Even with a new quarterback set to take over after Kevin Hogan's graduation, he'll have the Cardinal in the CFP chase next year.
Back to the NCAA Newsfeed
Related Topics: College Football, Oklahoma Sooners Football, Nick Chubb, Georgia Bulldogs Football, LSU Tigers Football, NCAA Football, Leonard Fournette, Christian McCaffrey, J.T. Barrett, Deshaun Watson, Heisman Trophy, Stanford Cardinal Football, Royce Freeman, Dalvin Cook, Ohio State Buckeyes Football, Baker Mayfield, Oregon Ducks Football, Clemson Tigers Football, Florida State Seminoles Football