VCU didn't miss a beat under first year head coach Will Wade, winning a share of the Atlantic 10 regular season title. Can the Rams continue their recent run of NCAA Tournament success? Here's everything you need to know about VCU this year:
Resume:
Record – 24-10 (14-4 in A-10)
RPI – 33
Strength of Schedule – 80
Starting Lineup:
G JeQuan Lewis (Jr.) – 10.5 ppg, 4.8 apg
G Jonthan Williams (So.) – 4.0 ppg, 1.9 rpg
G Korey Billbury (Sr.) – 11.4 ppg, 5.1 rpg
G Melvin Johnson (Sr.) – 17.8 ppg, 2.6 rpg
F Mo Alie-Cox (Jr.) – 10.2 ppg, 5.2 rpg
Key Player:
Melvin Johnson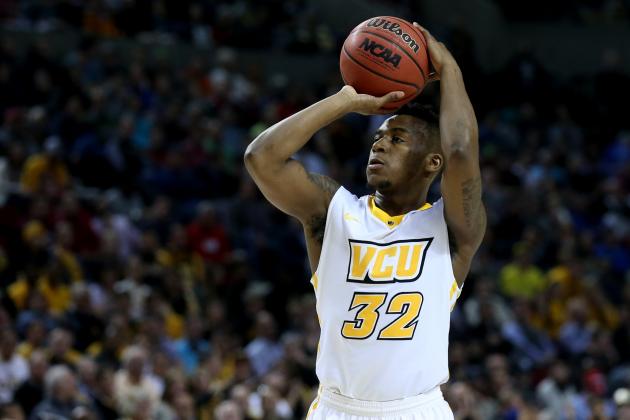 Johnson has taken over as the offensive leader of the Rams, becoming the clear cut go-to guy. He is a shooter at heart, making over three three-pointers per game at a 39.5 percent clip, but he's also adept at using his quickness to attack the basket and his 6'4" frame to finish in a myriad of creative ways.
Biggest Strength:
Creating turnovers
Former head coach Shaka Smart's "HAVOC" defense is still around in Richmond, and it's working as good as every. It's based on putting really aggressive pressure on the opposing ball handler, forcing them to make bad passes and turn the ball over. It became a VCU trademark during their surprise run to the Final Four in 2011, and it's been just as effective this year as they rank sixth in the country in steals (8.9 per game).
Biggest Weakness:
Three-point shooting
VCU needs a roster full of athletes to play their aggressive defensive style, and as a result, they don't have any shooters outside of Johnson on their roster. They shoot a pedestrian 36.1 percent from deep as a team, and rank 113th in the country in field goal percentage.
Outlook:
VCU's defense is good enough to carry them to a first-round win in the tournament, but I don't see them making a Sweet 16 run due to their offensive limitations.
Back to the NCAA Newsfeed
Related Topics: Atlantic 10 Basketball, NCAA Tournament, VCU Rams Basketball, NCAA Basketball, College Basketball