UNC Wilmington is back in the NCAA Tournament for the first time in 10 years thanks to an overtime victory over Hofstra in the CAA Tournament title game. The Seahawks matched the school record for wins in a season (25), but are they capable of making any noise in the Big Dance? Here's everything you need to know about UNCW:
Resume:
Record - 25-7 (14-4 in CAA)
RPI - 59
Strength of Schedule - 172
Starting Lineup:
G Denzel Ingram (Jr.) – 12.4 ppg, 3.3 apg
G Craig Ponder (Sr.) – 10.8 ppg, 3.0 rpg
G Chris Flemmings (Jr.) – 16.0 ppg, 5.9 rpg
G C.J. Bryce (Fr.) – 10.0 ppg, 4.1 rpg
C C.J. Gettys (Sr.) – 5.2 ppg, 5.1 rpg
Key Player:
Chris Flemmings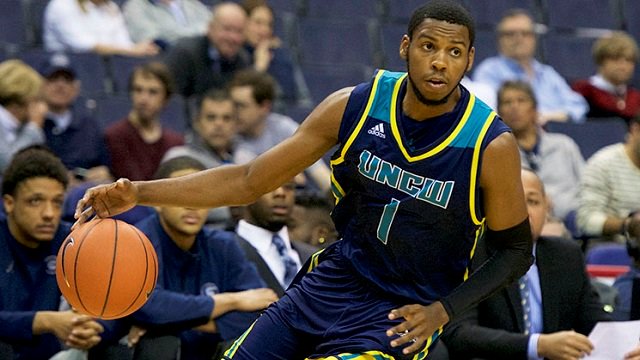 A former high school teammate of mine, Flemmings has blossomed into his own in his first year at Wilmington. A transfer from Division II Barton College, Flemmings stepped right in and became UNCW's leading scorer, earning first-team All-CAA honors. He's a reliable shooter (51.4 percent) capable of creating his own offense at any time. Flemmings is also a knockdown three-point shooter, making nearly two per game. 
His lack of strength (175 lbs.) can be exploited by stronger guards, but he is excellent at using his superb length to draw fouls and get his shot off against bigger defenders - something that has been critical in UNCW's four-guard offense.
Biggest Strength:
Balanced perimeter scoring
Wilmington is an excellent offensive team, ranking 42nd in the country with 79.2 points per game, but they're particularly dominant in the backcourt. All four starting guards average double-figures, and all of them have shown the ability to take over a game at any given time. That puts a lot of added stress on a defense, and it's something UNCW has routinely exploited.
Biggest Weakness:
Ball movement
The downside of having a bunch of talented guards is that they sometimes try to do things on their own, which is a problem that bogs UNCW's offense down at times. The Seahawks are just 160th in the country in assists (13.5 per game), but rank just 175th in assists per possession. 
Outlook:
Wilmington has the potential to pull off a first-round upset if they face a bigger, slower team that will have trouble keeping up with their talented guards. However, an upset would be unlikely even then - but stranger things have happened.
Back to the NCAA Newsfeed
Related Topics: Chris Flemmings, UNC Wilmington Basketball, CAA Basketball, College Basketball, NCAA Basketball, NCAA Tournament