Two weeks of the college football are complete, and the Heisman Trophy race is still wide open. That shouldn't be much of a surprise, as there are numerous threats to take home the most coveted individual award in college football. We've narrowed the list down to the Top 10 candidates, although there are more than 10 players who could head to New York and win. 
Players like Royce Freeman, Baker Mayfield and more are still very much in the race, but just missed making the list. They could very well find themselves here next week. Much can, and will, change during the next few weeks. 
With that in mind, here are our Week 2 Heisman Trophy Top Ten Power Rankings: 
10. QB Wilton Speight, Michigan Wolverines
If you're looking for a dark horse, may we suggest Wilton Speight? The Wolverines' QB has been great this season, although his competition hasn't exactly been a challenge. However, Speight has put impressive numbers so far this season. His first pass was picked off, but since then, Speight is 35 of 49 for 457 yards, 7 TDs and no INTs. If he keeps playing like that, and Michigan keeps winning, Speight will get himself into the discussion.. 
9. QB DeShone Kizer, Notre Dame Fighting Irish
The loss to Texas does hurt Kizer's spot at the moment. But now that he's the full-time starting QB, Kizer can rehab his stock. If he leads Notre Dame to an undefeated season the rest of the way, and maybe into the College Football Playoff, that loss to Texas will be forgiven. Plus, he already has 7 TD passes and two more on the ground. Kizer beats out a few others, like OU QB Baker Mayfield. 
8. RB Leonard Fournette, LSU Tigers
Fournette is one of the top players in the country and that's not going to change. His performance against Wisconsin was fine, picking up 138 yards on 23 carries. However, he wasn't as dominant as he and LSU needed, failing to get into the end zone. Fournette also missed the Week 2 game, although that was a stat-padder game. If Fournette can get LSU to the top of the SEC, he's still in the mix. But if LSU plays like they did against Wisconsin in conference play, he won't take home the Heisman this year. 
7. QB Deshaun Watson, Clemson Tigers
Watson came into the year as one of the Heisman favorites. While there is still more than enough hype surrounding him, he's hasn't been as sharp this year. His running ability has not showed up, and his passing game has struggled a bit as well. He's still very much in the race, and really can't be eliminated until Clemson drops a game. However, until he starts to turn things around, he's outside the Top 6.
6. RB Dalvin Cook, Florida State Seminoles
Ignoring that embarrassing fumbling of a sure-touchdown against Ole Miss, Cook has played very well this year. He has only two TDs, but has put up 284 yards in ground and passing game this year. QB Deondre Francois could get some buzz of his own, but Cook has more of the preseason hype. The difference between the top six players is a small one. 
5. QB Greg Ward Jr., Houston Cougars
Ward didn't play against Lamar, but he ranks in the Top 5 because he led his team to a win over Oklahoma. The Cougars are now No. 6 in the country, and Ward is a huge reason why. He threw for 321 yards and two touchdowns, but the real impact was shown in his leadership and ability to make plays in clutch situations. He'll have plenty of chances to put up numbers in the AAC, which he'll need to do to stay in the thick of the Heisman race.
4. QB J.T. Barrett, Ohio State Buckeyes
Barrett, outside of a pick, was great against Bowling Green in Week 1. He accounted for a whopping 7 TDs in an easy win. But in Week 2 against Tulsa, he wasn't anywhere near as good. He had 55 yards and two scores on the ground, but only 149 yards through the air. Posting seven TDs a game isn't going to be the case for Barrett every week, but he needs to play more like he did in Week 1 than Week 2 to win the Heisman this year. Next week's game against Oklahoma will be critical for his chances. 
3. RB Nick Chubb, Georgia Bulldogs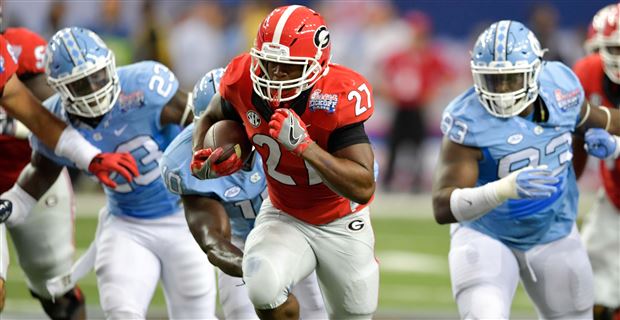 Chubb was very impressive against North Carolina, rushing for 222 yards and two touchdowns to lead Georgia to a close victory. He didn't have quite the effort against a much lesser Nicholls State, which hurts his standing. Still, for a player coming back from a torn ACL, it's very impressive. If he keeps producing and UGA keeps winning, he has a great chance to make it to New York.
2. RB Christian McCaffrey, Stanford Cardinal
Another of preseason Heisman favorite trio, McCaffrey took care of business against Kansas State, accounting for 210 total yards - including 128 yards and two scores on the ground. McCaffrey didn't play in Week 2, but he'll have chances to put up big numbers. Unlike last year, there's hype around him in 2016. 
1. QB Lamar Jackson, Louisville Cardinals
Jackson is putting up video game numbers. In just a game and a half (he didn't play the second half against Charlotte), Jackson has put 697 yards and 7 TDs passing, plus 318 yards on the ground and 6 TDs. He's posted an absurd 13 TDs so far, although his level of competition hasn't been great. With some of the other top contenders struggling, Jackson has dominated early. He plays Florida State next week and if he wins that game, he'll be the clear-cut front runner. For now, he's atop a muddled group of players. 
Back to the NCAA Newsfeed
Related Topics: Greg Ward Jr., Nick Chubb, 2016 Heisman Trophy, Lamar Jackson, Leonard Fournette, Heisman Race, Christian McCaffrey, Wilton Speight, Deshone Kizer, Heisman Watch, Deshaun Watson, Dalvin Cook, J.T. Barrett, Heisman Trophy, Heisman Power Rankings