The first three weeks of the college football are complete and the contenders are starting to emerge for the Heisman Trophy race. We've narrowed the list down to the Top 10 candidates, although there are more than 10 players who could head to New York and win. With that said, there is a clear-cut favorite. 
Players like Baker Mayfield and DeShone Kizer lost this week, and their Heisman chances took a major hit in the process. Much can, and will, change during the next few weeks. But for now, this is really Lamar Jackson and everyone else. 
With that in mind, here are our Week 3 Heisman Trophy Top Ten Power Rankings: 
10. ATH Jabrill Peppers, Michigan Wolverines
Peppers is still very much on the outside looking in of the Heisman Trophy race, but he is at least worth mentioning. He's listed as a linebacker, but he's more of an athlete. He can play defensive back, return specialist and even offensive playmaker. He was great against Colorado, recording 9 tackles, a sack, 3 tackles for loss, a punt return TD and 204 all-purpose yards. Peppers would need to play a lot more offense to have a real shot at winning, but if he puts up a few more games like the one against Colorado, he should at least be mentioned in passing. 
9. QB Jalen Hurts, Alabama Crimson Tide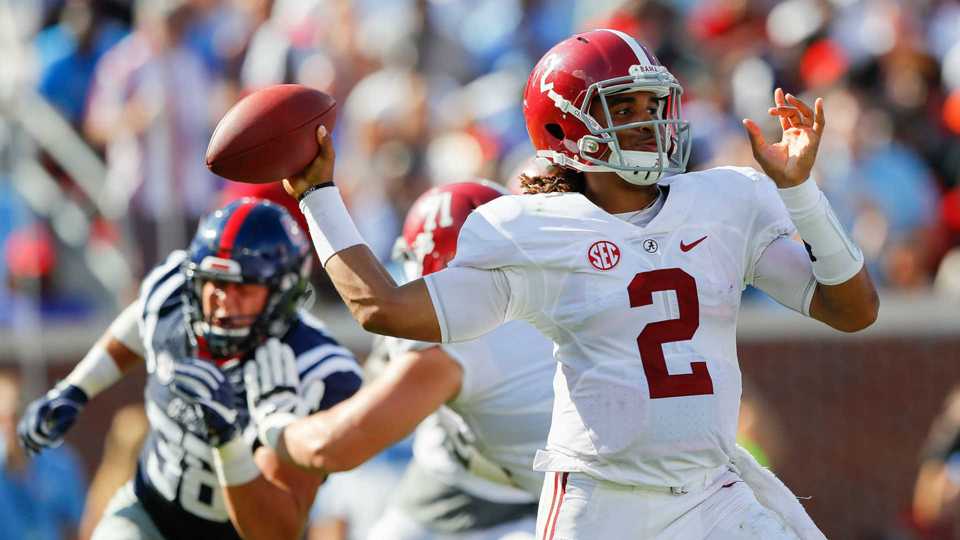 As we saw last year with Derrick Henry, the best player on the best team can end up with the Heisman. Perhaps a version of that will be true for Jalen Hurts. Perhaps it's a reach to put him at No. 9, but with name players like Kizer, Mayfield and Dalvin Cook struggling, there's an empty spot. And for a true freshman, Hurts has looked great. He's completing 61.5 percent of his passes, for 563 yards, 4 TDs and one pick. A dual-threat, he also has 197 yards and two scores on the ground. If Alabama keeps winning, Hurts will get a good chunk of the credit. 
8. RB Donnel Pumphrey, San Diego State Aztecs
You might not know who Pumphrey is, but you should. He's the nation's leader in rushing yards, ahead of Jackson. He's racked up 599 yards and 7 TDs in only 3 games. He's a major reason why San Diego State is ranked. If SDSU continues to win, Pumphrey will continue to get more recognition. He's one of the best players you probably haven't heard of. 
7. RB Leonard Fournette, LSU Tigers
Fournette is one of the top players in the country and that's not going to change. His performance against Wisconsin was fine, picking up 138 yards on 23 carries. However, he wasn't as dominant as he and LSU needed, failing to get into the end zone. Fournette fumbled twice against Mississippi State, but still put up 147 yards, two scores and a crazy good stiff arm. If Fournette can get LSU to the top of the SEC, he's still in the mix. But if LSU plays like they did against Wisconsin in conference play, he won't take home the Heisman this year. 
6. RB Nick Chubb, Georgia Bulldogs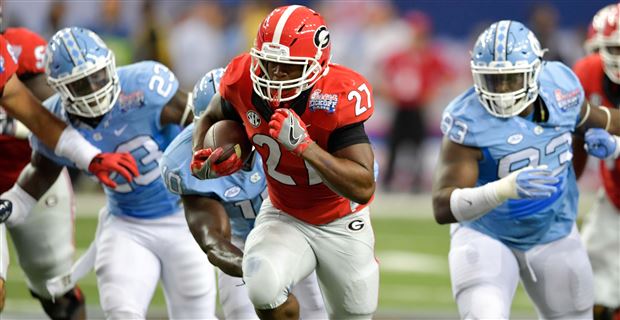 Chubb was very impressive against North Carolina, rushing for 222 yards and two touchdowns to lead Georgia to a close victory. But since then, Chubb has looked less than stellar. Opposing defenses have shut him down, and he's sliding down the rankings. But if he can bounce back and UGA keeps winning, he has a chance to make it to New York.
5. QB Deshaun Watson, Clemson Tigers
Watson came into the year as one of the Heisman favorites. While there is still more than enough hype surrounding him, he's hasn't been as sharp this year. His running ability has not showed up, and his passing game has struggled a bit as well. He's still very much in the race, and really can't be eliminated until Clemson drops a game. He looked better in Week 3, but that was against South Carolina State. He's still in the mix, but he's clearly outside the Top 3. 
4. QB Greg Ward Jr., Houston Cougars
Ward didn't play against Lamar, but he ranks in the Top 5 because he led his team to a win over Oklahoma. The Cougars are now No. 6 in the country, and Ward is a huge reason why. He threw for 321 yards and two touchdowns, but the real impact was shown in his leadership and ability to make plays in clutch situations. He made some mistakes against UC in Week 3, but still pulled out a win and had some nice plays. He's very much in the mix, although another QB's effort against the Sooners was more impressive. 
3. RB Christian McCaffrey, Stanford Cardinal
Another of preseason Heisman favorite trio, McCaffrey took care of business against Kansas State, accounting for 210 total yards - including 128 yards and two scores on the ground. He looked sharp again in Week 3 against USC, racking up 165 yards on the ground, 73 receiving yards and 2 scores. He's very much in the mix. 
2. QB J.T. Barrett, Ohio State Buckeyes
Barrett looks great so far. He beat up on two cupcakes in Weeks 1 and 2, but looked damn good against Oklahoma. He had only 152 passing yards, but added 74 on the ground and had four TDs. That gives him 13 TDs on the season and he's in good position to take home the Heisman. However, there's one QB that has to be ahead of him. 
1. QB Lamar Jackson, Louisville Cardinals
Jackson is putting up video game numbers and not even FSU's defense could stop him. With 913 passing yards, 464 rushing yards and 18 TDs, there is no doubt Jackson is the Heisman front-runner. The real question is if he can keep it up. September Heisman favorites don't always hang around until November. 
Back to the NCAA Newsfeed
Related Topics: Greg Ward Jr., Nick Chubb, 2016 Heisman Trophy, Lamar Jackson, Leonard Fournette, Christian McCaffrey, J.T. Barrett, Jabrill Peppers, Deshaun Watson, Heisman Trophy, Jalen Hurts, Heisman Race, Heisman Power Rankings, Donnel Pumphrey