The first nine weeks of the college football season are complete and the contenders and pretenders are starting to emerge for the Heisman Trophy race. We've narrowed the list down to the Top 10 candidates, although the crop gets thin outside the top five (or even top two). 
Much could during the next few weeks. But for now, this is really Lamar Jackson, then Deshaun Watson and then everyone else.
With that in mind, here are our Week 9 Heisman Trophy Top 10 Power Rankings: 
10. RB Leonard Fournette, LSU Tigers
Fournette has only played in four games this year, but he's looked great in them. He's put up 168 yards per game and is averaging over eight yards per carry. I know he's still very much on the outside of the race, but maybe that changes if LSU beats Alabama. We're looking for bodies to fill out the Top 10 and Fournette can fill a spot. 
9. DT Jonathan Allen, Alabama Crimson Tide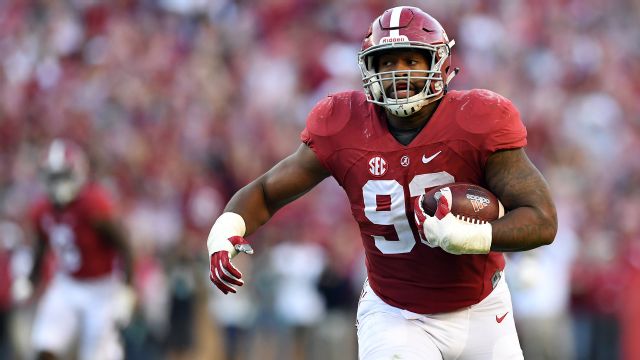 Look, I get it. Allen isn't winning the Heisman, but he is the best player on the best team. He has six sacks this year and two defensive touchdowns as part of a lights-out Alabama defense. Yes, it's a reach, but the options are thin. 
8. RB Dalvin Cook, Florida State Seminoles
Cook won't win the Heisman, but in a not-so-clear race outside the Top 4 or so, he deserves a mention. He's posted 11 rushing TDs, plus one in the passing game. He's already set a career mark with 371 receiving yards. Add in 1,069 rushing yards, good for fifth in the nation, and you've got the stats of a Heisman threat. But FSU's struggles mean Cook won't win the award this year. 
7. QB J.T. Barrett, Ohio State Buckeyes
Barrett's Heisman case came crashing down against Penn State. That loss wasn't really his fault (special teams and blocking get the blame first), but it does put a major dent in his Heisman hopes. However, Barrett isn't totally out yet. He's still very much behind the leader, but can still make the College Football Playoff and maybe snag the Heisman. His overall numbers aren't overly impressive (1,675 pass yards, 17 TDs, four INTs along with 531 yards and six more scores on the ground), but I'm saying there's a chance. 
6. RB Donnel Pumphrey, San Diego State Aztecs
Since we're still doing Top 10, we need bodies. Pumphrey's chances suffered a major blow when San Diego State lost earlier this year, but he still might be the best player you've never heard of. On 191 carries, he's racked up 1,469 rushing yards and 13 TDs. He's the nation's leading rusher and although he probably won't win, he does deserve at least some kind of praise. This might actually be a bit low for how great Pumphrey has been not just this year, but in his career. He's 5th in the NCAA in all-time rushing yards, 656 yards shy of Ron Dayne's mark. 
5. ATH Jabrill Peppers, Michigan Wolverines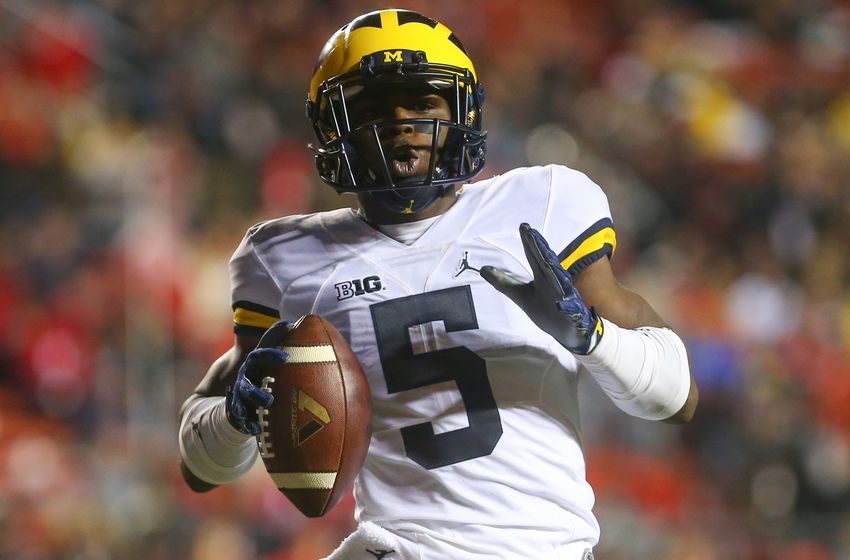 Peppers is one of the best athletes in college football. He's listed as a linebacker, but plays defensive back, return specialist and even offensive playmaker. He was impressive against Rutgers, posting two rushing touchdowns while playing Wildcat QB and had a great punt return called back. He was great against Colorado, recording 9 tackles, a sack, 3 tackles for loss, a punt return TD and 204 all-purpose yards. Jim Harbaugh has said Peppers should win the Heisman and while I love Peppers, it's tough to see him actually winning. An invite to New York is a more reasonable expectation. 
4. QB Jake Browning, Washington Huskies
The Huskies keep winning, and although the win over Stanford doesn't look as great, the Huskies are among the CFP favorites. Just a true sophomore, Browning is a talented QB. He's completing an impressive 67.7 percent of his passes for 1,895 yards, 28 TDs and three INTs. He's also managed to add four rushing TDs. If Washington keeps winning, Browning should continue to rise. The future is bright in Washington and Browning is a major reason for that. There's some East Coast bias working against Browning, but he's a heck of a player. 
3. QB Jalen Hurts, Alabama Crimson Tide
As we saw last year with Derrick Henry, the best (offensive) player on the best team can end up with the Heisman. Perhaps a version of that will be true for Jalen Hurts. And for a true freshman, Hurts has looked great. He's completing 63.1 percent of his passes for 1,549 yards, 11 touchdowns and five picks. However, what really sets him apart is his running ability, where he has 521 yards and nine touchdowns. If Alabama keeps winning, Hurts will get a good chunk of the credit and maybe a few Heisman votes. That's just how the voters work.  
2. QB Deshaun Watson, Clemson Tigers
Watson came into the year as one of the Heisman favorites, but hasn't look as great as he did last year. While he did make a big statement against Louisville, his (and Clemson's) performance against NC State last Saturday left much to be desired. Still, he's the only preseason favorite still in the race, his team is undefeated and firmly in the College Football Playoff picture, and he has good numbers - 2,328 passing yards, 22 touchdowns and 10 interceptions while adding 331 yards and another touchdown on the ground. Watson has done enough to be one of the favorites, but he hasn't outplayed Lamar Jackson.
1. QB Lamar Jackson, Louisville Cardinals
Jackson is still putting up video game numbers and Clemson's defense only sort of limited him. With 2,522 passing yards, 996 rushing yards and 38 total TDs, Jackson is by no means done because of his loss. September and October Heisman favorites don't always hang around until December, and Jackson could slide as the season goes on if Louisville drops another game, but he's still the favorite. He's already set the Louisville single-season TD record. This is Heisman Trophy to lose. 
Back to the NCAA Newsfeed
Related Topics: NCAA Fooball, 2016 Heisman Trophy, Lamar Jackson, Leonard Fournette, Jalen Hurts, J.T. Barrett, Jabrill Peppers, Deshaun Watson, Donnel Pumphrey, Dalvin Cook, Jonathan Allen, Heisman Trophy, Jake Browning