The college football regular season is essentially over, save for those crazy kids in the Big 12. With the season all but over, it's time to take another look at the Heisman Trophy Race. Namely, can anyone catch Lamar Jackson?
Jackson appeared to have the Heisman Trophy in hand already, after getting Louisville to an impressive 9-1 start. Jackson was, and still is a dynamic dual-threat, but his Heisman chances have taken a hit. He struggled against Houston, although his offensive line gave up 11 sacks and that wasn't on Jackson. He turned it over too much against Kentucky this week, although he still put up decent stats. He did have a turnover that ruined what likely would have been the game-winning drive. 
So Jackson has left the door open now, but can does anyone else have a real claim to the award? We've narrowed the list down to the Top 10 candidates, although it's not a deep list. 
With that in mind, here are our Heisman Trophy Top 10 Power Rankings: 
10. RB Donnel Pumphrey, San Diego State Aztecs
Had San Diego State not limped home with two straight losses with less than 100-yard games from Donnel Pumphrey, he might have been in the Top 3. Instead, he's on the outside looking in. He's had one of the greatest careers of any college RB, but 1,908 yards on a 9-3 SDSU team just isn't enough. Maybe he can get an invite to New York, but that's unlikely. 
9. RB D'Onta Foreman, Texas Longhorns
There are several players who could "take" this last spot. Despite Texas' terrible year, D'Onta Foreman has been fantastic. He racked up 2,028 yards and 15 TDs on the ground. If he played for a 9-3 Texas team, he might have won. But because Texas has been terrible, he won't capture the Trophy and might not even get an invite to New York. 
8. ATH Jabrill Peppers, Michigan Wolverines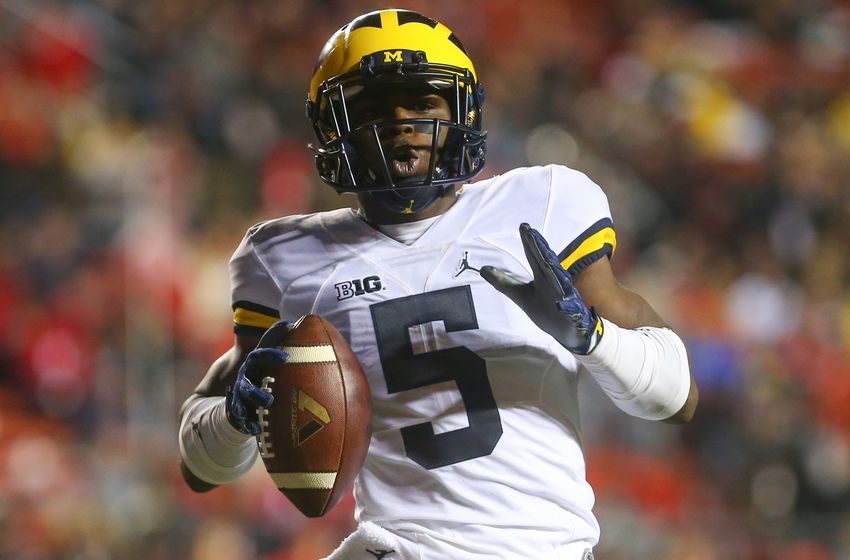 'Member when people tried to argue for Jabrill Peppers and said he deserved the award? I 'member. Peppers hasn't done much in the last few weeks and a pick against OSU wasn't enough to make him a legitimate candidate. Heck, Adoree' Jackson might have a better claim than Peppers as the resident all-purpose player in the Heisman mix. 
7. QB J.T. Barrett, Ohio State Buckeyes
Barrett's Heisman campaign came crashing down against Penn State and even though OSU hasn't lost since, his stock hasn't rebounded. He's a great player on a great team, but Curtis Samuel might be even more important to OSU. Despite the record, Barrett doesn't have the numbers that are so important for a Heisman campaign. He has completed 61.9% of his passes for 2,248 yards, 24 TDs and 5 INTs. He does have 847 rushing yards and 9 more TDs, but several other QBs have better stats. 
6. QB Jalen Hurts, Alabama Crimson Tide
As we saw last year with Derrick Henry, the best (offensive) player on the best team can end up with the Heisman. Perhaps a version of that will be true for Jalen Hurts. And for a true freshman, Hurts has looked great. He's completing 65.9 percent of his passes for 2,454 yards, 21 touchdowns and 9 picks. However, what really sets him apart is his running ability, where he has 840 yards and 12 touchdowns. But Hurts doesn't have the stats Jackson has and he isn't as good as Browning, Mayfield or even Barrett is. He'll get some votes, but if he wins, we might as well give the Heisman to the best player on Alabama each year. 
5. QB Baker Mayfield, Oklahoma Sooners
Yes, Mayfield struggled in those two early Oklahoma losses, but he's been great since then. He's recorded 3,381 yards, 35 TDs and eight picks through the air, plus 6 rushing TDs. Those numbers but him in line with Deshaun Watson and he has another game left. But, those two losses make it nearly impossible for him to catch up at this point, and there's another Sooner that could steal votes. 
4. WR Dede Westbrook, Oklahoma Sooners
I was worried about how OU would replace an amazing WR in Sterling Shepard. I didn't need to be, as Westbrook has been incredible. He's caught 70 passes for 1,354 yards and 15 TDs and added a pun return TD because why not. With another game left, Westbrook could finish in the top 5 for yards (he's 6th and just 38 yards behind) and lead in TDs (he's 2 TDs shy, but Corey Davis of WMU has another game too). That's a fantastic season, but WRs don't really win the Heisman. At least one of those OU players should get an invite. 
3. QB Jake Browning, Washington Huskies
The loss to USC, and the poor play from Jake Browning in the process, helped kill Browning chances. He does have some decent stats: 65% passing, 3,162 yards, 40 TDs, 7 INTs and 4 rushing TDs. But there is some east coast bias and although he might get an invite to New York, he likely won't win. 
2. QB Deshaun Watson, Clemson Tigers
Watson came into the year as one of the Heisman favorites, but hasn't looked as great as he did last year. While he did make a big statement against Louisville, he's struggled at other points. His numbers are solid: 3,626 yards, 34 TDs, 14 INTs and then 444 yards and 4 TDs on the ground. But that's a step down from what he did last year and he's turned it over even more than Jackson. Even with the head to head win, Watson doesn't have the same resume that Jackson does. 
1. QB Lamar Jackson, Louisville Cardinals
Even with all the flaws he has, Jackson should still win the Heisman. He's carried Louisville this season. He's their leading rusher, his receivers constantly drop passes and his O-Line has issues blocking. Despite that, he's racked up 3,390 yards through the air with 30 TDs and 9 INTs. He's the No. 8 rusher in the nation with 1,538 yards and 21 TDs. He's not a great Heisman winner, but Jackson deserves the trophy this year. 
Back to the NCAA Newsfeed
Related Topics: Jake Browning, Heisman Watch, 2016 Heisman Trophy, Lamar Jackson, Jalen Hurts, Jabrill Peppers, Deshaun Watson, Heisman Trophy, J.T. Barrett, Donnel Pumphrey, Baker Mayfield, D'Onta Foreman, Dede Westbrook