The Wofford Terriers clinched their second straight NCAA Tournament berth by winning the Southern Conference tournament, and now they're looking to win their first tournament game in school history.
Resume:
Record – 28-6 (16-2 in SoCon)
RPI – 52
Strength of Schedule – 230
Starting Lineup:
G Eric Garcia (So.) –7.8 ppg, 2.6 apg
G Karl Cochran (Sr.) – 14.6 ppg, 5.8 rpg
G Spencer Collins (Jr.) – 11.6 ppg, 2.6 rpg
F Lee Skinner (Sr.) – 10.0 ppg, 5.8 rpg
F Justin Gordon (Jr.) – 7.6 ppg, 3.9 rpg
Key Player:
Karl Cochran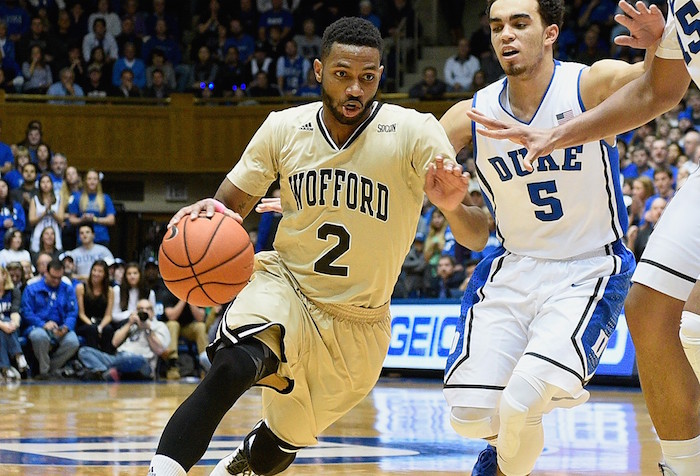 Cochran is one of the few players on a mid-major team that has the potential to take over the NCAA Tournament. The Southern Conference Player of the Year leads Wofford in points, rebounds, assists, steals, and blocks, showing just how reliant the Terriers are on their star player. They need Cochran to play well for them to make any noise in the tournament.
Biggest Strength:
Defense
Wofford is the mid-major version of Virginia, and while they don't have the athletes and talent UVA does, their defense is smothering and gives them a chance to win every game. They give up less than 60 points a game, which ranks them 24th in the country.
Biggest Weakness:
Size
Wofford doesn't have a single player on their roster taller than 6'7", and that negatively affects multiple areas of the game. They rank among the 100 worst teams in all of Division I in rebounding and blocks, and that's caused them to get blown out by big teams like Duke, Stanford, and West Virginia.
Outlook:
Wofford has the experience, guard play, and defense that point to them being a potential Cinderella team, but their lack of size may hamper that. Their success will largely depend on their matchup in the first round.
Back to the NCAA Newsfeed