When the 2017 college football season ends, or even before it, multiple head coaching jobs will open as teams fire their current head coaches. That means a new wave of college head coaches will rise up, most of them current assistants. The recent wave has featured young coaching minds, mostly offensive coaches, getting the call to run their own programs. The two biggest hires last year came at Oklahoma and Texas. Both programs hired young, offensive minds in Tom Herman (42) and Lincoln Riley (33). Those are far from the only young coaches on the fast track to being head coaches and now that they're at elite programs, a whole new batch will rise up.
But the coaching trees have also mattered lately. Being a coordinator for one of the biggest names in coaching, guys like Urban Meyer, Nick Saban or Jim Harbaugh, is like being named a head coach in waiting. These coaches just churn out head coaches. Herman joined the likes of Steve Addazio, Chris Ash, Luke Fickell, D.J. Durkin, Dan Muellen and Charlie Strong as coaches who have made the leap. For Saban, it's coaches like Lane Kiffin, Jim McElwain, Kirby Smart and pre-Alabama coaches like Mark Dantonio and Jimbo Fisher. Harbaugh produced five head coaches in Willie Taggart, David Shaw, Scott Shafer, Durkin and Mike Sanford from his first staff at Stanford ALONE. He has a few more that could get the call this year. 
So who are the assistants next in line to get a head coaching job when this year ends? There are numerous coaches who will get a shot at being a head coach in college (the turnover rate is fairly high), but there's a common theme on this list: coaching tree and pedigree. With that in mind, here are 14 college football coordinators who are the most likely to be head coaches next season. 
14. Tim Beck, Texas Offensive Coordinator
Beck has quite the resume. He was the offensive coordinator at Nebraska, under Urban Meyer at Ohio State and now at Texas. The 51-year-old has also coached at Kansas and numerous other stops across the nation. However, he was also blamed by the fans for OSU's offensive issues last year. Many view the hiring of former Indiana coach Kevin Wilson as a big upgrade (he'll get another shot as a head coach again at some point, just probably not next year). There some similar complaints at Nebraska. Still, Meyer and Herman are two great minds to work under and if Texas fares well, Beck will draw interest. He previously interviewed for the Kansas job, although that's one that likely won't be open. 
Potential Jobs: 
Beck has plenty of ties to the Ohio area, making him an option at a Mid-American School. He played at Youngstown State and it seems very likely the Kent State job will be open after this year, as Paul Haynes has gone 12-35 in four years. Another MAC or Group of 5 school could have interest. 
13. Jim Leavitt, Oregon Defensive Coordinator
Leavitt is one of only a handful of coaches on this list with college head coaching experience. The 60-year-old was instrumental at South Florida, literally building the team from the ground up and posting a 95-57 overall record from 1997 to 2009. It was highlighted by ranking No. 2 in the polls, but it all came crashing down when Leavitt was fired in Jan. 2010 for hitting a player. He then coached in the NFL with the 49ers under Jim Harbaugh before getting back in the college game as the Colorado Buffaloes' DC last year. It was a resounding success and Willie Taggart hired him to the same role at Oregon. Leavitt's past will turn programs away and draw negative press, but programs have hired coaches with issues in the past. 
Potential Jobs: 
The former Bill Snyder assistant is also a Missouri graduate. If that job came open (fellow alumnus Barry Odom went 4-8 in his first year), Leavitt would surely have interest. But it's a bit more likely something along the lines of Bobby Petrino happens, where Leavitt takes a much lesser college job (think lower Group of 5) to help rehab his image as a head coach.
College Football Fans - Download Chat Sports on iPhone today for breaking College Football news, rumors, scores and more - Chat Sports iPhone App
12. Mike Bloomgren, Stanford Offensive Coordinator
A young guy, Bloomgren is another under-the-radar 40-year-old coach. But he has quite the resume, serving as an undergraduate assistant at FSU, a graduate assistant at Alabama, an assistant OC on the New York Jets and now the OC of Stanford. Stanford OC's, like Hamilton, David Shaw and even Bill Cubit have a good track record of landing head coaching gigs. 
Potential Jobs: 
Bloomgren also has ties to Florida, having grown up in the state. Coaching at Stanford, with higher academic standards, could make him an option for a school that has similar standards. He's young enough that he might not want to jump at the first job that comes up. Another coach with a varied background, he could be an option at numerous schools around the country. It would likely be a Group of 5 school to start. 
11. Todd Orlando, Texas Defensive Coordinator
Orlando nearly landed the Houston head coaching job, but ended up following Herman to Texas. Hitting that under-45 mark that many of the coaches on this list do, Orlando falls in the rising star category. Herman loves him and he has a long history as a defensive coordinator for someone so young. Orlando was the DC at UConn from 2005-10, the DC at FIU from 2011-12, the DC at Utah State from 2013-14 and then at Houston. 
Potential Jobs: 
Like several coaches in this range, Orlando has ties in multiple spots. He's a Wisconsin alumnus (that job shouldn't be open) and also coaches in the Pennsylvania area in addition to the stops mentioned above. His recently-developed ties in the Texas area also make him an option at any number of the numerous Texas schools. If the Texas defense takes a big step forward after struggling under Charlie Strong, Orlando will be a hot name. 
10. Darrin Chiaverini, Colorado Offensive Coordinator 
Programs are no longer afraid to hire younger coaches, and Chiaverini is one of the youngest on this list. He's a fast riser, at just 39 years old. A Colorado WR, he played in the NFL from 1999-2006, before quickly ascending up the coaching tree. He was named the Colorado Co-OC last year and it was a success. He also coaches the WRs and is the recruiting coordinator, the latter of which will help him land a job. Throw in a background as a special teams coordinator and he has the well-roundness to serve him well. He's young and under-the-radar, but Chiaverini has the making of a college head coach.
Potential Jobs:
If Mike MacIntyre leaves, Chiaverini is a logical in-house replacement. Being an alumnus should only help his stock there. He's from California, so one of the California-based Group of 5 schools could be an option as well. 
9. Pep Hamilton, Michigan Passing Game Coordinator
Hamilton isn't an offensive or defensive coordinator, but as passing game coordinator for Michigan, he still counts. He'll be heavily involved in game planning the passing game at Michigan (he's basically a Co-OC right now) and has been a college OC in the past, at Stanford. He also hold a background in the NFL, serving as the Colts' OC for several years with Andrew Luck. Hamilton was the scapegoat for the Colts, getting fired in 2015. He had a year with the Browns before returning to the college game to coach under Harbaugh at Michigan to rehab his coaching stock. 
Potential Jobs: 
Hamilton's value is a bit tough to determine. He was a rising star when he joined Luck in Indianapolis, but that star has since fallen with a firing from the Colts and a less-than-ideal go in Cleveland. He's back at Michigan to get back on the head coaching track. He could be an option for a Mid-American Conference school and he also is from the Charlotte, North Carolina area. But with a coaching resume that stretches from New York to Stanford, Hamilton could be an option across the country. 
8. Mario Cristobal, Oregon Co-Offensive Coordinator
Cristobal, who will turn 47 next month, has actually already been a head coach. After coaching at both Rutgers and Miami (his alma mater), Cristobal took over a struggling FIU program. He actually won a Sun Belt championship, guiding the Panthers to their first winning season and a bowl win. FIU went 8-5 the year after that, but following a 3-9 season in 2012, FIU made the surprise decision to fire Cristobal and hire Ron Turner, who never won more than five games and didn't even make through last season. It didn't take long for Cristobal, an elite recruiter, to land a job, as Alabama snatched him up as the O-Line coach. Now he's headed to the Pacific Northwest, to serve as the Co-OC (and recruiting coordinator) under Willie Taggart. Cristobal, thanks to his recruiting and success with FIU, will get another head coaching shot. 
Potential Jobs: 
His ties to Florida make him an obvious candidate for any job that opens up in the state, although there might not be any this year. He did coach at Rutgers, a program that might not give Chris Ash a third year if the second one is as bad as the first. Cristobal might elect to wait one more year to take another head job, but his year(s) in Oregon should only help him. 
7. Tee Martin, USC Offensive Coordinator
Martin is the answer to the old trivia question of "who was the QB for Tennessee's national title team after Peyton Manning left." But Martin is more than just that, he's also a fast-rising coach. Just 39-year-old, Martin is now the offensive coordinator at USC, with previous stops at Kentucky and New Mexico. He steadily rose up the USC ranks, from WRs coach to passing game coordinator to full-on OC. He also happens to be an excellent recruiter. 
Potential Jobs: 
Martin has a cushy gig right now, but he's leave if the right chance came about. He'd surely jump at the chance to be the Tennessee head coach if the Vols fired Butch Jones. He's probably more a fall-back option if the Vols miss on bigger names, but he's still an option. If he wants one, Martin should be able to land a Power 5 job. 
6. Jeremy Pruitt, Alabama Defensive Coordinator
Being Nick Saban's coordinator is a good path to getting a head coaching gig. Since new OC Brian Daboll is in just his first ever, Pruitt is the only Saban coordinator on the list this year. He's only 43 years old, but has already served as a defensive coordinator for Florida State (in the 2013 National Title season), Georgia and Alabama. That's a rather impressive resume for a coach who was at the high school level in 2006. 
Potential Jobs:
Pruitt has served as a coach in the state of Alabama (either with the Crimson Tide or at the high school level) for nearly his entire career. He was born in Alabama and played there, although he did start his career at Middle Tennessee State (a job that shouldn't be open given Rick Stockstill's steady leadership). His ties to the state would make him a dream hire for a program like South Alabama or Troy, but that seems low for Pruitt. Likewise, Auburn seems too high, especially for an Alabama grad. If/when Pruitt gets a head coaching gig, it will likely be somewhere more in the middle. 
College Football Fans - Download Chat Sports on Android today for breaking College Football news, rumors, scores and more - Chat Sports Android App
5. Tim Drevno, Michigan Offensive Coordinator
Jim Harbaugh garners all the National media attention at Michigan, and understandably so. But he has a high-quality staff helping him out, with long-time assistant coach Tim Drevno alongside him. Drevno has served under Harbaugh for 12 of the last 13 years (it'll be 13 and 14 after this season). There aren't many better selling points for an assistant coach than "Jim Harbaugh's right hand man for over a decade." Another year of success for a re-tooled Michigan offense would help boost Drevno's job chances.  
Potential Jobs: 
Drevno might be a Michigan man right now, but he's a California kid at heart. USC is his dream job (he grew up in Los Angeles, his father went to USC and Drevno pretended to be Marcus Allen and O.J. Simpson as a child), although that's not an option at this point for either party. Drevno was a candidate for the San Jose State job opening this year and while he won't just jump at the first opportunity, he'll end up with a job at some point in the near future.
4. Brent Venables, Clemson Defensive Coordinator
Fresh off a national championship for Clemson, Venables' stock has never been higher. The 46-year-old has coached since 1993, but only in three locations: Kansas State (GA and LB), Oklahoma (DC) and Clemson (DC). He's had plenty of interest in the past, with links to jobs with the Miami Hurricanes, Kansas, Arkansas and Kansas State. At some point, he'll land a head coaching gig. Tony Elliott, the young Clemson Co-OC, is also worth of this list, but he's a Clemson lifer who might elect to stay with the Tigers longer. 
Potential Jobs: 
Two spots in particular stick out: Texas Tech and Kansas State. Venables played at Kansas State and coached there. Bill Snyder can't coach forever and landing Venables would be a great hire for the Wildcats. As for Texas Tech, Venables was college teammates with A Kirby Holcutt and Tech could use the defensive boost Venables would bring. Outside of that, pretty much every Group of 5 or lower Power 5 program should have some level of interest. 
3. Dave Aranda, LSU Defensive Coordinator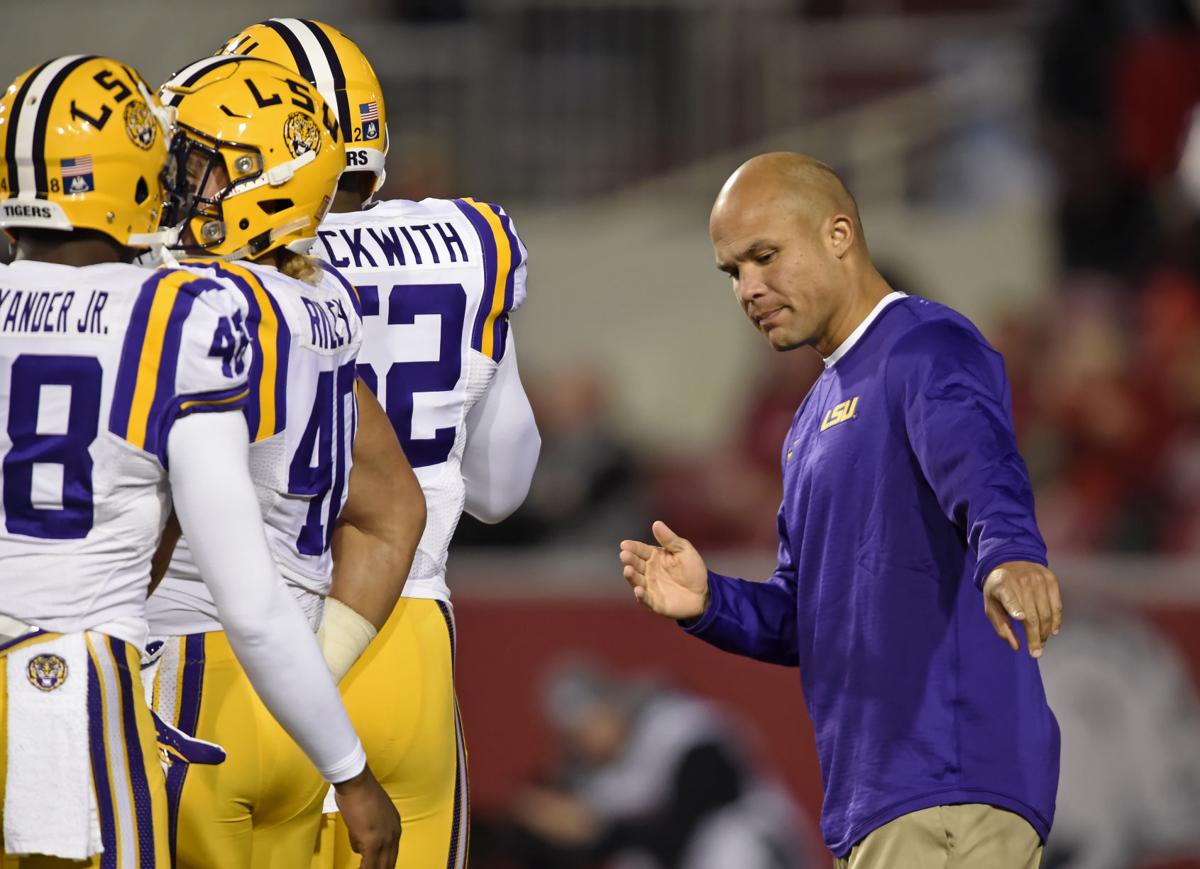 At only 40 years old, there might not be a better defensive coordinator in college football than Dave Aranda. The former roommate of Tom Herman (no, seriously), Aranda has had success as a DC at Utah State, Wisconsin and LSU. If a program is looking for a young defensive mind to take over, they can do no better than Aranda. If the Red Raiders struggle again under Kliff Kingsbury, perhaps they'll swing in the other direction and hire a defensive mind to shore up a defense that has needed help for years. 
Potential Jobs:
Money isn't an issue right now for Aranda, who is making $1.8 million this year. He's the highest paid assistant coach in the nation and he would need to take a pay cut to be a head coach at several stops across the nation. Aranda can afford to wait for a good job opening, being it the SEC or elsewhere. One program in particular to monitor: Texas Tech. Aranda was a graduate assistant at Tech from 2000-02, earning his master's degree there. 
2. Joe Moorhead, Penn State Offensive Coordinator
Moorhead actually has head coach experience, serving for four years at his alma mater, Fordham. Moorhead, who is just 43 years old, posted a 38-13 record, guiding his team to the FCS playoffs three times. Then, last year, he made the jump to Penn State. He was a resounding success, helping guide the Nittany Lions to a Big Ten title. The offense was vastly improved under Moorhead, who is now one of the rising stars in coaching.
Potential Jobs: 
Moorhead has spent much of his coaching career in the Midwest and Northeast, with stops at UConn, Pittsburgh, Akron and Georgetown. That makes a low-end ACC, low-end Big Ten or a MAC or American Athletic team a potential landing spot. Moorhead has a good gig at Penn State right now and with his arrow likely to only keep trending upward, he's in a position to be patient. He passed on the Minnesota job this year, so perhaps he's aiming higher. 
1. Greg Schiano, Ohio State Defensive Coordinator
At the top of our list is Schiano, who has the best resume of any assistant coach. He's already proven himself as a college coach, turning around a Rutgers program whose last bowl game was in 1978. At Rutgers, Schiano posted a 68-67 career mark, featuring six bowl games and an 11-2 season. Schiano jumped to the NFL, but only last two years with the Tampa Bay Buccaneers, a time that diminished his reputation. But last year, Schiano took the Ohio State DC job after sitting out of the coaching world for two years. It was a move made for one reason: to get his reputation back and earn another high-profile college coaching job.
Potential jobs:
There's one job that Schiano has in mind: Notre Dame. Should Brian Kelly be fired this year, Schiano will be among the top candidates. Every decent athletic director has a list of coaches in mind in the event they lose or fire their current head coach and Schiano is near the top for Notre Dame's Jack Swarbrick. If that Notre Dame job isn't open of ND goes in a different direction, there should be a few lower-end Big Ten jobs opening up in the coming years. 
Check out our NCAA page for all the latest on College Football or download the Chat Sports App!
Back to the NCAA Newsfeed
Related Topics: Dave Aranda, Jim Leavitt, College Football News, Pep Hamilton, Darrin Chiaverini, College Football Coaching Rumors, Jeremy Pruitt, College Football Rumors, Tim Drevno, College Football Coaching Hot Seat, Tim Beck, Todd Orlando, Mario Cristobal, Joe Moorhead, Tee Martin, Mike Bloomgren, Brent Venables, Greg Schiano