With just over a month before the college football season kicks off, it's never too early to begin speculating which player will put together the best 2014 season and earn the most coveted award in all of college football, the Heisman Trophy.
Here's 12 names that could hoist the trophy in early December:
12. Rakeem Cato, Quarterback, Marshall
This season, the Marshall Thundering Herd are the clear-cut favorite to win the Conference USA Championship, and many experts believe that this the Herd will do so by going perfect during the regular season. The idea's not too crazy if Cato can stay healthy, as he's thrown a touchdown pass in 32 consecutive games (only six games shy of Russell Wilson's 38-game NCAA record). If Cato can add another 3,000 yards passing this season, he will become the all-time leading passer in school history.
11. Vic Beasley, Defensive End, Clemson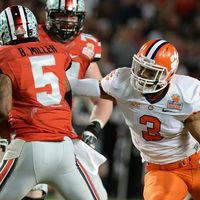 Beasley is the only defensive player to make this list,  as Charles Woodson was the last defensive player to win the Heisman in 1997. Nonetheless, Beasley returns to the Tigers this season as the nation's best pass-rusher. Last season, Beasley was electric off the edge, recording 13 sacks. If there's a defensive player that can win the Heisman this upcoming season, it's him.
10. Brett Hundley, Quarterback, UCLA
Hundley returns to the Bruins this season, coming off of two consecutive 3,000-yard passing seasons. Many scouts believe that he has the best stock among all the quarterbacks that will be eligible for the NFL Draft after this season. Hundley could find himself sitting in New York if the Bruins can use favorable scheduling to piece together a magical season. Hundley completed 67% of his passes en route to throwing 29 touchdowns in 2013.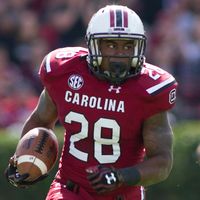 9. Mike Davis, Running Back, South Carolina
Davis is the first of four running backs to make this list. He was impressive last season, rushing for 1,183 yards and 11 touchdowns. Davis averaged 5.8 yards-per-carry last season, and his production was great even though he did not play in the game that South Carolina scored 70 points against Coastal Carolina. If Davis can up his production and be the top back in the SEC, there's a good possibility he could make the trip to New York.
8. Melvin Gordon, Running Back, Wisconsin
Gordon is the only running back on my list that's not from the SEC. He rushed for over 1,600 yards last season, splitting his carries with the now-graduated James White. This year Gordon won't be splitting his workload nearly as much. He will also be heavily relied upon, as the Badgers will start the season with some inexperience at the quarterback position. Gordon averaged a magnificent 7.8 yards-per-carry last season off 206 carries.
7. T.J. Yeldon, Running Back, Alabama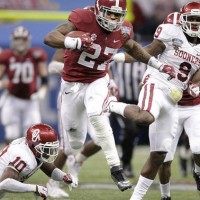 Yeldon maintains the leading role among a stable of Alabama running backs, as the Crimson Tide have more depth at this position than any other team in the country. Last season, Yeldon rushed for 1,235 yards and scored 14 touchdowns. With the loss of starting quarterback A.J. McCarron to graduation, this unit will be relied upon heavily with Yeldon playing the lead. As always, Alabama is expected to have a big season, and that puts Yeldon as a frontrunner.
6. Nick Marshall, Quarterback, Auburn
Last season, Nick Marshall and Tre Mason were a tandem that slashed every opponent they faced on the ground. A potent rushing attack, along with a couple miracle plays, landed Auburn in the National Championship Game against the Florida State Seminoles. Marshall rushed for 12 touchdowns last season and added 14 more through the air. If the Tigers can repeat last season's success, expect him to be a strong candidate.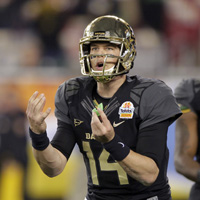 5. Bryce Petty, Quarterback, Baylor
Petty returns to lead a Baylor offense, whose worst offensive performance last season was a total of 370 yards. Petty completed 62% of his passes while throwing for 4,200 yards, which was the fourth-best total for any QB in 2014. Petty looks to improve a rapid-fire Baylor offense that averaged 82.6 plays-per-game last season, more than any other offense in the country. Petty came very close to becoming the third consecutive quarterback to break the school's single season passing record, one of those quarterbacks being the 2011 Heisman Winner, Robert Griffin III.
4. Todd Gurley, Running Back, Georgia
It's safe to say that Gurley will be the most relied upon running back in the country this season after former starting QB Aaron Murray's departure to the NFL. Gurley leD the Bulldogs in rushing last season with 989 yards and 10 touchdowns, despite missing three games. Gurley is a versatile back that can also catch the ball out of the backfield. He proved that last year by catching 37 passes for 430 yards and six touchdowns. Gurley will be the backbone of the Georgia offense and will be their key to a successful season.
3. Braxton Miller, Quarterback, Ohio State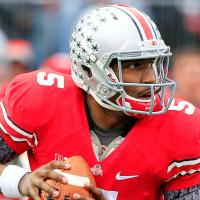 Miller led the Buckeyes to 12 straight wins last season, before dropping both of their postseason games. Miller made the decision to return to Columbus for his senior season and hopes to lead his team into the first-ever FBS playoff. Miller scored 36 total touchdowns last season, and joined Carlos Hyde as the only two players to rush over 1,000 yards for the Buckeyes last season.
2. Marcus Mariota, Quaterback, Oregon
Mariota's passing numbers were incredible last season, as he threw for 31 touchdowns with just four interceptions. Along with his 31 touchdown passes, Mariota added nine more scores on the ground. It will be interesting to see if Mariota can top the 3,665 yards he threw for last season. Mariota was a favorite last year for the award last year, but a couple of losses blew the Ducks' title hopes and Mariota's chances to secure the trophy.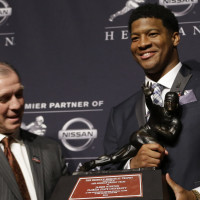 1. Jameis Winston, Quarterback, Florida State
No surprise that Winston is my favorite to win the Heisman, as Florida State is going to be considered the toughest team in the country going into this season. Winston threw for over 4,000 yards with 40 touchdowns and just 10 interceptions last season as a freshman. Florida State returns seven starters, including Winston, on offense and are the obvious favorite to win the ACC.
Be sure to follow me on Twitter @griffaldo for my weekly "Heisman Watch" articles during the regular season.

Back to the NCAA Newsfeed