College football attendance is down overall, but the top schools are still drawing tons of fans each week. We're here to detail the top 10 teams. The SEC dominated the list, with the Big Ten coming at second. The Big 12 had just one team, with no other conferences making the top 10. The Nebraska Cornhuskers just missed out, with only 37 fans separating them from 10th place. With that in mind, here are the 10 College Football Teams With The Highest Attendance In 2015:
10. Texas Longhorns - 90,035 The Longhorns struggled this season, but still drew over 90,000 thousand fans this season. That was a drop of four percent, likely because of the team's struggles. Still, Texas will take a top 10 appearance.  
9. Florida Gators - 90,065
The Gators just barely edged out Texas. They jumped by five percent in attendance, tied for the most of any team in the top 10. The team's SEC East championship surely helped the attendance figures. 
8. Georgia Bulldogs - 92,746
Georgia posted roughly the same attendance figures it did last season. The Bulldogs didn't compete for an SEC Championship like their fans and administration wanted, which is why Mark Richt is now at Miami (FL).  
7. LSU Tigers - 93,441
The Tigers finished seventh, but they dropped by eight percent from last year. That's the largest drop of any team in the Top 10. LSU lost a home game against South Carolina this season and that hurt attendance.  
6. Penn State Nittany Lions - 99,799
PSU dipped below six digits this season, but it was still a strong season for attendance. Happy Valley sure loves their football. 
5. Tennessee Volunteers - 100,584
The Vols jumped by one percent this year and they are just one of five teams that topped 100K attendance. The future looks bright in Tennessee with Butch Jones at the helm and the Vols could be even higher on this list next year. 
4. Alabama Crimson Tide - 101,112
Alabama dropped this season, but only slightly. The Crimson Tide won the SEC, but they trail one school in attendance. 
3. Texas A&M Aggies - 103,622
The Aggies kept their usually impressive home field advantage by leading the SEC in attendance. That's despite a rough finish to the season and a drop from last year's numbers. 
2. Ohio State Buckeyes - 107,244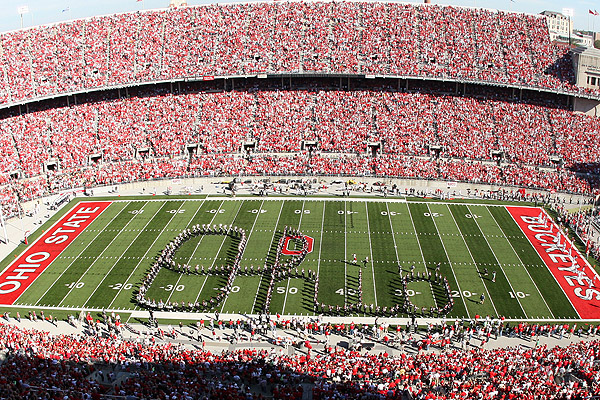 The Buckeyes had another well-attended season. For a successful team with a passionate fan base, coming in the top two shouldn't be a surprise. Unfortunately for Buckeye fans, they won't like the team that finished above them. 
1. Michigan Wolverines - 110,168 
The Wolverines take the top spot. The "Big House" is massive, which allows Michigan fans to cram in. The Wolverines jumped by five percent this season, tied for the biggest jump in the Top 10.  
Back to the NCAA Newsfeed
Related Topics: Ohio State Buckeyes Football News, Alabama Crimson Tide Football News, Michigan Wolverines Football News, 2015 College Football