For every college football team that exceeds expectations early in the season (see: Florida and Utah), there is another that couldn't live up to the preseason hype and are disappointments. These teams fall into the latter category. Here are 10 college football teams that have been huge disappointments this season.
Arizona Wildcats
Arizona has been hit hard by injuries, but that doesn't excuse a disappointing start. The Wildcats were expected to contend for a Pac-12 South title, but are 1-2 in conference play. However, there still is time for Arizona to turn things around. 
Arkansas Razorbacks
A win over Tennessee means the Razorbacks will post at least one SEC win this season, but they still have losses to Toledo and Texas Tech on their ledger. Their next game, against Auburn on Oct. 24, could decide which team ends up finishing last in the SEC West. Before the season, many thought that could have been a game that has a major impact on the top of the SEC West. 
Auburn Tigers
The Tigers were a popular College Football Playoff pick before this season, but failed to live up to those expectations. A near loss to Jacksonville State foreshadowed losses to Mississippi State and LSU. Barring an unexpected turnaround, this is shaping up to be a massively disappointing season for Auburn. 
Georgia Bulldogs
It was a promising start to the season for Georgia, but the Bulldogs followed up a 4-0 opening with back-to-back losses to Alabama and Tennessee. Two of the Bulldogs next three games are against SEC East teams above them in the standings. To save their season, Georgia must beat both Kentucky and Florida. 
Georgia Tech Yellow Jackets
This was supposed to be a season in which Georgia Tech competed for an ACC title. Instead the Yellow Jackets are reeling, with four straight losses and sit dead last in the ACC Coastal Division. At this point, Georgia Tech needs to string together wins just to make a bowl game. 
Nebraska Cornhuskers
Nebraska is five plays away from being 6-0, but there is no reward for being close in college football. The first year of Mike Riley has been a massive disappoint, as he's already matched the most losses Bo Pelini had in a single season at Nebraska. With games against three ranked teams still left, there is a real chance the Cornhuskers won't go bowling this season. Perhaps Mike Riley simply isn't the right coach for Nebraska. 
Oregon Ducks 
The season has gone from bad to worse for the Ducks. Losing by 3 to Michigan State on the road seems like a distant memory for a team that was blown out by Utah at home and lost to Washington State. At 3-3, it's unlikely the Ducks will make a push for a Pac-12 North crown this season. 
South Carolina Gamecocks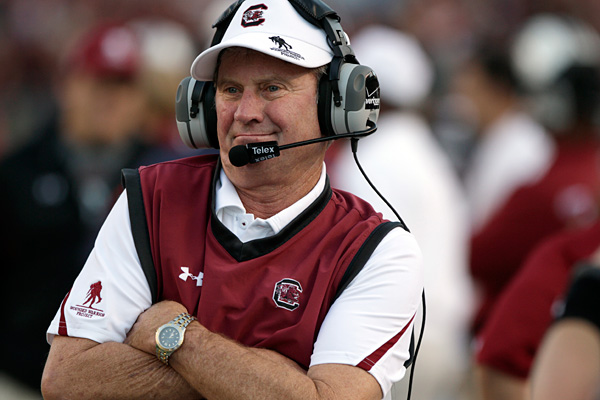 There was some hope early in the season when South Carolina opened the year with a win over North Carolina. But then SEC play came and the Gamecocks have posted an 0-4 record. Awful QB play as the been the culprit, as three QBs have combined to barely complete 50 percent of their passes, with 7 TDs and 6 INTs. 
USC Trojans 
This USC team has been maddeningly inconsistent. Losing to Stanford was unexpected, but the Trojans bounced back by beating Arizona State. However, USC followed that up by laying an egg against Washington, head coach Steve Sarkisian's old school. USC was expected to compete for a College Football Playoff berth. Instead, they are one spot out of the cellar in the Pac-12 South. 
Virginia Tech Hokies
A win over N.C. State helps, but it doesn't erase losses to ECU and Pittsburgh. While there is a chance Pittsburgh might just be a good team, a 3-3 start is a disappointment for the Hokies. However, they are only a game back in the ACC Coastal Division and can still make a run at the division title. 
Back to the NCAA Newsfeed
Related Topics: College Football, South Carolina Gamecocks News, Arizona Wildcats News, Auburn Tigers News