The 2016 college football season featured several dynamic wide receivers, although the likes of Corey Davis, Mike Williams and several others have finished their college careers. However, there are still several top wide outs returning to school for the 2017 season. Excluding incoming freshmen that may make an impact, here are the top 10 wide receivers returning to college football next season. 
10. Deon Cain, Clemson
Cain didn't light up the stat sheet last year. He had just 38 catches, but they went for 724 yards and 9 TDs. But with Mike Williams and Artavis Scott heading to the NFL, Cain becomes the No. 1 WR on Clemson. He's primed for a big year, even without QB Deshaun Watson. 
9. Anthony Miller, Memphis
This is the first of a few lesser-known WRs on this list. But Miller's stat line really speaks for itself: 95 catches, 1,434 yards and 14 touchdowns. Entering his senior year, Miller will be counted on to continue his impressive play. 
8. Allen Lazard, Iowa State
Don't let his team fool you: Lazard is a really good wide receiver. Standing at 6-foot-5, 223-pounds, Lazard is easily the best player on Iowa State. Despite getting plenty of attention from opposing defenses, Lazard still reeled in 69 catches for 1,018 yards and 7 TDs. 
7. Dante Pettis, Washington
John Ross might be gone, but Pettis is back for another year. He was mighty impressive again this year, catching 53 passes for 822 yards and 15 TDs. He also adds return value, with two punt returns last year (and 5 in his career). Hell, he even has a passing TD. He'll be a senior and although the TDs might regress back to the mean, the yards and receptions should rise with Ross gone. 
6. Equanimeous St. Brown, Notre Dame
Notre Dame was terrible this year, but St. Brown wasn't. He caught 58 passes for 961 yards and 9 TDs as just a sophomore. We'll see how he fares with a new QB at the helm, but St. Brown has NFL written all over him. Also, just call him EQ so you don't have to try to pronounce his first name. 
5. Richie James, Middle Tennessee
James, believe it or not, is the NCAA's leading returning pass catcher. He racked up 105 catches, 1,625 yards and 12 TDs. Sure, he might not have the sheer talent (or hype) that several of these wide outs, but damn is he productive. He's just 5-foot-9, but James is one of the better WRs in college football right now, even if he isn't a big name. 
4. Christian Kirk, Texas A&M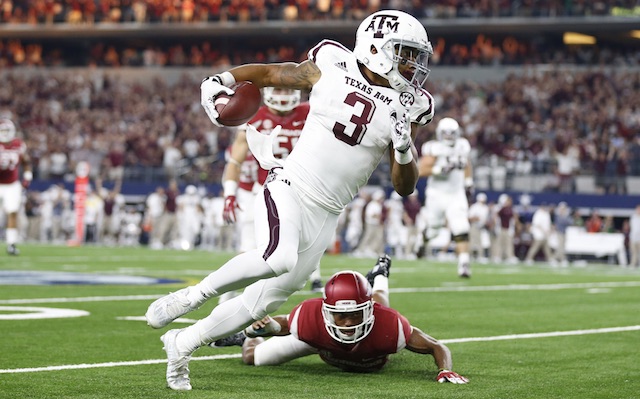 Kirk wasn't quite as good as he was in 2015 (83 catches for 928 yards and 9 TDs this year vs. 80 for 1,009 and 7 last year), but he was still a big play waiting to happen. Kirk is a dynamic return man too, with three punt return TDs. If Texas A&M gets steady QB play, Kirk will have another big year. 
3. Calvin Ridley, Alabama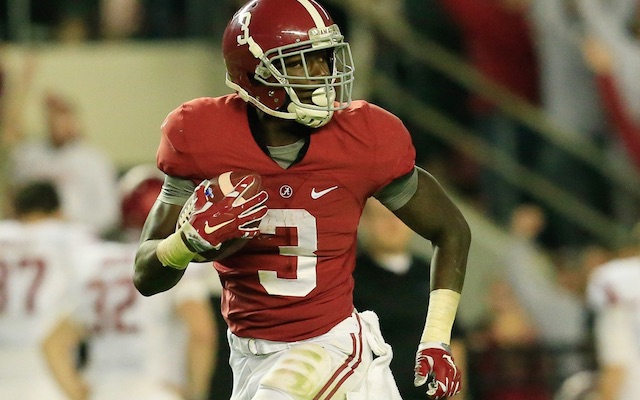 Don't let the regression in stats fool you (Ridley had 72 receptions for 769 yards and 7 TDs this year after posting 89 for 1,045 yards and 7 TDs last year), Ridley is one of the best WRs in all of college football. Alabama's offensive scheme meant a lesser role for Ridley, but there is no doubting his talent. If Jalen Hurts can take a step forward as a passer, that should help boost Ridley's numbers. 
2. Courtland Sutton, SMU
Had Sutton declared for the NFL Draft, he likely would have been a Day 2 pick. Instead, he's coming back to star again at SMU. The Mustangs weren't great last year, but Sutton still caught 76 passes for 1,246 yards and 10 TDs. By coming back for another year, Sutton might be able to get into the first round of next year's draft.  
1. James Washington, Oklahoma State
71 rec, 1,380 yards, 10 TDs. Washington came back for another year, along with QB Mason Rudolph. He was dynamic for the second straight year, posting 71 catches for 1,380 yards and 10 TDs. He averaged 19.4 yards per catch, the most of anyone who had at least 65 catches. There isn't a bigger home run threat at WR in all of college football than Washington. 
Back to the NCAA Newsfeed
Related Topics: Courtland Sutton, 2017 College Football, Richie James, 2016 College Football, Dante Pettis, Allen Lazard, Calvin Ridley, James Washington, Anthony Miller, Christian Kirk, Equanimeous St. Brown, Deon Cain