The 2016 college football season was loaded with running backs, and while stars like Leonard Fournette, Dalvin Cook and Christian McCaffery are heading to the NFL, there are still many top running backs returning to school for the 2017 season. Excluding incoming freshmen that may make an impact, here are the top 10 running backs returning to college football next season:
10) L.J. Scott, Michigan State Spartans
Michigan State had a downright awful season in 2016, but Scott was a bright spot, picking up 994 yards and six touchdowns on 184 carries. Scott is definitely not the fastest guy in the world, yet his size (6-foot-1, 230 lbs.) and excellent vision allow him to be effective.
9) Ronald Jones II, USC Trojans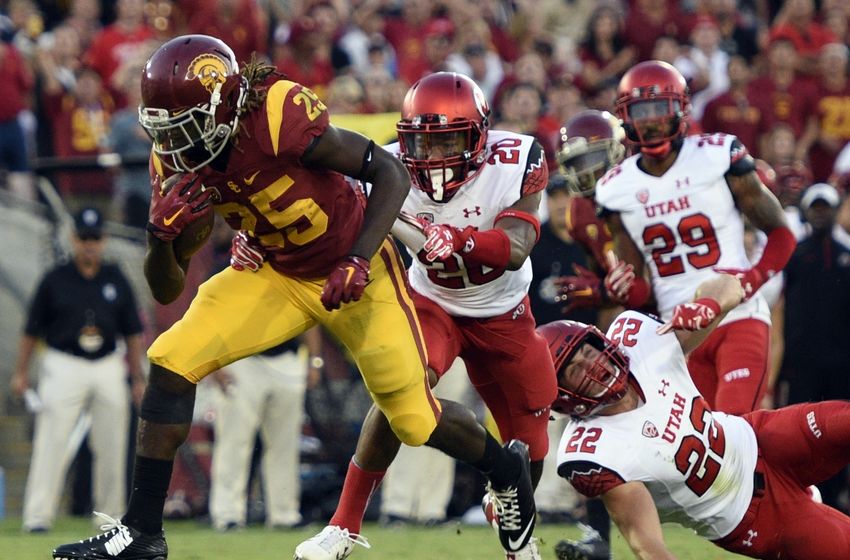 After a slow start to the season, Jones exploded as USC's lead back, picking up 797 yards and 10 touchdowns over the last six games of the season. A true speed back, Jones routinely makes defenders miss in the open field and rarely loses a foot race.
8) Myles Gaskin, Washington Huskies
Often overshadowed by Jake Browning and Washington's passing attack, Myles Gaskin put forth his second straight season with at least 1,300 rushing yards. He's another smaller back at 5-foot-10 and 195 lbs., but that doesn't keep him from responding to a heavy workload.
7) Damien Harris, Alabama Crimson Tide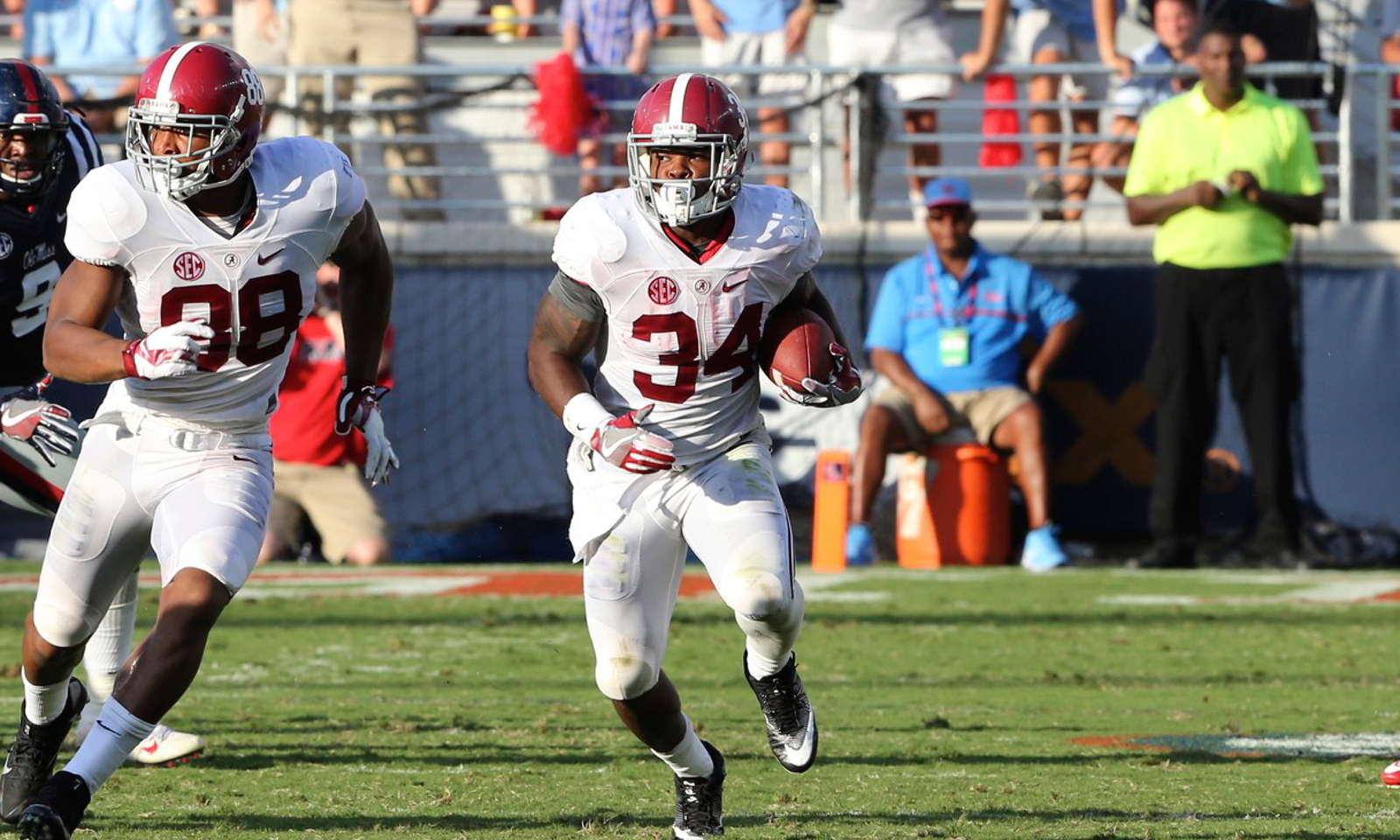 The first of two Alabama running backs on this list, Harris actually led the Tide in rushing (1,040 yards) as a freshman. Furthermore, he averaged an eye-popping 7.2 yards per carry, demonstrating the ability to break a big play every time he touched the football. Harris will likely see a diminished role while splitting carries with Bo Scarbrough (more on him in a minute), Joshua Jacobs and incoming freshman Najee Harris.
6) Sony Michel, Georgia Bulldogs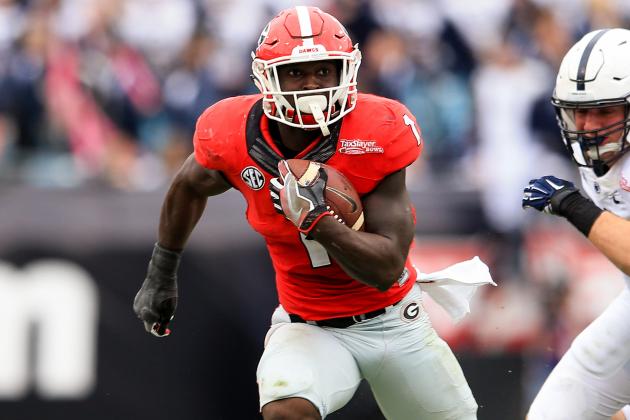 Michel decided to forgo the NFL Draft and return to school, and even though he largely plays second fiddle to Nick Chubb in UGA's backfield, he's one of the best all-purpose backs in the country. He's another guy who has the speed to outrun a defense, but also has the power to run effectively between the tackles.
5) Royce Freeman, Oregon Ducks
Freeman surprisingly announced he is returning to school for his senior season instead of entering the NFL Draft, and Oregon couldn't be more thrilled. Despite dealing with injuries last season, Freeman got 945 yards and nine touchdowns on 168 carries. In his first two seasons in Eugene, Freeman racked up a combined for 3,201 rushing yards and 35 touchdowns. When healthy, expect another big season from Freeman.
4) Bo Scarbrough, Alabama Crimson Tide
Alabama may have very well won the national championship if Scarbrough didn't break his leg, and his late-season surge has him in position to be the leader of that running back rotation we mentioned before. A powerful runner at 6-foot-2 and 230 lbs., he is great in short-yardage situations - but also broke some very long runs this season. 
3) Derrius Guice, LSU Tigers
Guice has been in Leonard Fournette's shadow over the past two years, and he is ready to claim the spotlight. Despite splitting carries and only starting when Fournette was hurt, Guice racked up 1,387 yards and 15 touchdowns this year. He had two games in which he had over 250 rushing yards and six games with at least 138 yards. Guice looks ready to thrive as LSU's full-time starter.
2) Nick Chubb, Georgia Bulldogs
Before a knee injury ended his season in 2015, Chubb was a Heisman frontrunner. He returned last season and played well, racking up 1,130 yards and 10 touchdowns on 224 carries, but he was still feeling the lingering effects of that repaired ACL early in the season. Now that his knee is not an issue for him, Chubb will be a Heisman favorite again in 2017.
1) Saquon Barkley, Penn State Nittany Lions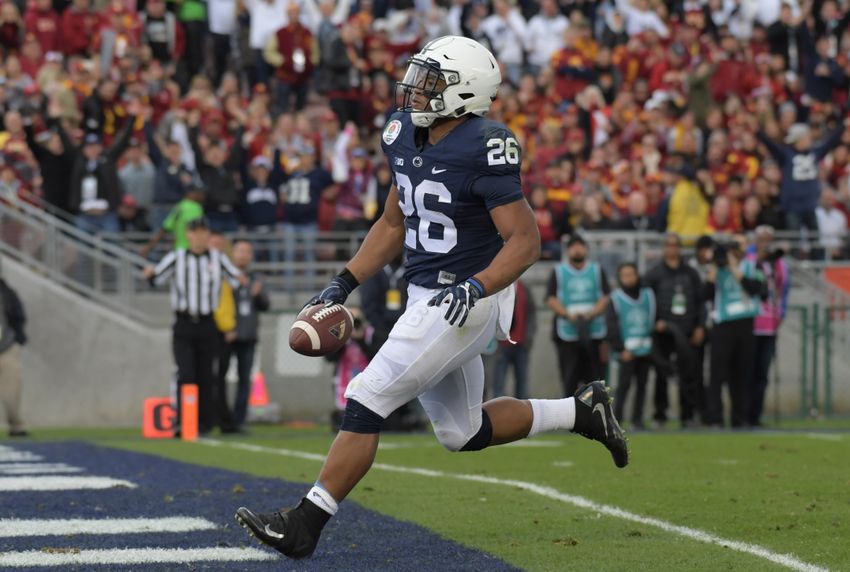 Anyone who watched the Rose Bowl knows how dominant Barkley can be. The 5-foot-11, 223-pounder ran for 1,496 yards and 18 touchdowns while catching 28 passes for 404 yards and four more scores, and routinely showed elite vision and agility. Just check out this amazing run:
Barkley will enter the 2017 season as one of the top Heisman challengers to Lamar Jackson.
Back to the NCAA Newsfeed
Related Topics: Ronald Jones II, Big Ten Football, Washington Huskies Football, LJ Scott, Pac-12 Football, Royce Freeman, Derrius Guice, Saquon Barkley, Oregon Ducks Football, Myles Gaskin, Sony Michel, Nick Chubb, Penn State Nittany Lions Football, Damien Harris, SEC Football, Georgia Bulldogs Football, LSU Tigers Football, NCAA Football, Alabama Crimson Tide Football, Bo Scarbrough, Michigan State Spartans Football, USC Trojans Football