While the Heisman trophy is supposed to be given to the best player in college football, that's usually only the case if that player is a quarterback or a running back. Top players at other positions usually don't get the same kind of Heisman hype they deserve - but that doesn't mean they're not some of the best players in the country. Here are the top 10 players in college football this season, regardless of position:
10) Josh Doctson, WR, TCU Horned Frogs
Doctson posted his third game of 150 yards receiving or more in TCU's 52-45 escape job against Kansas State this week, hauling in eight catches for 155 yards and two scores, giving him 50 catches for 877 yards and 10 touchdowns this year. He's the best WR in the nation right now, bar none, thanks to his elite size (6'3"), speed, and athleticism.
9) Carl Nassib, DE, Penn State Nittany Lions
Nassib has developed into an elite pass rusher this season as the former walk-on has learned to utilize his 6'7", 272 lbs frame to the tune of 10 sacks through six games this season. He has also racked up 31 total pressures and 18 tackles against the running game, showing he's a multi-dimensional player.
8) Ezekiel Elliott, RB, Ohio State Buckeyes
The Buckeyes have leaned on Elliott for much of the season and for good reason. He's racked up 835 yards and 10 TDs on 121 carries. He's averaging an impressive 7 yards per carry. OSU is trying to limit his touches to about 25 per game, which makes sense since Ohio State needs Elliott fresh for a postseason run. However, there's no denying how good he is and has been in a Buckeyes uniform, averaging 6.9 yards per carry - and 4.34 yards after contact per carry.
7) Robert Nkemdiche, DT/DE, Ole Miss Rebels
The only way to describe Nkemdiche is BEAST. At 6'4" and 300 lbs, Nkemdiche is playing out of position at defensive tackle (he's a more natural defensive end, which is scary) and still wreaking havoc on on opponents by bringing a constant surge up the middle - just ask Alabama. Along with being an all-around defensive menace and projected top-3 pick in the NFL Draft, he has scored two offensive touchdowns this season, including a 31-yard reception in which he outran the entire opposing defense.
6) Jourdan Lewis, CB, Michigan
Head coach Jim Harbaugh has had an amazing affect on Michigan's defense as a whole, but no one more so than Lewis. He leads the nation with eight passes defensed to go along with two interceptions, but has absolutely shut down whoever he's guarding. According to Pro Football Focus, opponents are just 11/34 for 67 yards when throwing his way this season. 
5) Jared Goff, QB, Cal Golden Bears
Goff did throw five interceptions against a great Utah defense, but he's still been the best passing quarterback in the country. He's completing 63 percent of his passes more than 10 yards down the field for over 1,000 yards and 12 touchdowns while demonstrating his ability to make every throw. 
4) Trevone Boykin, QB, TCU Horned Frogs
Boykin took what could have been the upset of the day into the game that catapulted himself back into the Heisman conversation with Leonard Fournette, passing for 301 yards and two touchdowns while rushing for 124 yards and two more scores. However, he played his best when the Horned Frogs needed it, shaking off two early interceptions to tie the game against Kansas State with a 69-yard touchdown run, then won the game with just over a minute left with a 55-yard TD pass to start wideout Josh Doctson.
He's one of the most athletic players in the country, but it's his improved accuracy (64% completion percentage) that has him looking like a potential first-round QB prospect.
3) Myles Garrett, DE, Texas A&M Aggies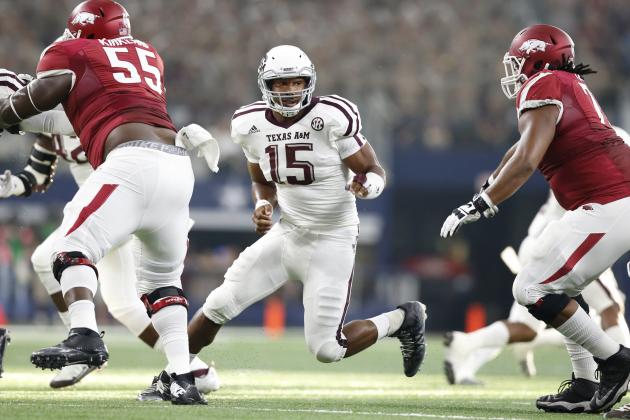 Garrett rocketed up national experts' Heisman boards last week after he tore apart Mississippi State's vaunted offensive line with repeated pressure off the edge. He's currently the most disruptive defensive force going in the nation, and one very few casual fans outside of the South are aware of. Only a sophomore, Garrett is someone to get to know - after all, he broke Jadeveon Clowney's freshman sack record last year.
2) Joey Bosa, DE, Ohio State Buckeyes
Bosa showed last year that he can do it all, possessing a lethal combination of power and speed that many think will make him the No. 1 overall pick in the NFL Draft this spring. He only has 1.5 sacks through five games this year, but he does have an astounding 32 pressures and had 13.5 sacks last season.
1) Leonard Fournette, RB, LSU Tigers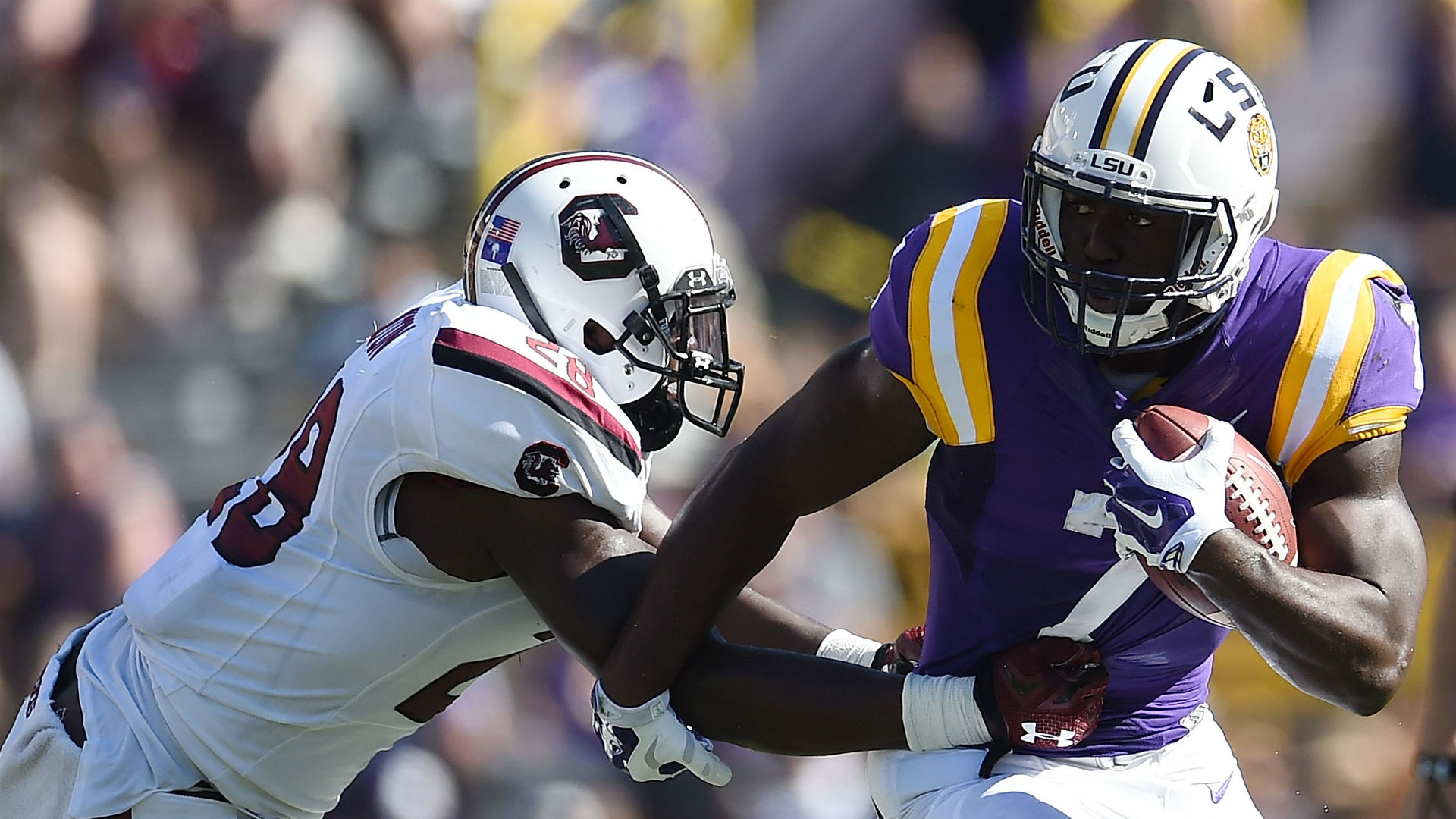 Fournette is BALLING on a historic level right now. His 158-yard day against South Carolina made him the 10th player in NCAA history to reach 1,000 rushing yards in five games and the first to do so in an LSU uniform. Fournette could sleep through the team's next two games and STILL top our list.
Back to the NCAA Newsfeed
Related Topics: College Football, NCAA Football, Leonard Fournette, Ezekiel Elliott, Robert Nkemdiche, Jared Goff, Joey Bosa, Myles Garrett, Trevone Boykin, Jourdan Lewis, Carl Nassib, Josh Doctson