Even in the one-and-done era, a lot of the top college basketball talent has returned for another season along with a very talented freshman class. With no clear cut No. 1 team, this season is wide open, meaning one outstanding player could carry their team to a national title, a la Kemba Walker with Connecticut. Here are the top 10 players in the country as we head into the season:
10) SG Malcolm Brogdon, Jr., Virginia Cavaliers
Just like the Virginia team he leads, Brogdon has been underrated as a player throughout his entire collegiate career. The senior averaged 14 points per game last year despite playing second fiddle to Justin Anderson (now with the Dallas Mavericks) and in Virginia's slow pace of play. Despite his dynamic offensive versatility as a shooter and a slahser, Brogdon makes his money on the defensive end of the floor, where he's been the best wing defender in the country since he stepped on campus.
9) SF Brandon Ingram, Fr., Duke Blue Devils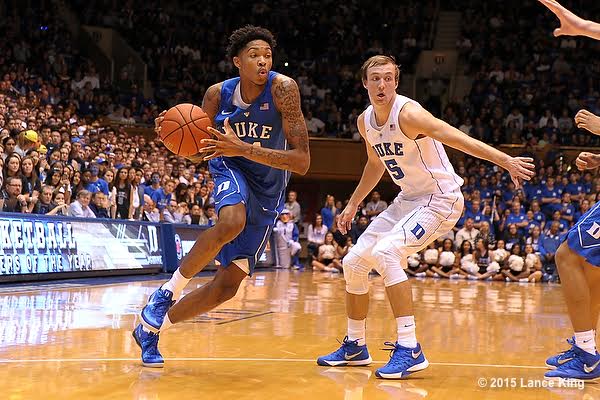 Ingram has as much potential as anyone in the country, and could be competing for the No. 1 pick after the college season. The freshman a 6'8 small forward who has all the skill in the world on the offensive end, but his lack of strength (198 lbs.) will be a big negative going forward. However, he can often make up for his lack of strength with his insane leaping ability that allows him to touch the top of the backboard.
8) PG Yogi Ferrell, Sr., Indiana Hoosiers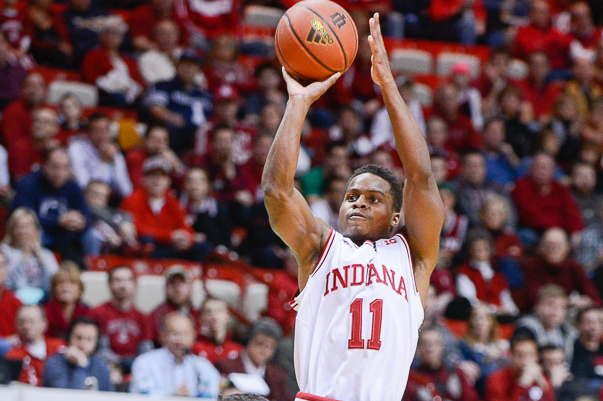 Ferrell, now a senior, looks poised and ready to lead the Hoosiers to the top of the conference this season. He's the leading returning assist man in the Big Ten, and his playmaking should take another step forward this season with the arrival of freshman big man Thomas Bryant and another season playing alongside sophomore guard James Blackmon Jr. (15.7 ppg). Couple that with the 16.8 points he's averaged over the last two seasons and you have someone who's poised to have a big, big year.
7) SF Jaylen Brown, Fr., Cal Golden Bears
Brown shocked most people in the college basketball world by signing with Cal over Kentucky, but the 6'7", 220-pound small forward has the potential to be the best player in the country this season. He has elite athleticism and is excellent attacking the rim, but needs to work on improving the consistency of his jump shot. Still, his overall talent and leadership - coupled with freshman teammate Ivan Rabb's stretch-four abilities - has Golden Bears fans dreaming of a Pac-12 title.
6) PG Marcus Paige, Sr., North Carolina Tar Heels
Paige is the leader of the UNC teams that's the top-ranked team in the country in most polls, and for good reason. He's been the heart and soul of the team for the past three seasons and is the engine that makes the Tar Heels' offense go. Paige has been forced to carry most of the offensive burden in Chapel Hill since no one else on the roster has proven they can consistently create their own shot, and he has a proven track record of finding that balance of being both a scorer and a distributor (15.7 ppg, 4.3 apg over past two seasons). He'll produce more of the same this year for the Tar Heels, even despite suffering a hand injury in practice that will keep him out 3-4 weeks.
5) PG Melo Trimble, So., Maryland Terrapins
Trimble was a breakout star last season, serving as one of the best point guards in the country as a freshman. He narrowly lost the Big Ten Freshman of the Year award to D'Angelo Russell, and many were surprised that he chose to return to school this year. Trimble averaged 16.2 points and 3.0 assists per game a year ago thanks to his incredible slashing ability, but with an improved shooting stroke, he should be a first-team All-American candidate at the end of the season.
4) PF Skal Labissiere, Fr., Kentucky Wildcats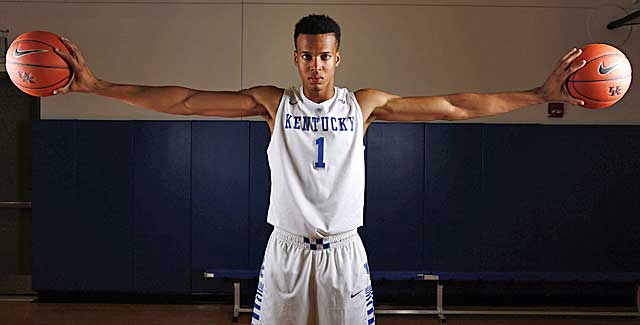 As Kentucky's latest blue-chip big man, Labissiere has the height (7'0") and elite athleticism to be a dominant, versatile big man on both ends of the floor (though he is at his best blocking shots). He's still extremely raw and needs work the the fundamentals - particularly with his footwork - but has an unlimited amount of potential. Look for him to progress similar to the way Karl-Anthony Towns did under John Calipari last season.
3) SG Buddy Hield, Sr., Oklahoma Sooners The reigning Big 12 Player of the Year is back for his senior year, giving the Sooners one of the premier players in the country that is capable of winning a game by himself. Last year, Hield often tried to do too much on the offensive end last year and his efficiency dipped because of it. His field goal percentage fell from 44.5% to 41.2% and this three-point percentage fell from 38.6 percent to a dismal 35.9 percent.
Having more experience should lead to smarter decisions from him this season, and that means better things for Oklahoma's team as a whole. Look for him to average around 20 points per game and be a legitimate All-American candidate.
2) PG Kris Dunn, Jr., Providence Friars
Dunn has led Providence to two straight NCAA Tournament appearances, but this could be the year he turns them into a top-10 team in the country. A great all-around player, Dunn averaged 15.6 points, 7.5 assists, and 5.5 rebounds per game last year while shooting 47.4 percent from the floor. He does need to improve his three-point shot (35.1 percent from long range), but his overall ability and leadership make him one of college basketball's most intriguing and exciting players.
1) PF Ben Simmons, Fr., LSU Tigers
Simmons is the kind of player that gives opposing head coaches nightmares. He has elite NBA size at 6'10" and 240 lbs, and has the ball-handling ability and perimeter skills to play point forward. Simmons is an excellent passer and is a triple-double threat every time he steps on the floor, giving the Tigers the expectation of competing with Kentucky atop the SEC this season.
Back to the NCAA Newsfeed
Related Topics: Jaylen Brown, Oklahoma Sooners Basketball, Buddy Hield, Kentucky Wildcats Basketball, Kris Dunn, Skal Labissierre, Providence Friars Basketball, North Carolina Tar Heels Basketball, Malcolm Brogdon, Yogi Ferrell, Virginia Cavaliers Basketball, Cal Golden Bears Basketball, Maryland Terrapins Basketball, Indiana Hoosiers Basketball, College Basketball, NCAA Basketball, Duke Blue Devils Basketball, Brandon Ingram, LSU Tigers Basketball, Ben Simmons, Marcus Paige, Melo Trimble