The addage in the NBA is that a team can't win a title without a superstar, making the best players in the league that much more important to their respective teams. We've seen a few of those players become available prior to tomorrow's trade deadline, headlined by Houston's Dwight Howard and the Clippers' Blake Griffin, but which players are the most valuable trade pieces in the league? Here's our top 12:
12) John Wall, PG, Washington Wizards
Wall has made the All-Star team for three straight years, and he still has three years left on the five-year, $85 million extension he signed with the team - which is extremely cheap in these days of the exploding salary cap.
11) DeMarcus Cousins, C, Sacramento Kings
Cousins is one of the league's best centers and has a friendly contract that will pay him just $35 million over the next two years, but his inconsistent effort and past off-court troubles make him the most likely candidate on this list to end up on the trade block.
10) Kristaps Porzingis, PF, New York Knicks
Porzingis has emerged as one of the two favorites to win Rookie of the Year, and his seemingly unlimited potential has the Knicks dreaming over the kind of player he can be. Already ahead of the curve, he'll be a star in this league sooner rather than later.
9) James Harden, SG, Houston Rockets
Harden was the runner-up for the MVP last year, and has just $34.6 million remaining and two years left on his contract, so why is he ranked so low? His defensive efficiencies and lack of leadership.
8) LeBron James, SF, Cleveland Cavaliers
Speaking of being ranked low, surprised to see LeBron James here? Though he's no longer the best player in the league, he has the potential to make the most money of anyone in the league over the next three years. We know LeBron is great, but he just isn't worth that at this point in his career.
7) Draymond Green, SF/PF, Golden State Warriors
Green leads the NBA in triple-doubles and is an excellent value since he's making just over $80 million over the next five years, but questions remain about if he would still be a top 10 player in the league outside of Golden State's system.
6) Kevin Durant, SF, Oklahoma City Thunder
Durant can earn more money than anyone other than James if he signs a one-year deal after hitting free agency this offseason, which drops him a few spots down the list. Still, he's a dominant scoring machine and is in his prime.
5) Russell Westbrook, PG, Oklahoma City Thunder
Westbrook still has one year left on his contract and is the second-best player in the NBA in real plus-minus, making him just as big of a star as his teammate, Durant. 
4) Karl-Anthony Towns, PF/C, Minnesota Timberwolves
The frontrunner for Rookie of the Year, Towns has surpassed the stellar rookie year Anthony Davis had, putting him on pace to have an outstanding career. He also has three years left on this rookie deal that will total $20 million.
3) Kawhi Leonard, SF, San Antonio Spurs
Leonard has emerged as the best two-way player in the league, surpassing LeBron, and is under contract through the 2019/2020 season, earning over $20 million in just two of those seasons. That makes him a tremendous bargain.
2) Anthony Davis, PF, New Orleans Pelicans
Even though the Pelicans have taken a step back this year, Davis is still the brightest young star in the sport. He is making $120 million over the next five years, but won't turn 23 until next month.
1) Stephen Curry, PG, Golden State Warriors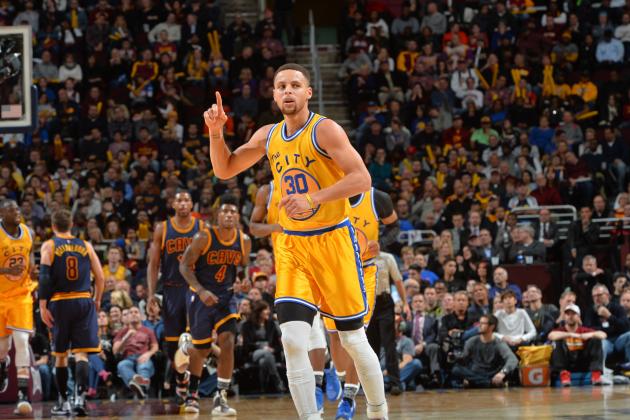 The reigning MVP and best player in the sport, no one can top what Curry is doing on the court right now - or the fact that he's under contract for just $12.1 million next season.
Back to the NBA Newsfeed
Related Topics: Kristaps Porzingis, Knicks News, Warriors News, Kawhi Leonard, Russell Westbrook, James Harden, Cavs News, Anthony Davis, Karl-Anthony Towns, Stephen Curry, Kings News, Timberwolves News, Pelicans News, Wizards News, Kevin Durant, Draymond Green, Lebron James, NBA News, Spurs News, John Wall, Thunder News, Rockets News, DeMarcus Cousins