It usuall takes some time for rookies to adjust to the speed and physicality of the NBA game, but we've seen several first-year players that are ahead of the curve. Here are the top four rookies that have played the best and had the biggest impact this season:
4) PG Emmanuel Mudiay, Denver Nuggets
Mudiay has been somewhat of a revelation for the Nuggets, averaging 10.7 points, 5.7 assists, and 3.5 rebounds per game. He has been shooting a disastrous 31.1 percent from the field, but he's been big in big games and has shown a lot of promise for the future.
3) C Karl-Anthony Towns, Minnesota Timberwolves
Towns has lived up to every bit of the hype of being the No. 1 pick, putting up 14.9 points, 9.2 rebounds, and 2.2 blocks per game. He's far from being fully developed offensively and has to differ to Andrew Wiggins, Ricky Rubio, and Kevin Martin on a nightly basis at this point, but he's had a real impact - particularly defensively - for one of the surprise teams of the season.
2) C Jahlil Okafor, Philadelphia 76ers
Okafor has run into some trouble off the court, and his team only has one win this year, but he's been the most productive rookie in this class. He's averaging 17.8 points and 8.1 rebounds and 1.5 blocks in 32.6 minutes per game, and while he does need to improve on his 46 percent shooting, Okafor has been a true force other teams are gameplanning around.
1) PF Kristaps Porzingis, New York Knicks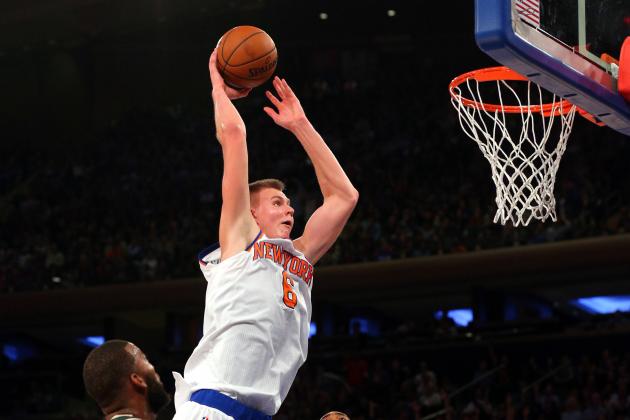 Porzingis has surprisingly been one of New York's best players this season, and has emerged as the Rookie of the Year favorite. He's averaging 13.6 points (second on team) and a team-high 8.4 rebounds per game, but he really seems like a star because of the highlight plays he seems to produce every single night. Expect his production to continue to increase as the season goes on. And enjoy his best moments from the season:
Back to the NBA Newsfeed
Related Topics: Jahlil Okafor, Kristaps Porzingis, Karl-Anthony Towns, 76ers News, Timberwolves News, Knicks News, Nuggets News, NBA News, Emmanuel Mudiay