The NCAA Tournament is a showcase for all of the top college players around the country to show what they can do on the sport's biggest stage, but many of the top NBA prospects were knocked out early in the tournament. As a result, several under-the-radar prospects have a chance to dramatically boost their draft stock (some of whom already have) in the coming days. Here are the top 10 players that NBA scouts will be watching this weekend in the Sweet 16 and Elite Eight:
Catch up on nightly NBA scores in the best sports app available - the Chat Sports App!
10) Devonte' Graham, Sr., PG, Kansas Jayhawks
6'2", 185 lbs. - 17.4 ppg, 7.5 apg, 4.0 rpg
Graham will likely be a second-round pick but the leadership and heady play he displayed for the Jayhawks this season give him a great chance to earn a spot on an NBA roster. He nearly doubled his assist total this year after taking over as KU's dominant ball-handler, something scouts have taken note of. I don't think Graham can really raise his draft stock in the tournament - he is who he is at this point in his career - but scouts do want to see him go up against other top point guard prospects.
9) Trevon Duval, Fr., PG, Duke Blue Devils
6'3", 186 lbs. - 10.2 ppg, 5.6 apg, 1.5 spg
Despite his struggles this year, Duval's play of late gives him a good chance to go in the first round. Duval is an elite athlete with outstanding quickness and vision, but his skill set is still developing. He has gotten by in his career due to his superior athleticism and needs to improve his shooting and finishing ability.
8) Jalen Brunson, Sr., PG, Villanova Wildcats
6'3", 190 lbs. - 19.1 ppg, 4.7 apg, 3.1 rpg
Brunson isn't a super athlete but is an extremely smart, skilled player. There's a great chance the favorite to win National Player of the Year ends up going late in the first round because of his scoring ability and feel for the game. He projects to be the perfect backup point guard for a playoff team, in my opinion.
7) Zhaire Smith, Fr., SG, Texas Tech Red Raiders
6'5", 195 lbs. - 11.3 ppg, 4.9 rpg, 1.9 apg
Perhaps no one has seen their draft stock soar more in the NCAA Tournament than Zhaire Smith. His outstanding athleticism has always been his greatest attribute, yet he showed flashes of his immense potential in Texas Tech's win over Florida, dropping 18 points while grabbing nine rebounds and dishing out seven assists.
Smith is still raw - his shooting and ball-handling need to improve - but that incredible athleticism makes him a very intriguing prospect. Many believe he'll be a lottery pick if he returns to school next year, though he could find himself there in this year's draft with another excellent performance or two.
6) Robert Williams, So., PF/C, Texas A&M Aggies
6'10", 241 lbs. - 10.3 ppg, 9.3 rpg, 2.6 bpg
Williams is a super athlete who may have been a first-round pick if he stayed in the 2017 draft but opted to return to school to work on his consistency. That was a failure during the regular season as he has struggled to find his place in Texas A&M's big lineup during the regular season, but he has been a star in the Aggies' Sweet 16 run.
Plus, his game is perfect for the modern NBA. He is an elite athlete, rebounder, and shot blocker who will best utilize those skills in the wide-open NBA game. Think of him as a prospect in the mold of DeAndre Jordan.
5) Shai Gilgeous-Alexander, Fr., PG, Kentucky Wildcats
6'6", 180 lbs. - 14.4 ppg, 5.1 apg, 4.1 rpg
Gilgeous-Alexander has become UK's most intriguing prospect in the tournament. He has been the most consistent player for Kentucky this season and has been the driving force behind their late-season surge. His size, vision, and smooth game give him good upside as an NBA point guard. The Canadian didn't start the month as a lottery pick, but if he keeps up his high level of play, Kentucky will make the Final Four - and his stock will continue to skyrocket because of it.
4) Mikal Bridges, Jr., SF, Villanova Wildcats
6'6", 210 lbs. - 18.0 ppg, 5.4 rpg, 1.6 spg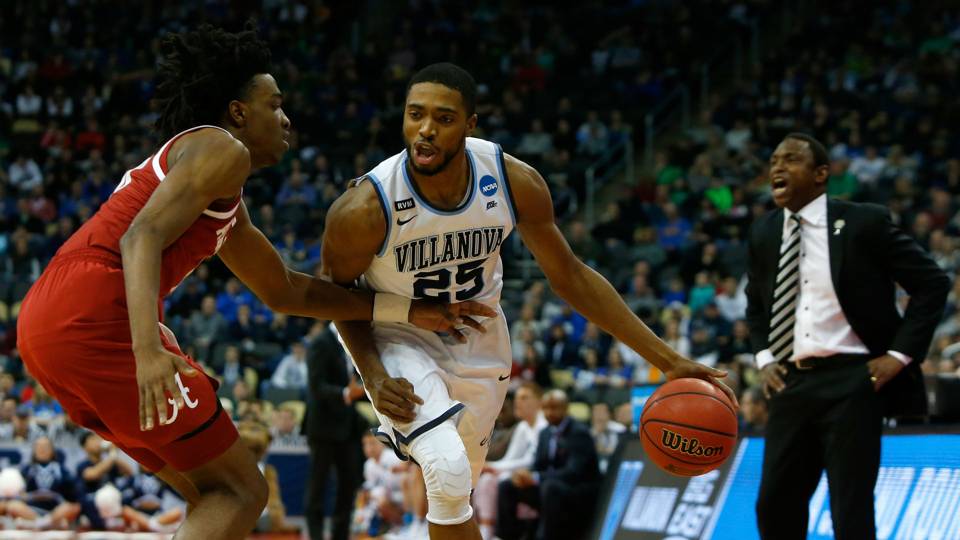 Even though Brunson may win National Player of the Year and (deservedly) gets most of the spotlight for this Wildcats team, Bridges is the more intriguing NBA prospect.
Though he plays a lot of power forward for the Wildcats, Bridges' NBA upside is as a wing defender. He's very quick for someone who is 6-foot-7 and, with a wingspan over seven feet, he is an impact player on that end of the floor. Bridges is the ultimate 3-and-D prospect comparable to Trevor Ariza. His offense also carried Villanova in the second half against Alabama.
3) Kevin Knox Jr., Fr., SF, Kentucky Wildcats
6'9", 215 lbs. - 15.6 ppg, 5.3 rpg
There's a reason why Knox was one of the top prospects in the country this year. Despite a lack of aggression and the need to get stronger, Knox can fill it up with the best of them and might be the best pure scorer in this class. His stock is probably trending down, but in a class that's weak on the wing, Knox's scoring ability keeps him among this season's top prospects.
2) Wendell Carter, Fr. PF/C, Duke Blue Devils
6'10", 259 lbs. - 13.6 ppg, 9.3 rpg, 2.1 bpg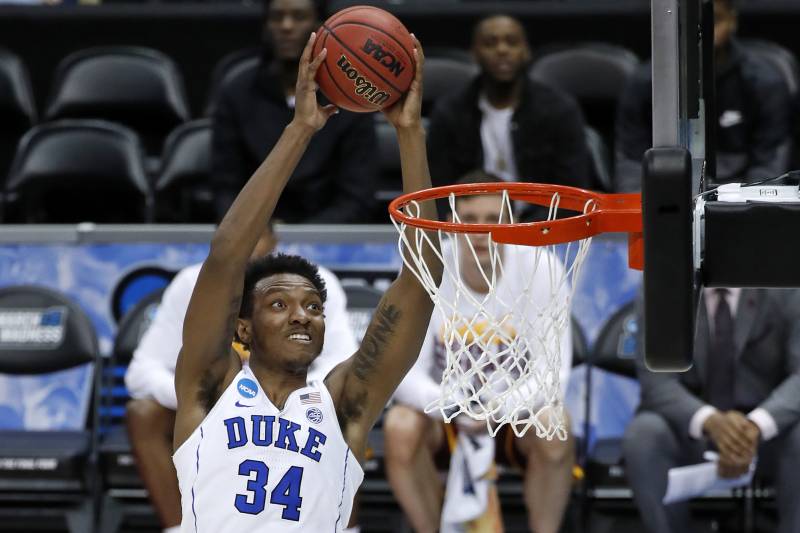 If Wendell Carter didn't play alongside Marvin Bagley at Duke, we'd be talking about him as a potential top-five pick. He is big and strong enough to play center, yet is also athletic enough and has enough touch on his jumper to play power forward. Fundamentally sound, he can do everything he wants on the court. Carter serves as Duke's rim protector on defense and will make some NBA team very happy in the back half of the top 10.
1) Marvin Bagley III, Fr., PF, Duke Blue Devils
6'11", 234 lbs. - 21.2 ppg, 11.3 rpg
At 6-11, Bagley is a silky smooth athlete who can bring the ball up the court and shoot from the outside, but he's lethal in the post and a terror on the glass thanks to his quick second and third jumps. There are some questions about his skinny frame and defense, physically and skill-wise, there isn't anything he can't do on the court - and his production is impossible to ignore. 
He has proven to be a matchup nightmare in the tournament and is the biggest reason why many think Duke is the favorite to come out of the Midwest Region.
Stick with us in the Chat Sports app and download today. Plus, like Chat Sports on Facebook so you know when we go live with the latest NBA news!
Back to the NBA Newsfeed
Related Topics: Marvin Bagley III, Devonte' Graham, 2018 NCAA Tournament, March Madness, 2018 NBA Draft, Mikal Bridges, Trevon Duval, Kevin Knox Jr., NCAA Basketball, Shai Gilgeous-Alexander, Zhaire Smith, Jalen Brunson, Robert Williams, NBA Draft, Wendell Carter Jr.