The new NBA season isn't even a week old, but it's never too early to start looking ahead to the playoffs. It's shaping up to be a crazy race in the Western Conference after all the offseason movement. The Golden State Warriors are still the prohibitive favorite to win their second consecutive championship and third in four seasons, but the Thunder, Rockets, and Timberwolves all made major offseason additions that they hope will allow them to compete with Golden State.
So, when all is said and done, what will be Western Conference playoff picture look like? Here's our prediction:
Let's go ahead and get this out of the way - no one else is going to take this top spot. The Warriors are as close to perfect as a basketball team can get and will be prohibitive favorites to win their third championship in four years (barring injury, of course). The offseason additions of Nick Young and Omri Casspi have only strengthened their bench.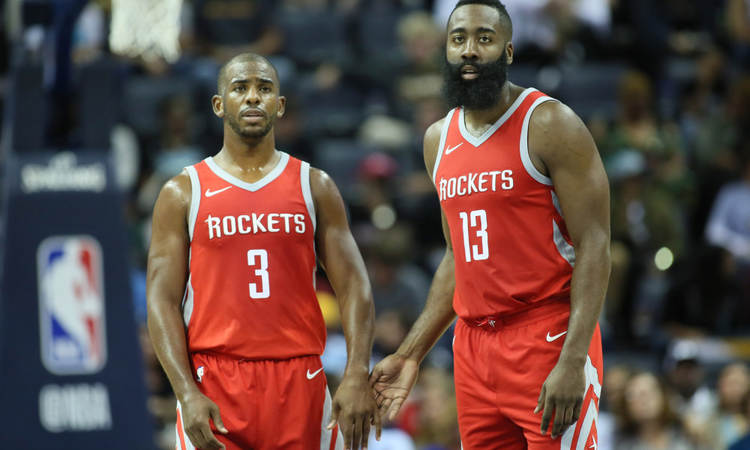 Chris Paul and James Harden don't appear to have any problems playing together as they have rotated playing point guard. However, this group still have questions defensively and gutted their bench in order to get Paul. That will stop them from topping the Warriors in the West, but will be more than good enough to earn the No. 2 seed.
OKC has become a trendy pick following the offseason acquisitions of Paul George and Carmelo Anthony and I really like what I've seen from them so far. Anthony - still one of the best scorers in the league - has been lethal with teams focusing on George and Russell Westbrook, while those two players have been as good as advertised. They still need time to really mesh, especially considering Westbrook and Anthony's tendencies to play isolation basketball, but they look to be ahead of the curve. However, the process of breaking those tendencies will keep them behind the Rockets - during the regular season, at least.
While other teams in the West loaded up, San Antonio didn't, causing some to doubt how good this team will be. It's never smart to doubt Gregg Popovich, but it does look like the Spurs took a step back this summer. Still, they'll win 50-plus games and be a top-four team in the West. 
NBA Fans - Download Chat Sports on iPhone today for breaking NBA news, rumors, scores and more - Chat Sports iPhone App!
The Clippers will be fine in the post-Chris Paul era. The players they got back in that trade (Patrick Beverley, Lou Williams, Sam Dekker) will all fill vital roles and Danilo Gallinari is the best small forward they've had in a while. Oh yeah, and Blake Griffin looks good as the unquestioned No. 1 option. Los Angeles isn't a contender, but they'll be in the mix.
Minnesota still has their promising young core of Andrew Wiggins and Karl-Anthony Towns and added some MAJOR upgrades in Jimmy Butler, Jeff Teague, and Taj Gibson. Suddenly, this team went from a fringe playoff team to a real contender. It may take them a while to adjust to playing together, and they need to improve defensively, but they have a very, very high ceiling. That talent is enough for them to earn the No. 6 seed.
Damian Lillard and C.J. McCollum are good enough to keep Portland in the playoff picture, but it's fair to question if the Blazers can win big without much talent around them. That will come down to Jusuf Nurkic, who averaged 15 & 10 after being acquired at the trade deadline last season. HIs presence inside - along with their depth - will help Portland earn a playoff spot.
The Nuggets just missed out on the playoffs last year, and with the addition of Paul Millsap, they expect to make it this year. This team has plenty of talent, much of it young, and their success will depend on the continued growth of those young players. I think they do enough to barely squeak past the Pelicans and Grizzlies.
Rest of Western Conference
9) New Orleans Pelicans
10) Memphis Grizzlies
11) Los Angeles Lakers
12) Utah Jazz
13) Dallas Mavericks
14) Sacramento Kings
15) Phoenix Suns
Follow our NBA page for all the latest NBA news & rumors!
Back to the NBA Newsfeed
Related Topics: NBA News, NBA Playoffs