The 2016-17 NBA season officially tips off on Tuesday, Oct. 25, with the Cleveland Cavaliers hosting the New York Knicks to headline a three-game opening night. As we get ready for the start of what promises to be an exciting eight months, here's a complete season preview, consisting of projected conference standings, NBA Finals prediction, individual award winners and more:
PROJECTED STANDINGS
Eastern Conference
1) Cleveland Cavaliers (56-26)
Cleveland has run the Eastern Conference each of the last two years, and while the rest of the conference has gotten better, there is no one who will really be able to challenge them.
2) Toronto Raptors (54-28)
The Raptors have put an increased emphasis on getting the No. 1 seed during the regular season so they can have home-court advantage throughout the playoffs. They'll get close, but that won't happen unless they trade for an upgrade at power forward.
3) Indiana Pacers (50-32)
I'm higher on the Pacers than most (obviously). Paul George is ready for another breakout season that will remind people why he was considered to be the third-best player in the league at one point, and the addition of Jeff Teague was one of the most underrated moves of the offseason.
4) Boston Celtics (50-32)
Boston will be improved with the addition of Al Horford, but they still lack that punch to really compete with the top teams in the conference.
5) New York Knicks (48-34)
All of the jokes about the Knicks calling themselves a "superteam" is definitely warranted, but this team is much improved. Remember, they nearly made the postseason last year before injuries derailed them late in the season. More importantly than getting Derrick Rose and Joakim Noah, New York greatly improved their bench unit. And Kristaps Porzingis is going to be better as he continues his development.
6) Detroit Pistons (47-35)
Detroit is a young team growing together, yet I'm not sure that they have a ceiling higher than this. Andre Drummond is one of the best centers in the league - but are we sure a backcourt of Reggie Jackson and Kentavious Caldwell-Pope can consistently compete with really good teams?
7) Washington Wizards (46-36)
Washington missed the playoffs last year after two straight trips to the second round of the playoffs, and we'll see them back in the postseason this year. John Wall and Bradley Beal may have some problems, but they're both really good players and have an improved team around them.
8) Atlanta Hawks (44-40)
Losing Horford really hurts the Hawks, even if they did replace him with Dwight Howard. I have serious doubts about Dennis Schroder's ability as their starting point guard given his shooting struggles, and they no depth. 
9) Chicago Bulls (41-41)
10) Orlando Magic (36-46)
11) Charlotte Hornets (35-47)
12) Milwaukee Bucks (34-48)
13) Miami Heat (29-53)
14) Philadelphia 76ers (20-62)
15) Brooklyn Nets (15-67)
Projected Western Conference Standings
1) Golden State Warriors (67-15)
Does this really need an explanation? The Warriors are going to run the league again - but will likely rest their players a little bit more in the regular season, causing them to fall short of 70 wins.
2) San Antonio Spurs (58-24)
Gregg Popovich knows how to get the most out of his teams. This year will be no different.
3) Los Angeles Clippers (56-28)
The Clippers believe they can challenge the Warriors (LOL), and will be looking to prove that in the regular season. However, their history of inconsistent regular season play will keep them as the No. 3 seed
4) Portland Trail Blazers (50-32)
Portland surprisingly grabbed the No. 5 seed last year despite playing with four new starters. Now all of them are back, and they improved their bench by signing Evan Turner and Festus Ezeli. This will be a dangerous team.
5) Memphis Grizzlies (50-32)
People forget how good Memphis is since both Marc Gasol and Mike Conley missed at least half the season last year - AND THEY STILL MADE THE PLAYOFFS. Now, both guys are back and healthy - and they got better by signing Chandler Parsons. 
6) Oklahoma City Thunder (49-33)
Losing Durant hurts, but they still have a solid roster around Russell Westbrook. They'll probably have a few wins over the Warriors and Spurs, but could also have a few losses to the Kings and Lakers. It will be that kind of inconsistent season in OKC.
7) Utah Jazz (47-35)
The Jazz appear to have been on the verge of breaking through for the last two years, but at some point, you just become what you are. Utah will end their playoff drought this year, but inconsistency will keep them from being a top four seed (as many are predicting).
8) New Orleans Pelicans (47-35)
A healthy Anthony Davis - and really a healthy roster - will make all the difference for the Pelicans. Remember, they had a different starting lineup for virtually every game last season.
9) Minnesota Timberwolves (45-37)
10) Houston Rockets (44-36)
11) Dallas Mavericks (40-42)
12) Los Angeles Lakers (29-53)
13) Denver Nuggets (26-56)
14) Phoenix Suns (26-56)
15) Sacramento Kings (24-58)
Eastern Conference Finals: Cavs over Pacers in 6
Cleveland is going to cruise to this point again, and I think Indiana will surprise the Raptors and make the conference finals. The development of big man Myles Turner will give them an element (combined with Paul George) that other teams in the East (with the exception of Cleveland) won't be able to handle. Still, the Cavs are the much better team.
Western Conference Finals: Warriors over Clippers in 5
Injuries kept Golden State from being the team they were expected to be in the playoffs. I don't see that happening two seasons in a row.
NBA Finals: Warriors over Cavs in 7
Ready for another epic series? I think the Warriors are clearly the better team, but I also think there is something to be said for Cleveland winning the title over Golden State last year, giving them the belief they can do it again. But that's not going to happen again - the Warriors are too talented and will win Game 7 at home this time around.
INDIVIDUAL AWARDS
MVP: Russell Westbrook, PG, Oklahoma City Thunder
Westbrook is expected to have a monster season, based off his previous career performances without Durant. When KD missed the last half of the 2014-15 season with foot injuries, Westbrook put up 10 triple-doubles in the last two and a half months of the season. In the same time frame this past season (with a healthy Durant), he had 13 triple-doubles. Plus, Durant and Stephen Curry will probably cancel each other out in Golden State, and LeBron James will place a bigger emphasis on resting for the playoffs than winning MVP.
Rookie of the Year: Brandon Ingram, SF, Los Angeles Lakers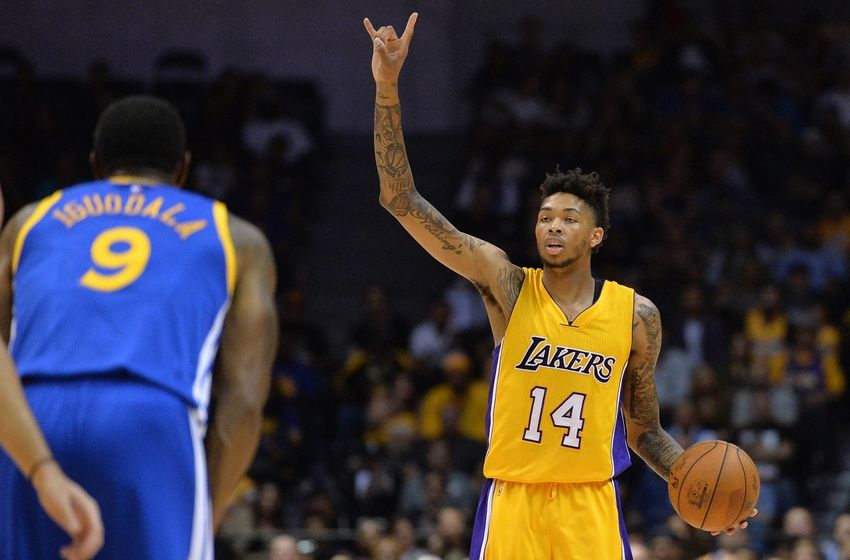 With No. 1 pick Ben Simmons projected to be out for at least half the season and No. 5 pick Kris Dunn backing up Ricky Rubio in Minnesota for most of the season, Ingram is the clear frontrunner for me. He will have plenty of opportunities to be a focal point of LA's offense, and his skill set is perfect for new head coach Luke Walton's up-tempo system.
Most Improved Player: Devin Booker, SG, Phoenix Suns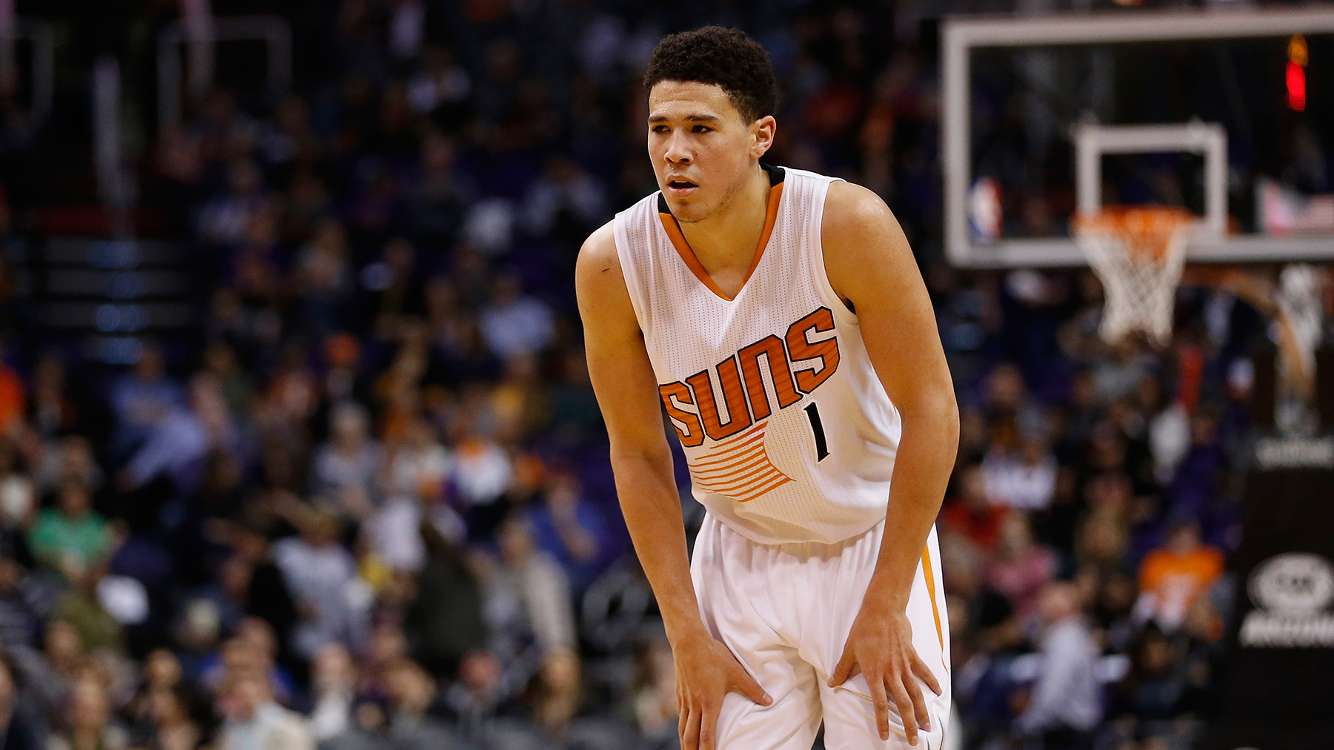 Booker's emergence won't lead the Suns close to the playoffs, but will prove to be the star they will build their future around. He wasn't supposed to get much playing time in Phoenix last season, but injuries forced him onto the court - where he flourished. He shot 50 percent from three-point range in the first 32 games of his career, then averaged 18.5 points per game over the last 44 of the season. He has now unseated Brandon Knight full-time in Phoenix's starting lineup, and they plan on making him a focal point of the offense. 
Coach of the Year: Gregg Popovich, San Antonio Spurs
With the Warriors and Cavs expected to dominate again this season, it's going to be hard for either Steve Kerr or Tyronn Lue to win this award. That leaves Popovich as the favorite, who is fully ready and capable of keeping the Spurs at the top of the West despite some predicting a bit of a backslide from San Antonio this year. If they get the No. 2 seed in the West, he wins this award easily.
All-NBA 1st Team
PG Russell Westbrook, Oklahoma City Thunder
PG Stephen Curry, Golden State Warriors
SF LeBron James, Cleveland Cavaliers
SF Kevin Durant, Golden State Warriors
C Andre Drummond, Detroit Pistons
All-NBA 2nd Team
PG Kyrie Irving, Cleveland Cavaliers
SG Klay Thompson, Golden State Warriors
SF Paul George, Indiana Pacers
SF Kawhi Leonard, San Antonio Spurs
C DeAndre Jordan, Los Angeles Clippers
Back to the NBA Newsfeed
Related Topics: Clippers News, Nets News, Grizzlies News, Knicks News, Hornets News, Trail Blazers News, Lakers News, Warriors News, Cavs News, Bulls News, Pistons News, Raptors News, Kings News, Timberwolves News, Hawks News, Mavs News, Nuggets News, Pacers News, Pelicans News, Jazz News, Wizards News, Magic News, Celtics News, Suns News, Bucks News, NBA News, Spurs News, 76ers News, Thunder News, Rockets News, Heat News