The good folks over at Grammarly spent hours upon hours scouring official websites and top sports blogs/sites for NBA, MLB, and NFL teams, proofreading the top five comments on select stories across the web. Docking fans for "black-and-white mistakes such as misspellings, wrong and missing punctuation, misused or missing words, and subject-verb disagreement," Grammarly's researchers put together a scoring system that averages out the amount of mistakes fans made per 100 words.
This next group of teams is the best of an NBA fan pool that finished first among North America's three major professional sports leagues with 4.55 mistakes per 100 words. (MLB, 7.90 & NFL, 7.97) Here's our list of the 5 Worst Spelling NBA Fan Bases On The Internet, According To Research.
(Mistakes per 100 words listed next to team name.)
It's too hot in Phoenix to worry about spelling. I bet you every Suns fan can spell "air conditioner" and "ice cream," though.
Who needs to learn to spell with the nightlife poppin' in the ATL?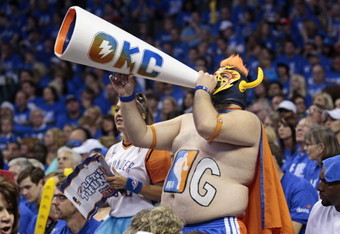 His name is Surge Ibaka, Thunder fans. It's S-E-R-G-E.
What else is there to do in Utah except read?!?!
Back to the NBA Newsfeed
Related Topics: Thunder News, NBA News