We're just over a week from the NBA Trade Deadline on Feb. 18 at 3:00 pm ET, which means there's plenty of rumors to sift through as teams look to either bolster themselves for a playoff run or punt on a lost season. With that in mind, here are all the latest news and rumors from around the league:
Sixers pursuing Jeff Teague, Dennis Schroder
The Philadelphia 76ers may be starting to move forward from their long-term tanking plan as they are targeting Atlanta Hawks point guards Jeff Teague and Dennis Schroder, according to Keith Pompey of the Philadelphia Inquirer. However, he doesn't have much optimism that a deal will get done.
The 76ers have contacted the Atlanta Hawks about their desire to trade point guard Jeff Teague or backup Dennis Schroder, a league source said.
The source said the Sixers have not made a trade offer for either of the two. Mutliple league sources said they don't expect the Sixers to make a serious push for one of the point guards before the Feb. 18 trade deadline.
That's because centers Nerlens Noel and Jahlil Okafor have the biggest trade value on the team. As a result, teams have been calling about those two. However, the Sixers don't want to part ways with either until they know if Joel Embiid, a third center, will be healthy enough to play.
Philadelphia does have a plethora of draft picks that could be appealing to the Hawks, but they simply don't have many players that other teams are interested in.
Celtics "very much in the mix" for Al Horford
Horford is another one of the many players the Hawks are putting on the trade block, and the Boston Celtics are extremely interested in making a deal for him, reports The Vertical's Chris Mannix:
"I think Boston — Al Horford is a legitimate possibility for the Celtics," Mannix said on CSNNE on Tuesday night.. "I think that is the guy, one of the guys across the league that Danny Ainge is the most excited about. He is a 4-man that would fit right into what Boston is trying to do. It will cost a lot of money to re-sign him in the offseason, but I think Boston's willing to pay it because they haven't paid a lot of money for players in recent years."
Boston has been on a not-so-secret hunt for stars and a go-to-guy, and they've identified Horford as someone that will drastically improve their roster.
Magic looking to make major splash at deadline The Orlando Magic plan to be one of the more aggressive teams at the deadline, according to Basketball Insiders' Steve Kyler, hoping to make a major move to bolster a team that is 4-15 since the start of January and three games out of the final palyoff spot in the Eastern Conference.
You can add the Magic to the list of teams trying to get the Clippers to engage on a trade... they are swinging for the fences

— Steve Kyler (@stevekylerNBA) February 9, 2016
Magic have kept no secret that they are looking for a major trade. Atlanta, Boston, Milwaukee, Clippers all in the mix.

— Steve Kyler (@stevekylerNBA) February 9, 2016
Orlando has expressed interest in acquiring the Jeff Teague-Al Horford combo from the Atlanta Hawks, who are looking to "blow up" their core group. Griffin certainly seems like a pipedream, but Milwaukee has put big man Greg Monroe on the market, and the Magic seem to be exploring that possibility as well.
They have dangled forward Tobias Harris as a potential trade chip, but it appears that most of their roster could be dealt if they can bring in a star.
Raptors interested in Thaddeus Young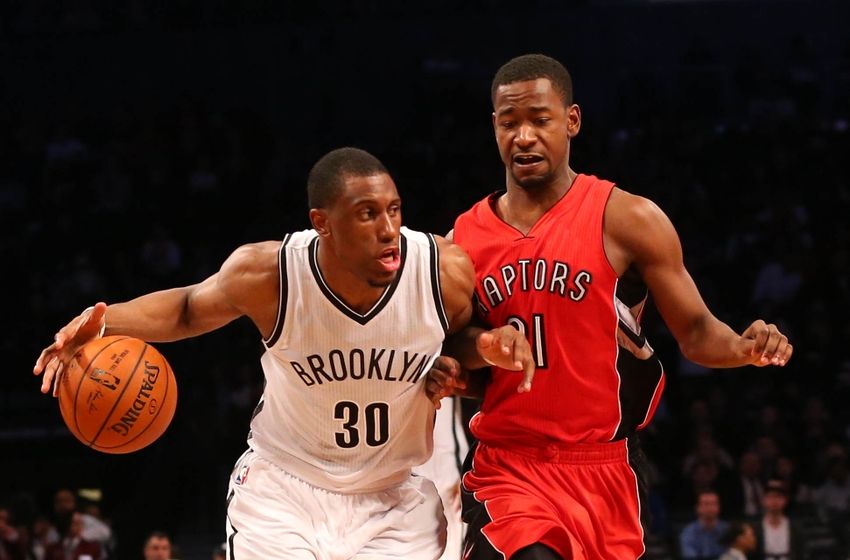 It's no secret that the Toronto Raptors are looking for frontcourt help and have been linked to several names, but the latest is Brooklyn Nets forward Thaddeus Young, according to ESPN's Brian Windhorst.
"From what I'm hearing, they [Raptors] are pretty aggressive in the trade market," Windhorst said. :They are looking for power forwards: I've heard them attached to Thaddeus Young, I've heard them attached to Kenneth Faried, I've heard them attached to Markieff Morris."
Back to the NBA Newsfeed
Related Topics: Blake Griffin, Clippers News, Magic News, Hawks News, 76ers News, Al Horford, Jeff Teague, Celtics News, Bucks News, Greg Monroe, NBA News, Dennis Schroder